What We Know About Where The Supreme Court Justices Stand On Abortion Rights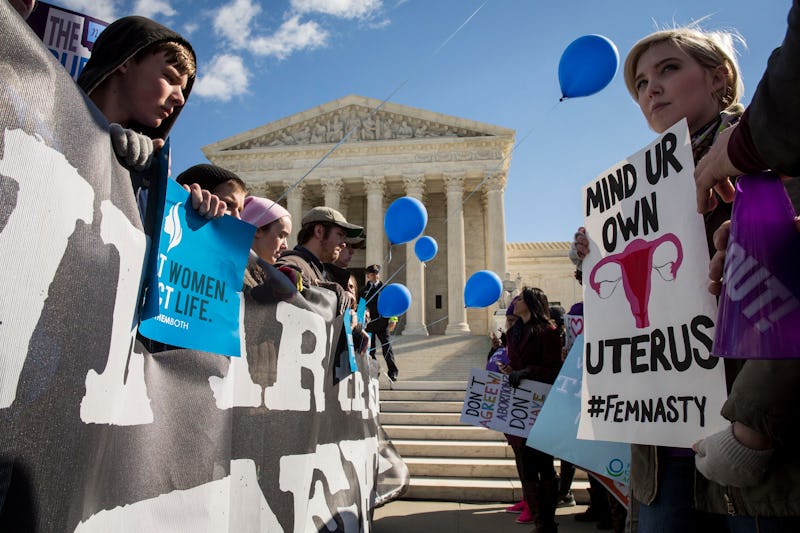 Drew Angerer/Getty Images News/Getty Images
Justice Anthony Kennedy announced his retirement from the Supreme Court on June 27, and immediately, pro-choice groups expressed concern over the state of abortion access and the future of Roe v. Wade in America. President Donald Trump plans to announce his replacement on July 9 and his pick could change the makeup of the court — and the country — for generations. To better understand how, understanding the Supreme Court justices' stance on abortion is key.
The Supreme Court has consistently upheld Roe v. Wade since its inception in 1973. But following Justice Kennedy's retirement, the court will sit evenly divided between liberal and conservative justices, until Trump nominates someone new.
President Trump has attempted to downplay the importance of Roe in his search for that new justice. In fact, NPR reported that his advisers have told him not to ask candidates about the case. "They're all saying, don't do that, you don't do that, you shouldn't do that. But I'm putting conservative people on," Trump told Fox Business host Maria Bartiromo on Sunday. However, the list of potential nominees released was put together by The Federalist Society, a national group of conservative lawyers known for its anti-abortion stance and desire to see Roe overturned, so it's likely that their vetted candidates hold similar beliefs.
Either way, here's how the current Supreme Court justices, including Kennedy, have sided in previous abortion cases.