Some Good News Out Of The Supreme Court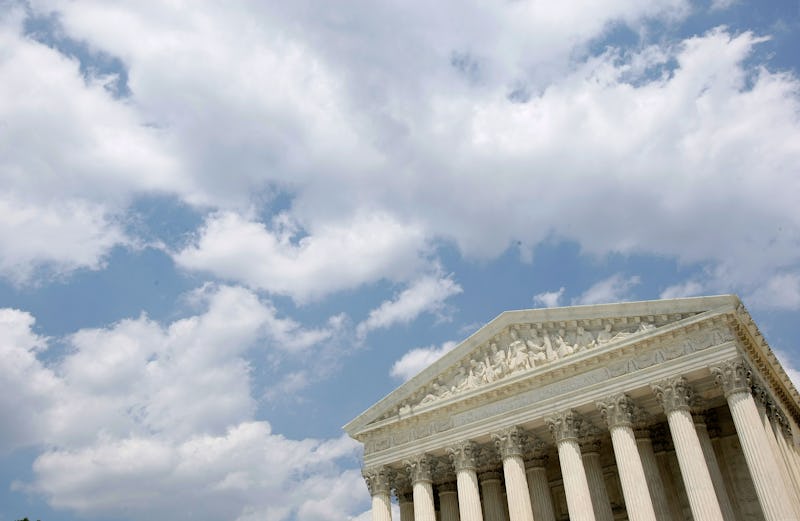 Alex Wong/Getty Images News/Getty Images
On Monday, news broke that the Supreme Court would not be revisiting a court decision declaring a 2013 voting law in North Carolina as discriminatory against African-Americans. "Given the blizzard of filings over who is and who is not authorized to seek review in this court under North Carolina law," Chief Justice John G. Roberts Jr. wrote in an order, "it is important to recall our frequent admonition that 'the denial of a writ of certiorari imports no expression of opinion upon the merits of the case.'" The announcement is a major victory for opponents of voter suppression tactics, as well as for the former Obama administration.
The 2013 law was implemented two months after the case of Shelby County v. Holder, which dismantled Section 5 of the Voting Rights Act, the section meant to prevent states and districts with histories of racial discrimination from implementing changes to their voting requirements. Nine primarily Southern states — Alabama, Alaska, Arizona, Georgia, Louisiana, Mississippi, South Carolina, Texas, and Virginia— and dozens of counties in other states, were previously included in the list of regions required to seek approval from the federal government in order to alter their voting laws.
The restrictions implemented by Republican legislators in North Carolina included cutting down the early voting period from 17 to 10 days, putting an end to same-day voter registration, stopping pre-registration for Americans the ages of 16 and 17 who'd be of legal age by Election Day, and requiring very specific types of government-issued photo IDs.
All of these restrictions were meticulously crafted around race-based statistics. A Washington Post report revealed emails sent from numerous Republican lawmakers and staffers to the North Carolina election board requesting data on the 2008 voter turnout election, specifically asking for racial breakdowns on voters who cast their votes early, voters who didn't posses driver's licenses, the types of identifications most common among white citizens and black citizens, and statistics on the prevalence of same-day registration within the black and white communities.
The information revealed that black voters "disproportionately used the first seven days of early voting," particularly during community-wide initiatives like "Souls to the Polls" — Sundays on which black churches provide free transportation to voters in need of rides to polling places. Legislators behind the North Carolina voting law made use of this data to eliminate the first week of early voting and to prohibit voting on one of the "Souls to the Polls" Sundays.
When it came to acceptable forms of identification, the law "retained only those types of photo ID disproportionately held by whites and excluded those disproportionately held by African-Americans," as stated in the Supreme Court's 2016 decision declining to reinstate the North Carolina voting measures. "The new provisions target African Americans with almost surgical precision," read the court's conclusion.
With North Carolina's appeal request struck down once again, there are no other avenues for the state to legally oppose the decision. The American Civil Liberties Union, ACLU of North Carolina, and Southern Coalition for Social Justice, the organizations who fought against the discriminatory law in court, all responded positively to the news on Monday.
"We are grateful that the Supreme Court has decided to allow the Fourth Circuit's ruling to stand, confirming that discrimination has no place in our democracy and elections," said Allison Riggs, a Southern Coalition for Social Justice senior staff attorney. "This ruling sends a strong message that lawmakers in North Carolina should stop enacting laws that discriminate based on race."