How The Supreme Court's Arkansas Abortion Law Decision Is Already Making Women Suffer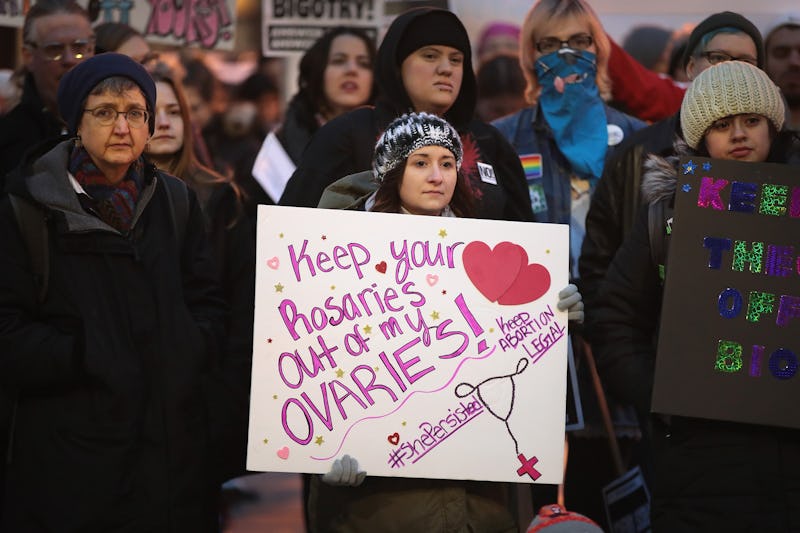 Scott Olson/Getty Images News/Getty Images
A recent Supreme Court decision is already wreaking havoc on women's reproductive health in Arkansas. SCOTUS refused to accept Planned Parenthood's challenge to the red state's ban on abortion-inducing medication on Tuesday, and already, Planned Parenthood is canceling abortion appointments in Arkansas as the law went back into effect immediately after the decision.
In 2015, Arkansas passed a law banning pills that induce abortion in the early stage of pregnancy, namely mifepristone and misoprostol. The law deems it illegal for any medical physician to "give, sell, dispense, administer, or otherwise provide or prescribe an abortion-inducing drug to a pregnant woman to induce an abortion or enable another person to induce an abortion" without the knowledge of a contracted physician with "admitting privileges."
Repercussions to the Supreme Court's Tuesday decision have already been felt in Fayetteville, Arkansas, where a Planned Parenthood physician had to turn patients away. "The law that we were trying to get blocked went into effect immediately, and the immediate results were we had to turn away from the clinic people who were scheduled to take the pill," Planned Parenthood physician Stephanie Ho told NBC News. "It's incredibly disheartening to call a patient and say you qualified for this last week but your government says that's a decision you no longer get to make."
Planned Parenthood requested a temporary restraining order later on Tuesday in an attempt to block the Arkansas law. Family Planning Center lawyer Bettina Brownstein told NBC News that the nonprofit reproductive health organization could face legal hurdles even if it did secure a restraining order against the state's restrictive abortion law.
If the state of Arkansas appeals the restraining order, a full trial could take up considerable time and resources. It is this kind of lag and legal obstacle that could potentially hurt women in Arkansas, according to Ho. "Women who are eligible for the service are not going to be able to obtain the service because the courts are such a slow process at times," she said.
Prior to the Supreme Court reinstating Arkansas' block on abortion medication, Planned Parenthood filed for a temporary restraining order against the ban and called it an unconstitutional attack on women's rights to legal reproductive health care.
Planned Parenthood's executive vice president, Dawn Laguens, said in a statement, "Arkansas is now shamefully responsible for being the first state to ban medication abortion. This dangerous law also immediately ends access to safe, legal abortion at all but one health center in the state. If that's not an undue burden, what is?"
"This law cannot and must not stand," Laguens added. "We will not stop fighting for every person's right to access safe, legal abortion."
Supporters of Arkansas' restriction on abortion medication have praised the ruling as a "pro-life" commitment. CNN reported that the state's Attorney General Leslie Rutledge released a statement and said, "Protecting the health and well-being of women and the unborn will always be a priority. We are a pro-life state and always will be as long as I am attorney general."
But critics say that the ban on the medication deprives women of the power to decide for their own bodies with dignity and privacy. The National Asian Pacific American Women's Forum (NAPAWF) condemned the Supreme Court decision and said that medically-induced abortion gave "women the freedom to have an abortion in the safety and privacy of their own homes."
Such a decision, according to NAPAWF's statement, was rooted in "draconian" abuse of power and ultimately hurt the general well-being of women. From Ho's account in Fayetteville, it seems as if the harm is already taking place.