The 'Sweet Home Sextuplets' Names Are Uncommon & Totally Unforgettable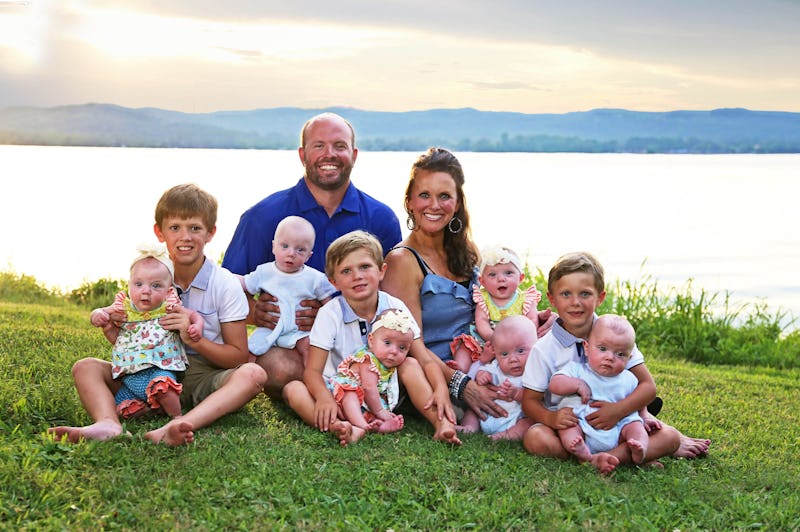 TLC
There's something about reality TV featuring families with multiple multiples that will always hold a special place in America's heart. This fall, TLC is introducing a brand new brood that just added six adorable little babies... all at the same time. Meet Eric and Courtney Waldrop of Albertville, Alabama, the parents at the center of TLC's Sweet Home Sextuplets, which premieres on Tuesday, Sep. 18 at 10 p.m. ET. The real stars of the show, however, are the six little angels that give the show its name. The names of the Waldrop sextuplets, meanwhile, are unforgettable.
Since the Waldrop sextuplets already share a birthday — Dec. 11, 2017 — Courtney and Eric decided to give each of their sweet babes an extremely unique moniker to separate them from their siblings. The baby Waldrop boys are Layke Bryars, Blu Wellington, and Tag Bricker, reports the Daily Mail. The girls have a more cohesive pattern: Rivers McCall, Rayne McCoy, and Rawlings McClaine.
According to the birth announcement on the TLC website, Courtney carried her multiples to 30 weeks, which is the recommended length of time for such a large birth (the average gestation period for one baby is 40 weeks). As is often the case with preemies, there were some complications that arose after delivery and not all of the infants were able to come home at the same time. In a video shared on the TLC YouTube channel, Courtney explained that Rivers and Rawlings were in the hospital for 53 days after being born, while the three boys had to remain for 72 days.
But now, all six babies are happy and healthy at 10 months old. Courtney posted some precious nine month birthday snaps on her Facebook page, showing each individual sextuplet's gorgeous smile.
And if you thought some of their personalities were already peeking out in those pics, well, professional photographer Ashley Sargent, who did the photo the babies swaddled in rainbow colors, told People that she could already tell that the third baby, Rawlings, was going to be the funny one. "She's gonna be the goofy one of the bunch," Sargent said, "because every time I photographed her individually, she fights going to sleep and makes some of the goofiest faces! I had to pick the better pictures of her, but I think she's going to be the entertainer."
Rawlings, River, Rayne, Tag, Blu, and Layke aren't the only youngsters growing up in the Waldrop house. Eric and Courtney have two other sons, Sailor, 9, and twins Wells and Bridge, 6.
According to their parents YouTube confessional (above), the three older boys are adjusting well to having so many new siblings in the house. "I think our three boys will do really good," said Courtney. "They've adjusted well and are really not acting like it's bothered them whatsoever."
"They just carry on with their lives," laughed Eric. "They come through, kiss them on the head, and they're right on playing."
When Sweet Home Sextuplets premieres, TLC revealed, it'll track the family's journey all the way back to their tumultuous hospital stay and bringing the babies home. And Waldrops, if you're listening, a low-key rainbow-themed first birthday party sounds like the perfect Season 1 finale to me!