Get The Tarte X Grav3yardgirl Swamp Queen Platte For A Discount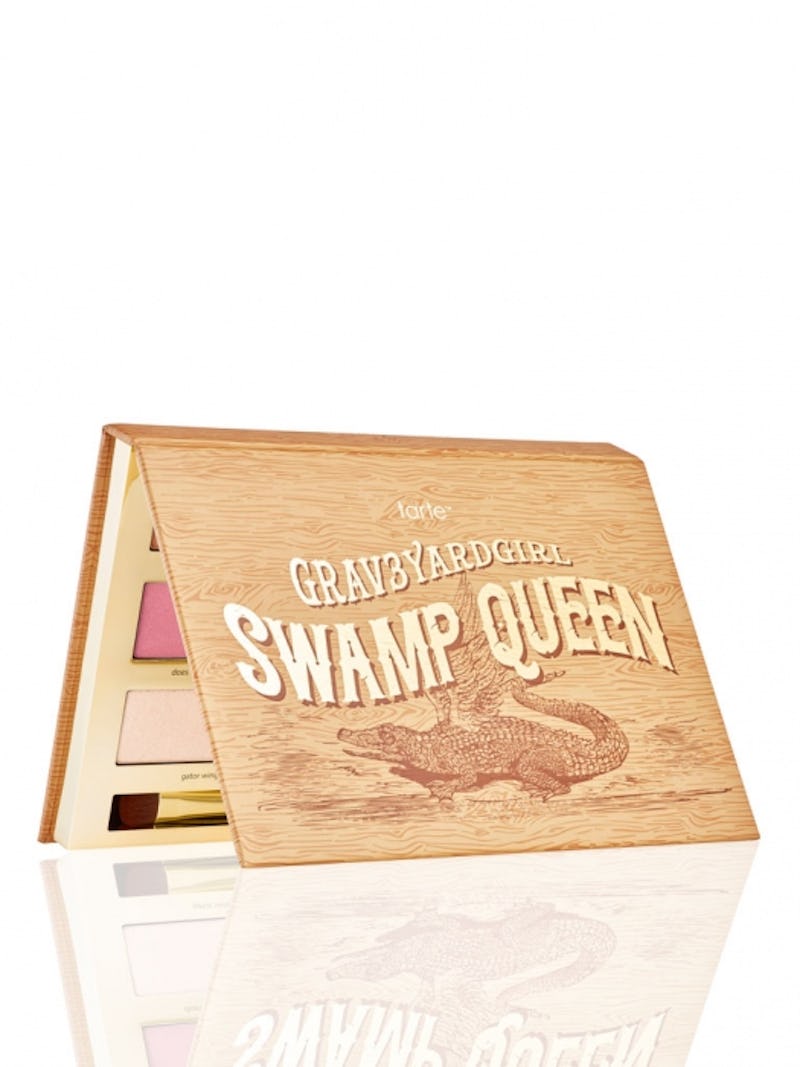 Courtesy Tarte Cosmetics
Beauty collaborations come and go, and most are too good to let them leave without a purchase. That definitely applies for the palette Tarte Cosmetics teamed up with YouTube personality Grav3yardgirl to create. The Tarte X Grav3yardgirl Swamp Queen Palette is on sale for a limited time, and you're going to want to get it in your makeup bag (especially while you can save in the process).
The palette holds nine eye shadows as well as a bronzer, highlighter and blush shade. It typically retails for $45, which already isn't a bad price for the total of 12 products you're getting with this palette purchase, but when you shop during Tarte's Friends & Family Sale, you can score it for 30 percent off with code FESTIVAL.
The sale lasts until Apr. 6 at exactly 11:59 p.m. ET, according to the Tarte Cosmetics website so you've still got some time to rack up on this incredible collab at a discounted price. The shadow colors range from peachy nude to deep plum, so you'll have everything you need to create the perfect spring look once you've got this product in your possession. The product's deemed "limited edition," so this is really one beauty buy that has to be made. Besides, who can turn down shopping when there's a sale happening?
You can score this gorgeous range for just $31.50 when you get it for 30 percent off. And, if you spend $40 while you're on the Tarte Cosmetics website (which won't be hard to do), you'll score free shipping, too.
Tarte X Grav3yardgirl Swamp Queen Palette, $45, Tarte Cosmetics
Nine shadows, three cheek colors, a brush and a mirror? This item has a lot to offer!
Tarte Cosmetics X Grav3yardgirl Creamy Matte Lip Paint, $20, Tarte Cosmetics
Since the Friends & Family Sale is site-wide, you can also get 30 percent off on the lip products in the Grav3yardgirl collab and so much more from the brand's website.
Mother Nature's Miracles Discovery Set, $38, Tarte Cosmetics
This hydrating Rainforest of the Sea line-up is also on sale, so there's really no reason not to buy from Tarte Cosmetics before time runs out on Apr. 6. The only exceptions in the discount are Shape Tape Concealer and the limited edition Magic Wands Brush Set, according to Tarte's website.
Saving on products is plenty of reason to make a purchase from Tarte, but if you're also hoping to amp up your springtime beauty, well, now you've got even more of an excuse!
Head over to the Tarte site to check out all of the makeup you can score for less money. You won't be disappointed!