Everything You Need To Know About The Taylor Swift Trial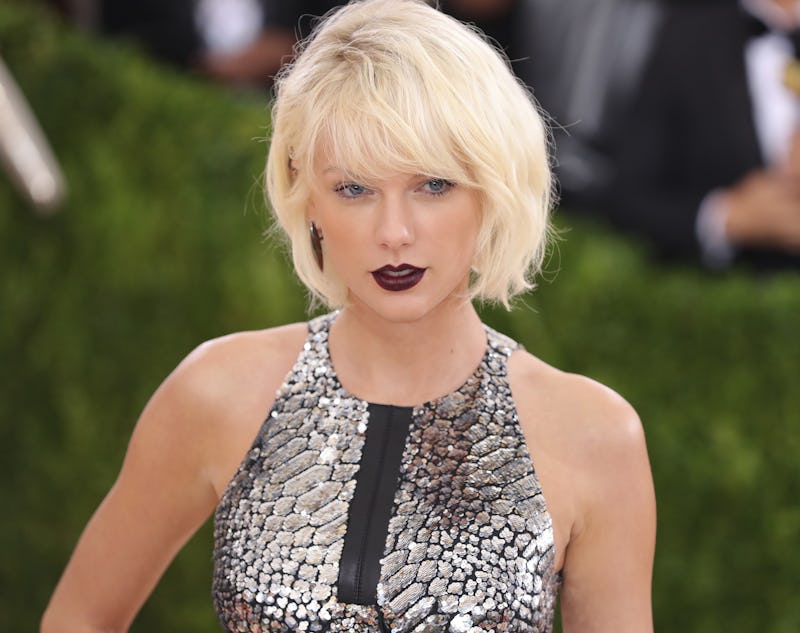 Neilson Barnard/Getty Images Entertainment/Getty Images
She hasn't been in the spotlight for awhile, but due to major progress in her ongoing court case, that's changing. Taylor Swift's trial regarding the allegations she made against KYGO radio station DJ David Mueller that he groped her while taking a photograph with her before her concert in Denver, Colorado on June 2, 2013 has started. On Tuesday, BuzzFeed reported that an eight-member jury was selected and opening statements were delivered.
According to USA Today, Swift claimed in court documents, "He took his hand and put it up my dress and grabbed onto my ass cheek." She also claimed in a deposition, according to Time, "It was not an accident. It was completely intentional, and I have never been so sure of anything in my life." The Associated Press reports, Swift claimed right after the meet-and-greet she confirmed the alleged groping with a photographer and security and Mueller was then confronted. As for Mueller, who is known on air as "Jackson", he claimed he told security at the time, "Please call the police. I didn't do anything."
According to the AP, the photograph in question, which also features Mueller's girlfriend at the time, Shannon Melcher, is key evidence in the trial where a federal jury will make the final decision on the matter. Per BuzzFeed, the photo was originally obtained by TMZ and sealed by the court. The picture shows Mueller with his right hand behind the singer. The AP reports that Swift's side believes the photo proves groping occurred, while Mueller's side believes it shows him jumping into the photo.
Mueller filed a lawsuit in September 2015 claiming Swift's accusations were false and led to him getting fired from his job at KYGO. BuzzFeed reports that according to court documents his job cited "the morality clause in his contract" because they believed he changed his story regarding the alleged incident. The Grammy winner then countersued Mueller in October 2015, and also accused him of assault and battery, according to BBC News.
During the opening statements, the 1989 singer's attorney, Douglas Baldridge, claimed (via BuzzFeed), "It was an assault and Ms. Swift reported it. She has been in tens of thousands of meet-and-greets, including going out in the crowds, and she never had this happen." Mueller's attorney, Gabriel McFarland, claimed during opening statements, "David Mueller unequivocally denies he touched her inappropriately in anyway. No inappropriate contact that is Mr. Mueller's position." McFarland also told jurors that sexual assault is obviously wrong, but so is "falsely accusing someone" of it.
According to The New York Times, Swift is expected to testify. "Ms. Swift will get on the stand and tell you that she is absolutely certain that David Mueller grabbed her rear," her lawyer said in court Tuesday. "What is at stake is, will this man be able to stifle a young woman's ability to report a sexual assault?" Swift has also argued that she has no motivation to make up the allegation, but is going forward with the court case to "serve as an example to other women have who may resist publicly reliving similar outrageous and humiliating acts."
After the alleged assault, Swift's team claimed they went directly to Mueller's management and not to the police in hopes to keep the alleged incident quiet. That changed after Mueller filed his lawsuit.
BuzzFeed reports that Mueller previously claimed he had an audio file of a phone call he recorded with his former employers the day after he learned of Swift's allegations against him. However, Mueller claimed the audio file was lost after he spilled coffee on a laptop that contained it. Mueller claimed he had a copy of said audio file on an external hard drive, but the drive had "stopped working." Regarding the alleged audio file, Swift's attorney claimed, "He destroyed the evidence. The alibi that the other guy did it didn't come up till two years later."
BuzzFeed reported Tuesday that Mueller is suing for up to $3 million, whereas Swift is asking for only $1. Per her attorney, this is the singer's way of showing other women that "you can always say no."
Per BuzzFeed, the jury doesn't have to reach a decision beyond a reasonable doubt, but "must only be convinced by a 'preponderance of the evidence' in order for one side to prevail..." The New York Times reported that the trial is said to last only nine days.
Bustle has reached out to Swift and Mueller's lawyers for additional comment, but did not receive a response at the time of publication.