The Texas Women In That Flooded Nursing Home Were Rescued & The Photo Will Warm Your Heart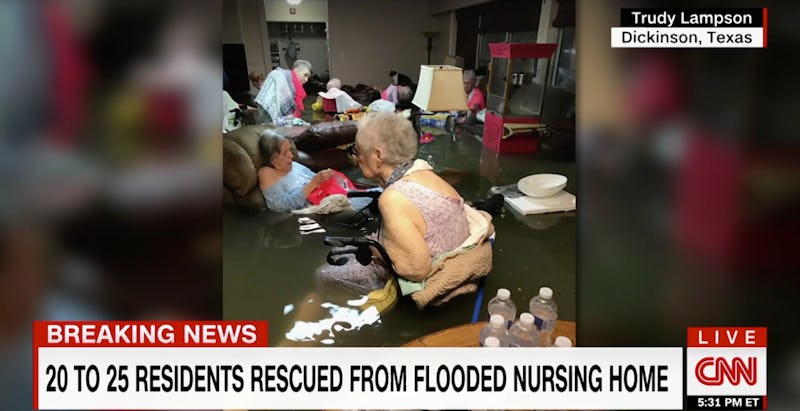 CNN
Of all the heart wrenching images coming out of Texas in the wake of the catastrophic Hurricane Harvey, one that was particularly terrifying was from a nursing home. The photo showed the elderly residents trapped in the flooded nursing home, waiting for rescue. But days later there is now a follow up to that terrifying photo, and the women are thankfully in much safer, and drier, conditions.
On Sunday morning, the floodwaters in coastal areas around Houston had risen significantly, thanks to the eventually record-breaking amount of rain caused by Harvey. That is when this photo was snapped by the owner of the La Vita Bella nursing home in Dickinson, TX. In the photo, you can see a group of women sitting in reclining chairs and wheelchairs, surrounded by feet of water, even reaching chest-high on some of the seated women.
In the newest photo of the group, they can be seen smiling, and most importantly, dry! The women of La Vita Bella were reportedly rescued via helicopter from their flooded home, and brought to another facility about 10 miles away. The photo was posted on Facebook by volunteer rescue group The Louisiana Cajun Navy, who knew those who had seen the dire situation the elderly women had been in just days early would appreciate the update.
The initial picture went viral after being posted by Timothy McIntosh, whose mother-in-law owns La Vita Bella nursing home. McIntosh posted the photo on Twitter, tagging news outlets, government officials and first responders in his communications to try to get rescue crews to the nursing home. McIntosh, who lived in Florida, told The New York Times that picture was the last text he got from his mother-in-law before her phone died.
Her cellphone was about to die, and that was the last communication. That's the last we heard. We were frantic, so the first thing I did was just call every emergency department, in Houston and all over.
The photo was shared so widely on Twitter, that McIntosh credits the social media site for how quickly the patrons were able to be evacuated. Eighteen people were reportedly rescued from the nursing home via helicopter on Sunday, and nine of the patients were brought Laurel Court nursing home, where the more recent picture was taken. A spokesman for the facility told The New York Times, "They're all resting comfortably and safe and sound."
And to add to to the positivity of this story, Bozo the cat, who can be seen in the background of the flooded picture, perched above the waterline, was also rescued from the nursing home.
While these women have been trough quite the ordeal, it's nice to see them looking cheerful, and not wading in floodwaters, patiently awaiting rescue.