The Thai Soccer Team Used Meditation To Keep Calm While They Were Trapped In The Cave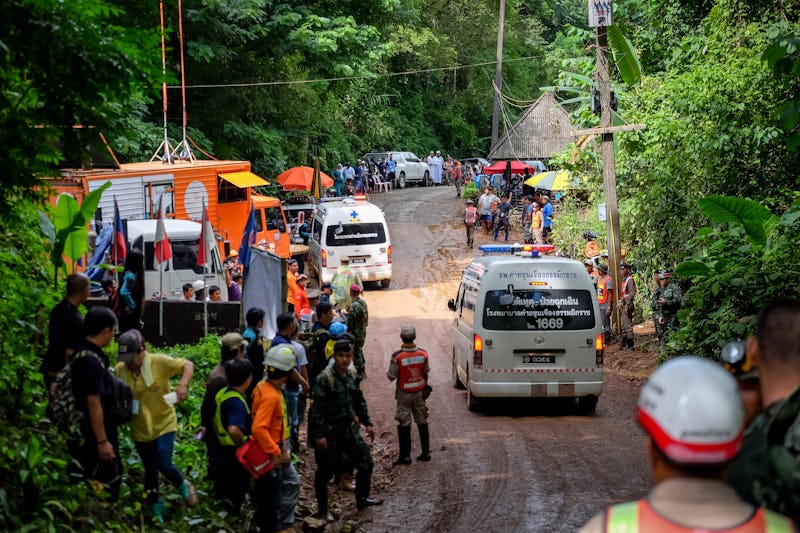 Linh Pham/Getty Images News/Getty Images
In news that was heard around the world, all 12 members of the Thai soccer team, the Wild Boars, along with their 25-year-old coach Ekapol Chanthawong, have now been rescued from the cave where they were trapped and are recovering at a hospital. All 13 are expected to make a full recovery after their ordeal, where they survived for nine days eating snacks they'd brought and drinking water dripping from the cave walls, the BBC reported. And more and more details are being revealed since their rescue: according to reports, the team used meditation to keep calm while they were trapped, and it's possible that the practice also played a vital role in keeping the team and its coach well while they waited to be rescued.
According to CNBC, when divers finally located Chanthawong and the boys, who were between the ages of 11 and 16, they were meditating together in the dark. The BBC reported that prior to becoming a soccer coach, Chanthawong had trained as a Buddhist monk for 10 years, and he taught the team to meditate.
Expert Leah Weiss told CNBC that for Buddhists, "meditation is a go-to when distressed or in danger." And because of that practice, "Cognitive resources that would otherwise be hijacked by the threat can be accessed once again, meaning that problem-solving capacities increase."
The BBC reported that authorities onsite at the Tham Luang cave said the boys "seemed to cope well with the mental strain of their time underground," and all 12 were apparently able to complete the stressful journey out of the cave without panicking, aided by sedatives, the BBC reported.
Weiss told CNBC that meditation was "actually a very practical response" to the lack of food and fresh air the team suffered. Oxygen levels in the cave where the team was stranded were below 15 percent at points in the rescue — concerning because oxygen levels below 16 percent are known to cause a potentially fatal condition called hypoxia, The New York Times reported. With oxygen levels so low, meditating, which Weiss pointed out can "[slow] down your heart rate, your breathing and your metabolism, while decreasing cortisol levels, oxygen utilization and carbon dioxide emission," could have played a crucial role in helping to maintain a viable level of oxygen in the cave.
Keeping still and quiet, as during meditation, was likely also key, because "[s]trenuous activity in such a low-oxygen environment could cause severe problems, especially for anyone with a pre-existing heart or lung condition," Raymond Cheung, a professor of neurology at the University of Hong Kong, told The New York Times.
Weiss told CNBC that Chantawong's training as a Buddhist monk "definitely helped him" and likely benefited the boys as well, as he was able to pass on what he had learned.
Meditation has numerous health benefits on top of these. It can help lower blood pressure, according to the National Institutes of Health, and potentially reduce pain. It can foster a more positive outlook on life, Healthline reported, among other emotional boosts.
If you're keen to start meditation, Weiss advises going in with achievable expectations. "It's key to understand that meditation won't get rid of thoughts and feelings. This is a mistake so many people make," she told CNBC. She also noted that routines can be important in helping you stick with meditation. "Set up a specific time and place and have a realistic initial goal that you succeed in and build from," she advised. "Recognize that resistance to the habit and to the meditation itself is part of the process, so having an accountability buddy, a system or class is helpful for many people."
Weiss advised starting with your breathing. Take a full breath, she said, and concentrate on feeling the air "go through your nostrils and into your lungs. Hold it for a few moments and then exhale fully. As you breathe out the air, envision breathing out any stress, anxiety, anger and feeling of being overwhelmed," CNBC reported, adding that you should do it three times without worrying too much about whether your pace is too fast or too slow.
People around the world are beyond relieved at the team's successful rescue. As more details surrounding their ordeal emerge, it's certain that we'll only become more blown away by their bravery and perseverance in the face of extreme danger.