'The Haunting Of Hill House' Looks Like It Could Be Netflix's Scariest Show Yet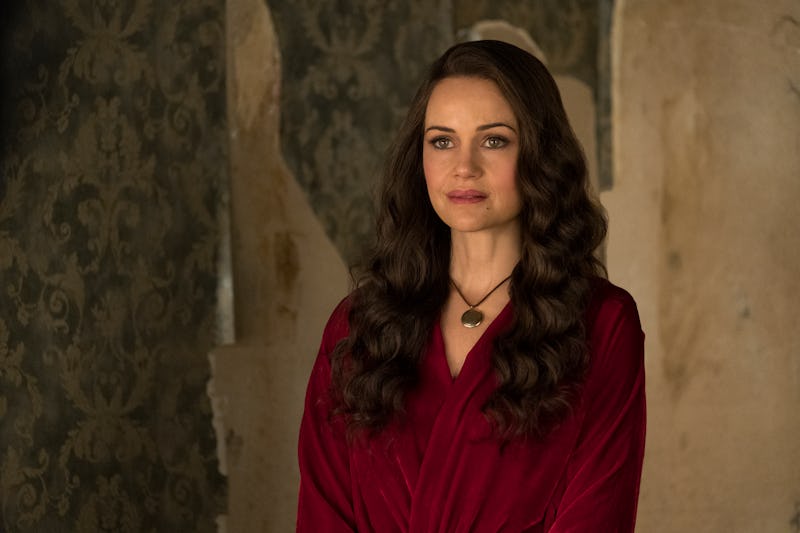 Steve Dietl/Netflix
Fair warning: You'll probably want to sleep with the lights on after watching the trailer for Netflix's new horror series, The Haunting of Hill House. Hill House — which drops on Oct. 12, just in time for Halloween — is a "modern reimagining" of the eponymous 1959 Shirley Jackson novel, and the trailer is like, one hundred times spookier than the stills of the show that were released a few weeks back.
First of all, potential viewers should know that if you're a fan of Crosby, Stills, & Nash's "Our House," it's probably going to be the soundtrack to your nightmares from here on out. A sans-words, solo piano version of the song plays creepily throughout the entirety of the trailer, as viewers get a glimpse into the terrors that Hill House holds — and there are many.
The trailer opens with Olivia (played by Carla Gugino) putting two of her children, Nell (Violet McGraw) and Luke (Julian Hilliard) to bed. "Now, I want you two to get good rest," she tells them. Nell then asks, "What if I have a bad dream?" Seems like a pretty normal thing for a child to ask their parent, right? It's certainly a common enough fear. But these are no ordinary children, and their bad dreams are not exactly ordinary nightmares. The children go on to describe a very specific, very vivid bad dream-scenario, and it looks as if that "bad dream" could end up being an equally horrifying reality.
"Well, I'm sure we can handle any dream you have," Olivia tells her daughter, in an attempt to ease her fears. "What if I dream that you sent us away into the dark, and we get hurt?" Nell continues. "Really hurt," Luke chimes in.
Again, scary scenes of what's to come are shown almost exactly as they are described by the two children. The more they elaborate on their very bad potential dream scenario, the more horrifying and haunting the scenes become. "And what if I'm so sad and scared of the dark out there," Luke asks his mother, "that I put poison in me for years and years, until my blood turns into poison?" As he speaks, a grown man is seen injecting himself with drugs.
That's hardly the end of it, though. Nell is fearful about what will happen if "my heart breaks right in half, and I can't feel anything happy," she says. "Until I can't stand it any more, and I have to die. Until I'm on a silver table, with my jaw wired shut."
Here, of course, she's referring to a coroner's examining table in a morgue, and viewers are shown exactly what this potential reality would look like. It's not for the faint of heart. "Would you wake us up from a dream like that?" Nell asks her mother. Viewers are then shown a clip of a teenage Nell (Victoria Pedretti) admitting that her family is "different, because of where we grew up: "Hill House."
It seems that all these nightmares, this seemingly cursed future imagined by the young siblings, are not rooted in their family, but in the home they lived in. "Your mother, she was not crazy," the family patriarch, Hugh (Timothy Hutton) tells his now adult children. "Neither was your sister, neither was your brother, and neither are you," he assures them. "It's that house."
So, yeah. That house — the Hill House — is not, as the lyrics to the music in the trailer would have you think, a very, very, very fine house. It's the exact opposite, actually, and it seems as if the lives of everyone who lived inside it were disturbingly changed forever.