The 'This Is Us' Season 3 Premiere Will Be Here Sooner Than You Think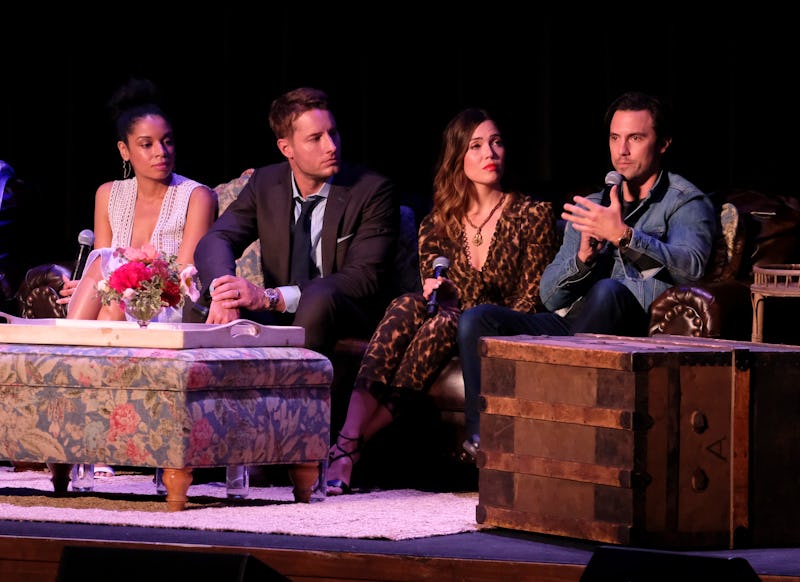 Frazer Harrison/Getty Images Entertainment/Getty Images
Gather your tissues, folks: the 'This Is Us' season 3 premiere date was just released by NBC, which confirmed that the show will return on Tuesday, September 25 at 9 PM EST. The announcement was made through NBC's Instagram page, with an Instagram post that read, "There's no you. There's no me. There's just US. #ThisIsUs. September 25." The video included an animated calendar that fans assumed was meant to look like Rebecca's calendar in the show.
The calendar was also quick to show fans that the release date for season 3 is just around one month after Jack's birthday and the Big 3's birthdays, as well. According to Cosmopolitan, there are a series of questions that fans are looking to be answered in the third season of the hit drama, including how Kevin and Zoe end up together, why they're going to Vietnam, and who Old Randall is talking about when he tells Adult Tess, "It's time to go see her."
One of the earlier plot spoilers for season 3 was revealed by Mandy Moore in an interview with ExtraTV in January. Moore noted that the character of Miguel would grow in importance, saying, "It's hard to imagine Jack without Rebecca and Rebecca without Jack, and that she did move on with her life, but I feel like that is going to be the biggest battle of the show is getting people to be team Miguel ... that storyline is going to be a big focus of [season 3]."
Moore also confirmed in the interview that season 3 will give fans the chance to learn more about Nicky, Jack's brother.
In the season 2 finale, after a season of serious ups and downs, fans were gifted with a happy note, with Kate and Toby's wedding. But the flash forward for the next season also showed more challenging times ahead. For example, fans saw Randall in the distant future, sitting with a grown-up version of his daughter, Tess.
"I'm going to see her," Randall said to Tess, who is now an adult social worker. Tess said, "I'm not ready," and Randall replied, "Me neither."
The Hollywood Reporter speculates that Randall and Tess could be referring to Beth, Randall's wife and Tess' mother, or perhaps Déjà, Tess' foster sister.
Another burning question that fans no doubt hope to have answered will have to do with Kate and Toby's relationship. In the season 2 finale, Toby's parents told him they thought he wasn't making a good decision, and that they thought Kate was too emotionally unstable to be a good partner to him.
The flash forward shows Toby to be deeply unhappy lying in bed, with Kate telling him that the doctor wanted to adjust his meds. Hopefully season 3 will answer what happened to Kate and Toby immediately following their marriage, and whether or not they'll be able to find a way to stay together and find happiness.
Lastly, the season 2 finale introduced fans to Beth's cousin Zoe, who was then seen in the flash forward with Kevin on a plane to Vietnam. Co-Showrunner Elizabeth Berger told The Hollywood Reporter, "When we come back, we're going to be embarking on a new chapter with [Kevin and Zoe] sort of discovering their romance, and their relationship, and figuring out what they are. We can expect to see her for a while."
Co-Showrunner Isaac Aptaker also previously told The Hollywood Reporter that fans can expect to learn more about Jack's past during the early parts of season 3. More specifically, they'll learn about his early life, including the time he spent in the Vietnam War.
Now, all fans have to do is wait ... for another three or so months.