This Hashtag Points Out A Devastating Statistic About Trans Women Of Color & Life Expectancy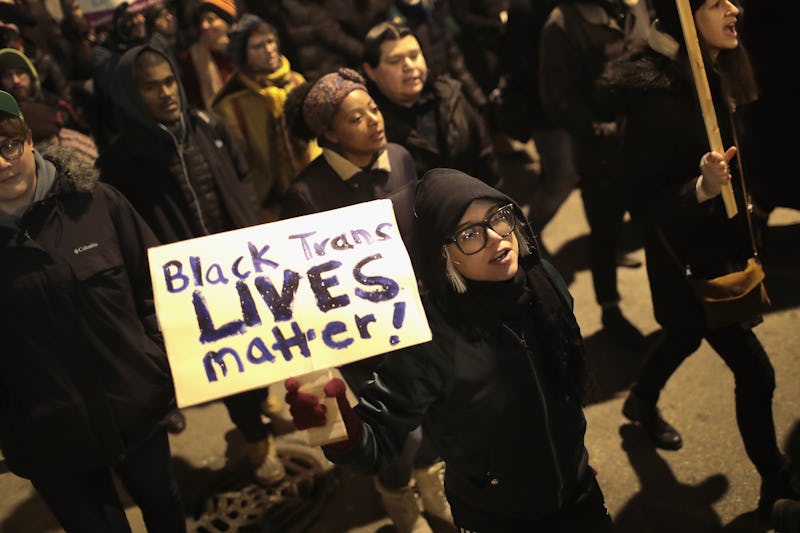 Scott Olson/Getty Images News/Getty Images
In the U.S., the average life expectancy of a cisgender woman is 80.1 years, but for transgender women, it may be much lower. There is data to indicate that the average lifespan of trans women of color is just 35 years — which is what moved Ashlee Marie Preston, a transgender woman of color who recently turned 34, to use her birthday to launch the #ThriveOver35 social media campaign, which she told The Glow Up is "intended to help black trans women reimagine themselves somewhere other than an open casket."
It's a well-known fact that trans women of color face staggeringly high rates of violence perpetrated against them, which according to the Human Rights Campaign is a result of the fact that "the intersections of racism, sexism, homophobia and transphobia conspire to deprive them of employment, housing, healthcare and other necessities, [which are] barriers that make them vulnerable." An Anti-Violence Project report on the fact that 17 transgender people had been murdered in 2017 (as of August that year) showed that 16 of the victims "had been people of color; 15 had been transgender women; and 13 had been black transgender women."
Preston, who according to The Glow Up is a media personality, producer, writer, speaker, civil rights activist, recent political candidate, and a The Root 100 honoree for 2017, used the space on top of her birthday cake to memorialize 77 black trans women who were murdered when they were under the age of 35. She included their photos surrounding text that read, "Today I turned 34, statistically I won't live over 35. Black trans women will no longer accept this."
Preston using her cake to make a statement was deliberate, she told The Huffington Post. "What tends to happen in the LGBTQ community is that everything pertaining to the G part supersedes everything else. I decided to have a cake made with 77 photos of trans women under 35 who have lost their live to transphobic hate because wedding cakes get more attention than black trans women in our community," she explained. The Huffington Post reported that she was referencing the recent Supreme Court case ruling in favor of a baker who refused to make a wedding cake for a same-sex couple.
Preston went on, "I figured if I put the message on a cake, maybe it would be easier for society to digest ― no pun intended."
In a statement to The Glow Up, Preston gave a thorough rundown of the philosophy behind #ThriveOver35, saying:
This campaign is an opportunity for black trans women to express gratitude for every year we survive the multi-tier marginalization we have to navigate on a daily basis. It's hard for black people in general—but black LGBTQ people are often excluded from conversations around black liberation. It's either all of us or none of us. I'm pushing back against the notion that black lives matter unless they're LGBTQ. I refuse to subscribe to the idea that all black people are homophobic and transphobic. We are educated, compassionate, empathetic, and warm people. Ignorance exists among every demographic—but I hope to inspire allyship that opens hearts and minds within the African-American community.
While #ThriveOver35 has solemn foundations, Preston also told The Glow Up she hopes that trans women of color will use the hashtag "to celebrate their birthdays and existence, letting the world know 'that we're here and we won't be erased!'" She encouraged women over 35 to "inspire younger women through their visibility, reminding them that they are more than statistics, that progress is being made and that it is possible to overcome these devastating odds."
Cisgender and white allies should "use the hashtag in solidarity as a demonstration of our commitment to protecting and advocating for the most marginalized among us," The Glow Up reported.
And of course, support for trans women of color shouldn't end with using Preston's hashtag. You can support trans women of color by donating to advocacy organizations that empower them, like the Trans Women of Color Collective, the TransLatin@ Coalition, and the National LGBTQ Task Force.