Time's Up Broke A Major Record With Its GoFundMe For Workplace Harassment Victims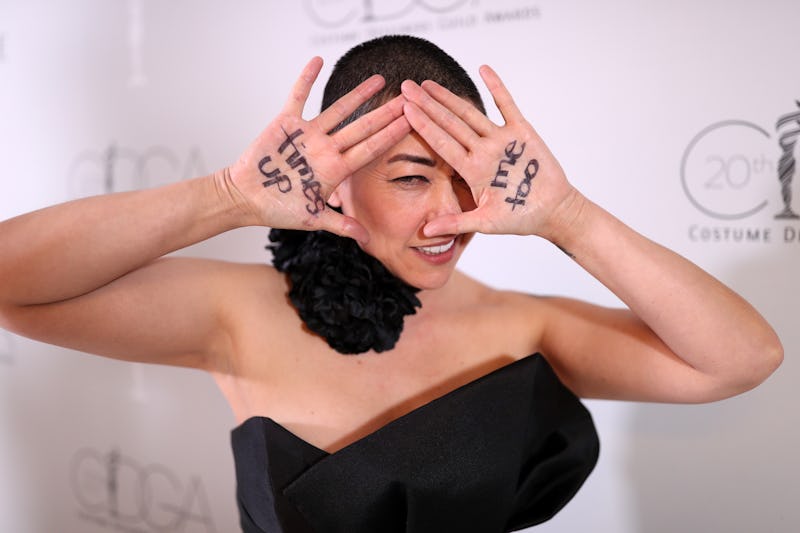 Christopher Polk/Getty Images Entertainment/Getty Images
Over a year has passed since the #MeToo movement swept across the country. Although it began in Hollywood with a series of sexual assault accusations against Harvey Weinstein (which he still denies), a group of celebrities soon came together to create "Time's Up," an anti-workplace harassment project that aims to reach non-elite victims. Now, the Time's Up GoFundMe campaign has become the most successful project in the platform's history, according to BuzzFeed News.
The campaign is called the "Time's Up Legal Defense Fund" and is administered by the National Women's Law Center. All proceeds support the legal cases of people who've come forward to report instances of workplace harassment. The group has amassed a network of attorneys, and it connects them with victims who contact Time's Up (you can reach out yourself here).
As of 11 a.m. ET on Thursday, the crowdfunding campaign had raised $22.07 million. That's not only more money than any other project in 2018, but more than any GoFundMe, ever. The fund has been around for a year; BuzzFeed notes that a campaign to help Las Vegas shooting victims (which was the top project last year) only earned $11.7 million in the same amount of time. According to BuzzFeed, the top 10 campaigns of 2017 together raised $23.5 million — just slightly more than Time's Up made single-handedly.
The impact of the Time's Up fund doesn't stop at that $22 million. BuzzFeed reports that its success has helped inspire sexual misconduct victims to create GoFundMe pages for a range of expenses that aren't related to workplace harassment: One woman asked for help paying for an abortion after she was raped; another asked for funds to get through a period of unemployment she was experiencing because of post-assault PTSD. And of course, there's the well-known campaign to raise money for Dr. Christine Blasey Ford, who testified in September that Supreme Court Justice Brett Kavanaugh assaulted her when they were in high school (he denies this).
"Throughout the year, we saw people respond to the news and come together to stand up for women's rights and fight sexual harassment and violence against women," Rob Solomon, GoFundMe's CEO, told BuzzFeed News. "From friends supporting each other in local communities to women on the national stage, such as Dr. Ford, we saw people engage, find community, and turn compassion into action."
Time's Up launched in December 2017 after Mónica Ramírez and the Alianza Nacional de Campesinas (National Alliance of Farmworker Women) used the burgeoning #MeToo movement to raise awareness about how female farmworkers are also affected by issues of sexual misconduct. They joined the "Take Back the Workplace" march and Ramírez wrote an open letter to Hollywood about the "countless farmworker women across our country [who] suffer in silence."
Inspired by her efforts, a few hundred Hollywood celebrities banded together to create Time's Up, which they hoped would prevent the #MeToo movement from getting stranded in the elite realm.
"We are very specifically focused on what I would call workplace issues. Fairness, safety, equity in the workplace," Christy Haubegger, a talent agency executive who was one of the Time's Up founders, told Time. "If you were to draw a Venn diagram, #MeToo more broadly is a campaign and a movement around all kinds of sexual assault."
It seems to have made a significant impact so far. In late April, Time's Up announced that 2,500 people had already reached out to the project for legal help, and that number has undoubtedly spiked since then. To donate yourself, check out its GoFundMe page.