This One Tweet On The Timing Of Harvey Weinstein's Ousting Will Infuriate You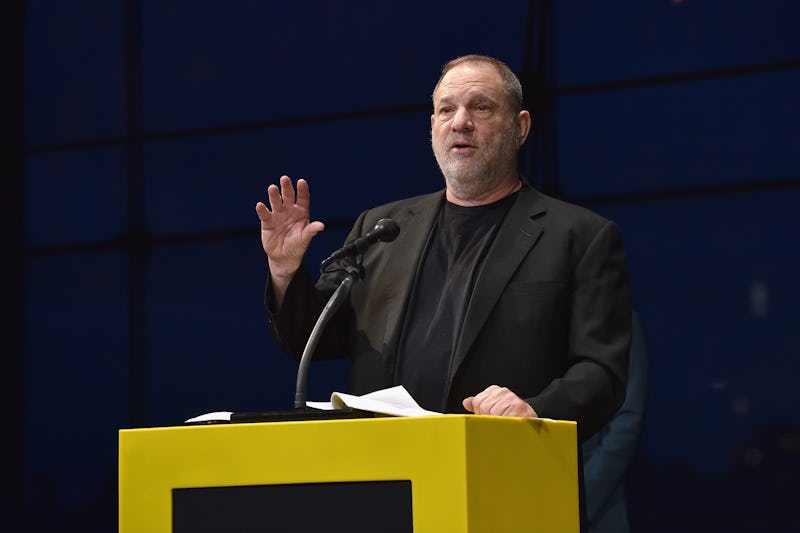 Bryan Bedder/Getty Images Entertainment/Getty Images
On Sunday night, the Weinstein Company announced in a statement that Harvey Weinstein would be fired from the film company, which he co-founded, effective immediately. The firing comes after Thursday's scathing New York Times report, which alleged that Weinstein had been accused of sexual harassment by female employees for decades. The outlet also reported that he had reached at least eight different settlements with his accusers over the last three decades.
Weinstein sent a statement to the Times in which he apologized for his behavior. "I appreciate the way I've behaved with colleagues in the past has caused a lot of pain, and I sincerely apologize for it," he said.
However, he also released a statement through his then-lawyer, Lisa Bloom, who has since resigned, which said, "he denies many of the accusations as patently false." His current attorney Charles J. Harder has released a statement, too, about suing the Times:
The New York Times published today a story that is saturated with false and defamatory statements about Harvey Weinstein. It relies on mostly hearsay accounts and a faulty report, apparently stolen from an employee personnel file, which has been debunked by nine different eyewitnesses. We sent the Times the facts and evidence, but they ignored it and rushed to publish. We are preparing the lawsuit now. All proceeds will be donated to women's organizations.
In response to Sunday's news, Upworthy Senior Manager of Growth, Laurie Stark, had something to say on Twitter. "Remember: The Weinstein Company didn't fire Harvey because they found out he was a sexual predator," she tweeted on Sunday. "They fired him because WE found out."
According to the Times report, dozens of employees reported knowing about alleged inappropriate behavior while working for Weinstein, and the company's board was allegedly alerted to some accusations as recently as 2015. If these accounts are true, then it does appear that the board was responding to an immediate public relations crisis when it announced Weinstein's dismissal. However, the board's statement suggests that it didn't have prior knowledge of the allegations.
"In light of new information about misconduct by Harvey Weinstein that has emerged in the past few days, the directors of the Weinstein Company — Robert Weinstein, Lance Maerov, Richard Koenigsberg and Tarak Ben Ammar — have determined, and have informed Harvey Weinstein, that his employment with the Weinstein Company is terminated, effective immediately," the company said in a statement issued on Oct. 8.
Previously, Weinstein had reportedly been on an indefinite leave of absence. One third of the company's board members also resigned. The board had issued a statement saying on Friday, Oct. 6, "Next steps will depend on Harvey's therapeutic progress, the outcome of the Board's independent investigation, and Harvey's own personal decisions." By Sunday night, the board apparently acted, firing Weinstein.
For New York Magazine, author Rebecca Traister detailed her own experience with Weinstein, in which she alleged that he had verbally attacked her while she was reporting on him back in 2000.
"Back then, Harvey could spin — or suppress — anything; there were so many journalists on his payroll, working as consultants on movie projects, or as screenwriters, or for his magazine," Traister wrote. As of Sunday, Weinstein had not responded to Traister's piece. Bustle reached out for comment but has not yet received a response. After this happened, she said she began to hear rumors of sexual abuses.
After that incident I began to hear from lots of other people ... and thought that I, as someone who'd been a firsthand witness to his verbal and physical ones, could help. I couldn't, except by passing on whatever I'd heard [...].
Many of the women the Times interviewed reported feeling some variation of helplessness, whether because they weren't sure what to do or because they felt their careers were on the line.
"We were so young at the time," documentarian Karen Katz told theTimes. "We did not understand how wrong it was or how Laura should deal with it." She was referring to Laura Madden, one of the women who went on the record accusing Mr. Weinstein of soliciting massages during hotel stays.
Again, Weinstein has maintained that some of these allegations are "patently false." And similarly, many of these women reported being early on in their careers and worried about upsetting a very powerful man in their industry. The Times also described a web of employees working together to prevent more instances of abuse from occurring in the industry. A former president of Mirimax Los Angeles told the Times that this meant "doubling up" before meetings in order to prevent female employees from going into meetings alone.
It's clear just from reading the Times report, as well as otherse, that the allegations against Weinstein aren't anything new. Indeed, as Stark tweeted, it does seem that the only reason Weinstein was stopped because of a detailed, damning, and public report.
If you or someone you know has been sexually assaulted, call the National Sexual Assault Telephone Hotline at 800-656-HOPE (4673) or visit online.rainn.org.