The Most Striking Findings From The Investigation Into The Larry Nassar Case At MSU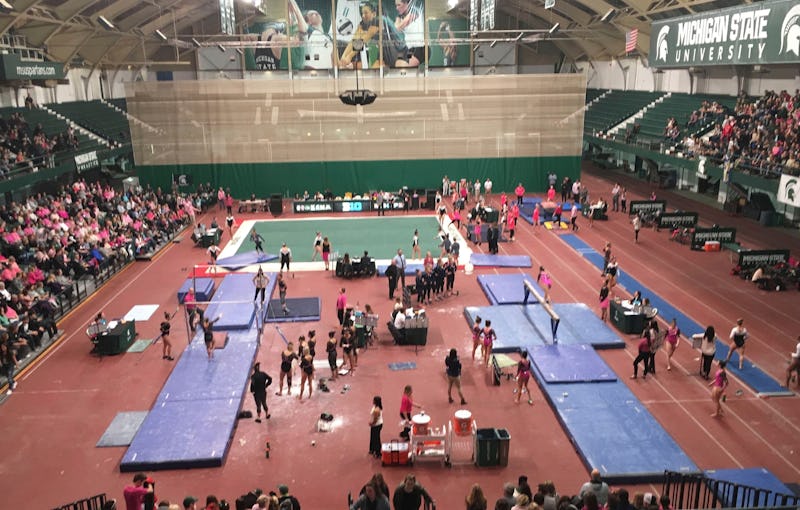 Larry Lage/AP/Shutterstock
The Department of Education will hit Michigan State University with a historic fine for its handling of sexual harassment complaints against Larry Nassar, the former MSU osteopathic physician who was sentenced to more than 100 years in prison for sexually abusing at least 150 girls and women, including some Olympic gymnasts. The Department announced on Thursday that the Office of Civil Rights' Title IX investigation into MSU found multiple violations, and the university will face a $4.5 million fine.
"What happened at Michigan State University was abhorrent," Education Secretary Betsy DeVos, who ordered the two investigations at MSU, told reporters in a call on Thursday, according to NPR. "The crimes for which Larry Nassar and [former Michigan State dean] William Strampel have been convicted are disgusting and unimaginable. So, too, was the university's response to their crimes. This must not happen again — there or anywhere else."
In addition to paying the fine, the university must hire outside counsel to review all of the sexual assault decisions from its Title IX office, according to the Detroit Free Press. The outside counsel will issue reports of its findings to the federal government and MSU's board and president. The Free Press reported the university also has to conduct an internal investigation into who was aware of the allegations against Nassar and his boss, former osteopathic college Dean William Strampel, and didn't take action to stop them.
In early August, a jury found Strampel guilty of using his position at MSU to harass and control female students, according to the Lansing State Journal. He was sentenced to one year in jail for a felony misconduct in office charge and received one year each for two misdemeanor willful neglect of duty charges. He will serve the sentences concurrently.
MSU President Samuel L. Stanley Jr. announced several actions in response to the investigations, according to a Thursday press release. First, Provost June Youatt, who was heavily criticized for her handling of complaints against Strampel, resigned from her position, the Free Press reported. Second, Stanley "formed a new oversight committee charged with ensuring the actions Michigan State University will take are fully responsive to the steps outlined in the agreements with the department, as well as OCR's letter of findings," the release stated.
"I'm grateful for the thoroughness of these investigations and intend to use them as a blueprint for action," Stanley said, according to the release. "Included is a review of current and former employees who had received notice or complaints of sex discrimination and failed to take appropriate steps. We will conduct this review, and once completed, if further personnel actions are needed, we are prepared to take them.
The OCR's "letter of findings" stated that the university violated Title X when "it failed to promptly and equitably respond to reports and grievances alleging sexual harassment perpetrated by Employee X," Larry Nassar, "and the Dean [Strampel] and failed to take appropriate actions reasonably calculated to end the harassment, eliminate the hostile environment, and prevent the harassment from recurring." Here are some of the most devastating findings that helped OCR come to that conclusion:
The University Didn't Start To Respond To Decades-Old Complaints About Nassar Until 2016
On Aug. 29, 2016, a former youth gymnast that OCR's letter refers as "Reporter 1" alleged to MSU police that Nassar sexually assaulted her during a medical appointment. She filed a complaint with MSU's Title IX office on Sept. 1, 2016, and local and national media quickly picked up the story after that. As the story gained more attention, more complaints about Nassar were brought to MSU. "By February 7, 2018, a University spokesperson reported that the University had received more than 190 sexual misconduct complaints by or on behalf of Employee X's former patients," the letter states. Some of the allegations went back to 1989.
OCR's letter includes summarized reports from 13 different people Nassar inappropriately touched or abused. All 13 say they reported their abuse to university employees, who didn't take action.
Members Of Athletic Teams Would Openly Talk About Nassar's Behavior
OCR's letter states that Reporter 3, a former MSU volleyball player, "alleged that while she was on the volleyball team in 1998-1999 her teammates commonly referred to Employee X [Nassar] as 'happy fingers' and frequently talked about his 'crotch massages.' According to Reporter 3, these comments were made in the presence of at least one former University athletic trainer (Trainer 1)."
A Number Of University Employees Who Received Reports Of Abuse By Nassar Dismissed Them
Some of the reports the university received about Nassar in 2016 include people who say their complaints were dismissed by university staff. Reporter 4 said she complained to unnamed athletic trainers and the head coach for her sports team (OCR's letter redacts which sports team). She alleged that "her coach responded that Employee X [Nassar] was an Olympic doctor and knew what he was doing."
In another report, Reporter 5, alleged that around 2000 she complained about Nassar's treatments to a number of MSU athletic trainers, but those trainers told her Nassar's conduct "was not sexual abuse."
OCR's letter states that "Reporter 10 ... alleged that in or around 2014 Employee X [Nassar] sexually assaulted her during an appointment with an athletic trainer (Trainer 5) present. Reporter 10 said that she asked Employee X what he was doing during the appointment and Trainer 5 responded for Employee X that everything was fine."
During One Investigation, The University Interviewed Nassar's Friends And Allowed Him To Continue Seeing Patients
During a medical appointment, Reporter 11 said Nassar sexually assaulted her when he massaged her breast and her vagina using skin-to-skin contact. Nassar claimed that what he did was medically appropriate for the treatment. The university investigated Reporter 11's complaint, but interviewed other physicians who were friends and colleagues of Nassar, according to OCR's letter. MSU concluded that Nassar provided "medically appropriate" treatment, but, OCR wrote, "prior to reaching its conclusion, the University failed to inform Reporter 11 that it had obtained evidence from these witnesses and did not provide Reporter 11 with the opportunity to present evidence in rebuttal."
OCR found that the university's investigation of Reporter 11's complaint and "the resulting hostile environment" was insufficient. It also found that MSU failed to take action to protect the rest of its students during its investigation. According to documentation OCR reviewed, Nassar only stopped seeing patients for a little more than a month during the three-month investigation into Reporter 11's complaint. "By the end of the investigation, Employee X had been visited by patients 249 times with sexual assault allegations pending against him," OCR's letter states.
Complaints About Former Dean Strampel Reached The "Highest Level" Of MSU's Administration
Documents prove that, during the 16 years Strampel was dean, students faculty, and staff reported his comments and behavior toward women, OCR's letter states. It continues:
These comments and complaints reached the highest levels of the University's administration, including the president, three provosts, advisors to the provost, several assistant provosts, the Office of the General Counsel, and administrators within the College. The former associate chair of the Department of Radiology, who was a member of a committee that reviewed the Dean in 2010 and 2015, told OCR that anyone in the College or holding an administrative position knew about the Dean's inappropriate comments and behavior towards women. ... which he described as being "widely reported."
The Complaints Against Strampel Were Numerous Over The Years
A memorandum about Strampel was sent to then-interim president of MSU in an email on Feb. 8, 2018. The memorandum doesn't include any students names, but was signed by a group who identified themselves as "[c]oncerned medical students," OCR's letter states.
In the letter, the students describe events involving Strampel between 2004 and 2008. A few of the incidents include:
In the spring semester of 2005, the students wrote that the dean "asked one of his students in a clinical skills course to perform a digital rectal exam on him." Other students witnessed the incident, and saw the student go into another room with Strampel. "The student later told his classmates that he performed the rectal exam out of fear that he would otherwise fail the course," OCR's letter states.
In the fall of 2004, the memorandum states that Strampel "required four students to perform pelvic exams on female models who were 19 years old, in violation of the University's code of teaching responsibility."
Lastly, during a lecture Strampel gave to the class of 2008, "in front of 151 students, as well as faculty and staff," he made an offer "to allow anyone to perform a digital rectal exam on him for $50,000." In the conclusion of the memorandum the medical students expressed the hope that "those receiving this information" would "be interested enough to undertake further inquiry into these events, both recent and similar ones over the last five years not even mentioned above."
According to OCR's letter, the university provided no other information regarding the memorandum, and it's unclear if they took any action to investigate the complaints it contained.
Complaints about Strampel continued. During a 2016 orientation ceremony speech for first-year osteopathic medicine students, one student said they found Strampel's comment "about being able to 'get into a lady's pants' because we are student doctors a bit offensive."
Strampel stepped down on Dec. 14, 2017 due to health reasons, according to OCR's letter.
In addition to an internal staff investigation and an overhaul of how it handles Title IX reports, MSU must create a system of "protective measures and expanded reporting" to better protect student athletes, among other administrative changes laid out by the DOE and OCR in a press release. Assistant Secretary for Civil Rights Kenneth L. Marcus said about the findings, according to the release, "There should be no question that we will hold colleges and universities accountable if they perpetuate sexual violence by failing to meet their obligations under Title IX."