Here's Why You Don't Need To Worry About Hurricane Katia Just Yet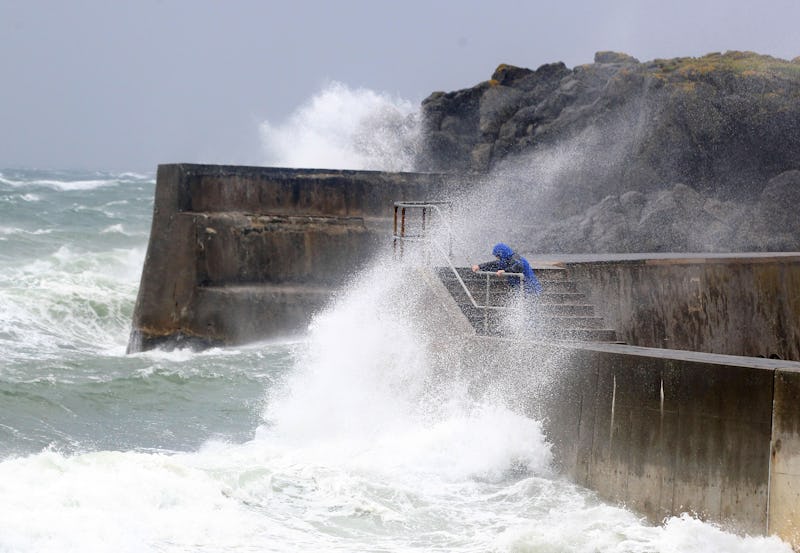 PETER MUHLY/AFP/Getty Images
You've seen Hurricane Irma move across the Atlantic at breakneck speed, and now with Category 5 winds it is making its way through the Caribbean Sea. But not all storms behave the same way. Take Hurricane Katia, which doesn't really have a trajectory yet, because it isn't going anywhere. The storm is pretty much staying put, and the forecasts don't point to it heading anywhere quickly.
Right now the storm is moving at just two miles per hour, and the update from the National Hurricane Center is essentially that it's staying put: "Katia drifting in the southwestern Gulf of Mexico." So unlike a hurricane moving through the open sea and picking up steam (or winds), this one is more stationary. But that will change, albeit slowly, in the coming days. The hurricane center explains:
Katia is drifting toward the east-southeast near 2 mph. Little overall motion is anticipated through late today, but then the hurricane is forecast to turn southwestward and approach the coast within the watch area late Friday or early Saturday.
That coastal watch area includes the area from Cabo Rojo to Laguna Verde, both in the Mexican state of Veracruz. A watch means that hurricane conditions are possible in that area, although it's far less strong than a warning. There is a chance the storm could grow in strength during the next 48 hours, in which case that would surely be bumped up.
Even if it doesn't directly hit the coast, the storm can still cause a problem for the coastal area. Tropical-storm-force winds extend up to 45 miles out from the center. In addition, there will be 5- to 7-feet storm surges along the coast of Veracruz, accompanied by large, dangerous waves. Those could cause real damage. There will also be a dangerous rip-current, if you were to even think of getting in the water.
In addition, Katia will lead to plenty of rain hitting the region, with most of the area receiving five to 10 inches, but possibly more. "Isolated maximum amounts of 15 inches are possible in northern Veracruz," the hurricane center predicts. "This rainfall may cause life-threatening flash floods and mudslides, especially in areas of mountainous terrain."
Even if Katia sounds less scary than Hurricane Irma, or even possibly the next one to come down the chute, it is still now a Category 1 storm that will affect this area of Mexico. If you're there, make sure to follow all official guidelines and stay up-to-date with the latest weather information.