Kim Kardashian's Robbery Story Will Make You Cry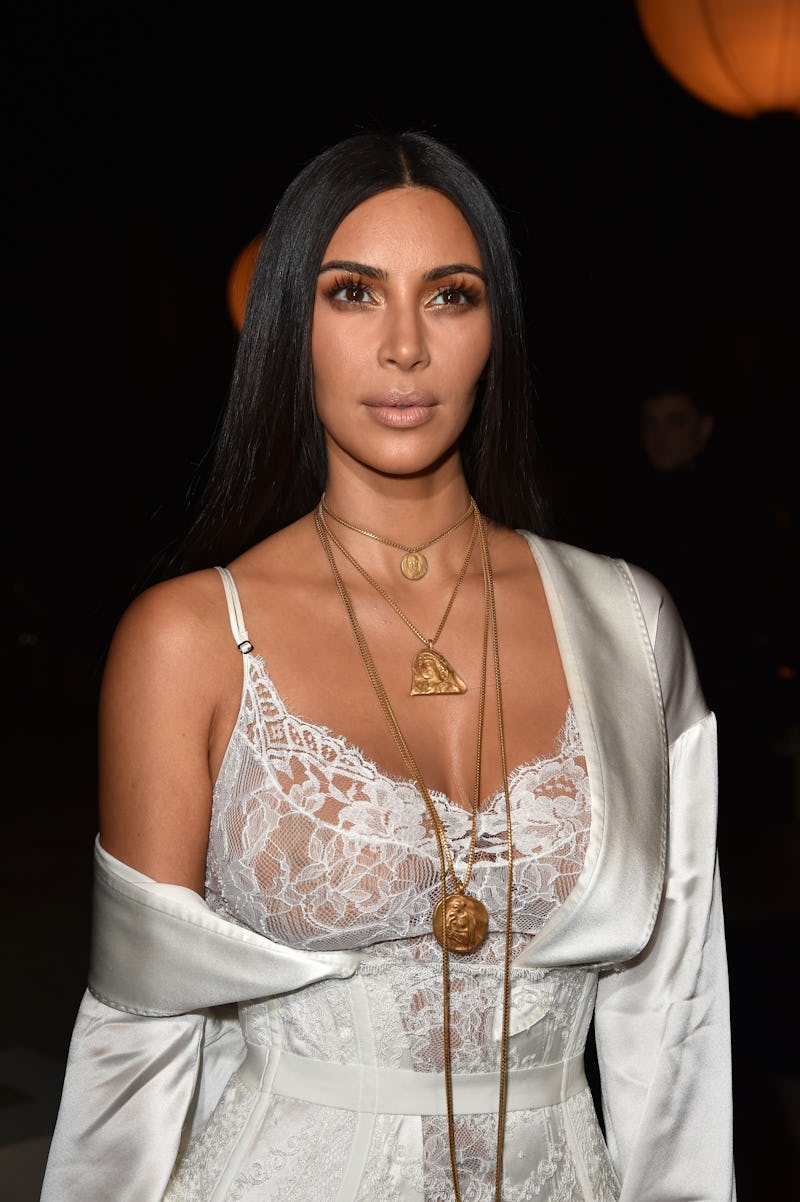 Pascal Le Segretain/Getty Images Entertainment/Getty Images
Although Kim Kardashian is known for immediately turning to social media to share her feelings about anything that happens in her life, when she was robbed in October during a trip to Paris, she reacted in the total opposite way. Instead, she chose to take a break for public life, and until now, she'd never shared what happened to her in her own words. But all of that changed on Sunday night's episode of Keeping Up With The Kardashians, when Kim Kardashian told the story of her robbery.
According to her family, as soon as the robbery happened, Kourtney and Kendall — who were already in Paris — rushed to be at her side, while Kris and Kanye West immediately got on a plane to be with her, too. But since Kim was obviously alone when it took place, she told the full story to her sisters during the episode, and hearing it from her was incredibly heartbreaking.
At first, Kim explained that she thought that the robbers had to have been following along with her the entire trip — both physically and via her Snapchat — and then saw their window of opportunity and decided to take it. She'd only been in bed for a few minutes when she heard people scuffling in the hall outside her room, and then she realized what was happening.
While talking to Kourtney and Khloé about what happened, Kim said:
"The concierge was handcuffed with the key to my room. They said, 'where's the rapper's wife? Let us up to her room' in French so he ended up being our interpreter because I couldn't understand them and they couldn't understand me ... I was saying while I was being tied up, 'Are we going to die? Are they going to kill us?' I was crying, and I was like, 'tell them I have babies.' They asked for money. I said, 'I don't have any money.' They dragged me out to the hallway to the top of the stairs. That's when I saw the gun, clear as day. And I was kind of looking at the gun, looking back down at the stairs ... and I was like, 'I have a split second in my mind to make this quick decision.' Like, am I gonna run down the stairs and either be shot in the back — it makes me so upset to think about it — but, like, they're either gonna shoot me in the back or if I make it and they don't, if the elevator does not open in time, or the stairs are locked, I'm f*cked. There's no way out."
Then, she added that once they'd duct taped her mouth, she was sure they were going to rape her and she began to mentally prepare herself for that. But then they didn't, and next, she came to the realization that she could (and maybe even would) die that night.
"They had the gun up to me and I knew that was the moment, they're just totally gonna shoot me in the head," she said. "I just prayed that Kourtney is going to have a normal life after she sees my dead body on the bed."
But then, Kim said that they picked her up and put her in the bathroom, and that's when they ran. And even though the experience was obviously horrifying and she truly thought she was going to die, the way she ended her story was this: "It's all replaceable, none of it matters."
It's truly difficult to hear what Kim went through in her own words, but the attitude she's taken about it shows just how strong she really is. Hopefully, by sharing her story, Kim is able to find peace with what happened to her. After everything she's been through, that's the least that she deserves.