Twitter's Having A Ball With "SEE YOU IN COURT"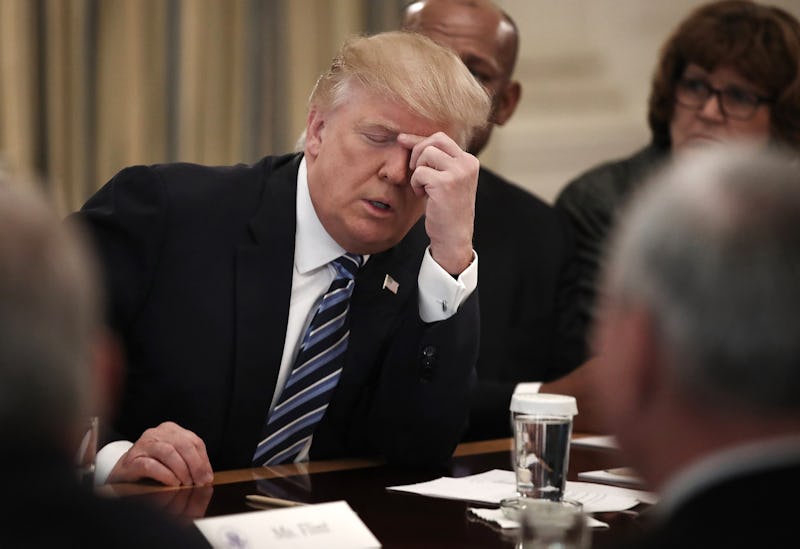 Win McNamee/Getty Images News/Getty Images
A few times this week, we've seen Republicans walk into seemingly ready-made traps. Take, for instance, when Mitch McConnell accidentally gave both Elizabeth Warren and the internet its collective "Nevertheless, She Persisted" rallying cry. Now, President Trump has walked into a meme-worthy trap of his own (as he often does), when he emphatically tweeted "SEE YOU IN COURT" in regards to the Ninth Circuit Court's ruling against his travel ban. It's too good of a moment to pass up, so Twitter (as it often does) has been sending Trump memes about his travel ban. Ah, the internet.
Trump's tweet in full reads: "SEE YOU IN COURT, THE SECURITY OF OUR NATION IS AT STAKE!" (Caps lock emphasis his own, of course.) Per the court's ruling, an earlier judge's restraining order on the controversial immigration order, which barred travel from seven predominantly Muslim countries, will remain in effect until its legality can be fully assessed. The judges unanimously concluded that putting a hold on the ban would not put the country in danger, though the decision will likely move to the Supreme Court.
The order has been largely unpopular since its onset, with multiple Democratic and Republican lawmakers joining against it in a rare moment of bipartisanship. So the internet, of course, had plenty to cheer about, and even more so with Trump's "SEE YOU IN COURT" declaration in mind.
Maybe He'll Get Bored Of Losing
The Big Boss Had Been Defeated
Everything Is Totally Fine, OK?
A Hard Pass, Dog
Obama Right Now, Probably
Now Arnold Can Say You're Fired
When You Fight The Law And It Wins
We Know Which Emotion Trump Is Right Now
So Upset
A Classic Arthur, Of Course
A Live-Action Replay Of The Oval Office
DEAL WITH IT
This Face Says It All
It's Time For A Little Song And Dance
Keep Racking Up The Wins
Even Judge Judy Knows
It's Surely Going To Be A Classic Trumpian Move
He'd Fit Right In
Maybe Trump Needs A Government Lesson
Next Thing You Know, He'll Be Taking Off His Mask
Anything To Distract, Right?
There's Gotta Be Order Somewhere
Elle Woods Takes No Prisoners, Either
Surely, the internet will be blessed with plenty other meme-worthy moments. In fact, they're one of the best things to come out of the dumpster fire that is Trump's tweet. One thing is for sure: We can expect plenty of other "SEE YOU IN COURT" tweets from Trump.