A Judge Ruled That Trump's Administration Has To Stop Forcibly Drugging Migrant Kids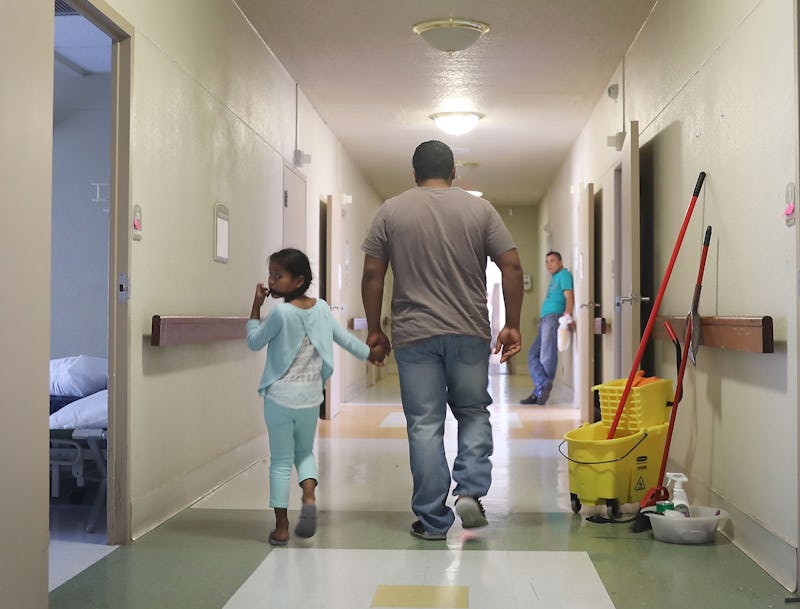 Joe Raedle/Getty Images News/Getty Images
On Monday, a federal judge ruled that the Trump administration violated child welfare laws by giving psychotropic drugs to migrant children at a detention center without their parents' consent. Children testified that they were forcibly given pills and injections by staff at the Shiloh Residential Treatment Center in Texas, which caused side effects ranging from nausea to depression.
The federally-funded Shiloh center has long faced allegations of child abuse and other misconduct. Staff members have been accused of beating child detainees, encouraging them fight each other, refusing to give them food and other violations. According to the Houston Chronicle, Shiloh has been cited 21 times by the state of Texas for violating restraint guidelines, and Texas Rep. Sheila Jackson-Lee has called for the center to be shut down.
In a lawsuit filed in April, one child detainee at Shiloh said that when she attempted to open a window, a supervisor hurled her against the door and choked her until she fainted. Staff members then forcibly gave her an injection despite her objections, she said, telling her that they would "calm" her. Several other children said they were forced to take medication that made them unable to walk, and one child said said he was told that if he didn't swallow the pills he was being given, he wouldn't be released from the detention center.
"The staff threatened to throw me on the ground and force me to take the medication," testified a child detainee, identified as Julio. "I also saw staff throw another youth to the ground, pry his mouth open and force him to take the medicine." It was later revealed in court that Julio was given Clonazepam, Divalproex, Duloxetine, Guanfacine, Latuda, Geodon, and Olanzapine by Shiloh officials.
After reviewing medical records from the facility, forensic psychiatrist Mark. J. Mills told Reveal News that the officials were improperly prescribing antipsychotic drugs to the children.
"You don't have to be a rocket scientist here. It looks like they're trying to control agitation and aggressive behavior with antipsychotic drugs," Mills said. "The facility should not use these drugs to control behavior. That's not what antipsychotics should be used for. That's like the old Soviet Union used to do."
In June, Reveal News reported that the psychiatrist at Shiloh who'd been prescribing drugs to child detainees wasn't certified to treat children by the state board, and hadn't been for almost 10 years. That man, Dr. Javier Ruíz-Nazario, was named in the lawsuit.
In her ruling Monday, U.S. District Judge Dolly Gee told the administration that it must seek parents' consent before giving psychotropic drugs to the children and explain to detained children — in a language they can understand and in a reasonable amount of time — why they are being detained. She also ordered that all children be transferred out of the Shiloh center, except for those who've been deemed a safety risk to themselves or others by a licensed professional.
In her ruling Monday, Gee determined that officials at the Shiloh center, in addition to breaking state child welfare laws, also violated the 1997 Flores agreement, a legally-binding court order that imposes restrictions on how children can be detained by the U.S. government.