The Trump Administration Is So Dire, Even Jeff Sessions Tried To Quit — REPORT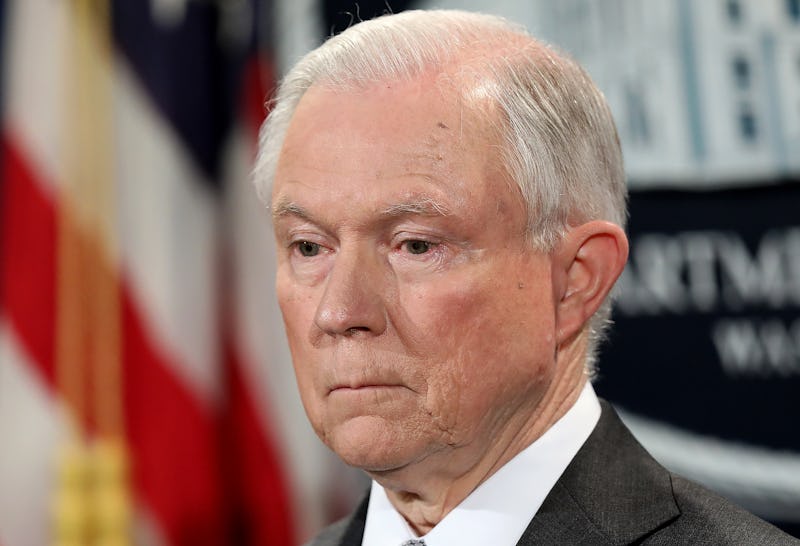 Win McNamee/Getty Images News/Getty Images
Weeks after he recused himself from overseeing probes into Russian election interference March, Jeff Sessions reportedly offered to resign as attorney general, according to multiple news outlets. On Tuesday, Sessions, who was one of the most ardent Trump supporters during the election, allegedly offered to quit. Relations had soured between the two, and "heated exchanges" in the past several weeks led to Sessions offering to step down, according to a CNN report citing a source close to Sessions.
CNN reported that there has been significant tension between Trump and Sessions over the past few weeks. Trump's primary point of contention allegedly centers around Sessions' decision in March to recuse himself from the Department of Justice's investigation into the Trump campaign's alleged ties with Russia, according to the CNN report. When Press Secretary Sean Spicer was asked on Tuesday about whether Trump had confidence in Sessions, "I have not had a discussion with him about that."
Sessions' recusal came after it emerged that he had met twice with the Russian ambassador to the United States in 2016 but had not disclosed these meetings when under oath during his Senate confirmation hearing. According to the New York Times, Trump viewed Sessions' decision to recuse himself as "needless" and has "fumed [about it] to allies and advisers ever since." As CNN reported, Trump apparently blames Sessions for the Russia investigation escalating to the level of requiring a special counsel, something with which Trump is not pleased.
In addition to his alleged frustrations with Sessions' recusal, Trump reportedly also took issue with Sessions' handling of his Executive Order "travel ban," which levies extra travel and immigration restrictions on people from six predominately Muslim countries. Both the original and revised versions have been halted by the courts.
Trump complained on Twitter that the Department of Justice — and, arguably, by extension, Sessions — was sending a "watered down" version of the travel ban to the Supreme Court, and not sending one that reflected his original Executive Order, which he signed in January.
In addition to Trump being reportedly frustrated with Sessions, the attorney general is reportedly also not content with the president. CNN reported that Sessions is frustrated with Trump's tweeting and commentary, particularly after former FBI Director James Comey's firing. Moreover, the New York Times reported that, according to an administration official who asked not to be named, Sessions was allegedly frustrated with Trump for asking New Jersey Gov. Chris Christie to lead a task force on the U.S. opioid epidemic without consulting Sessions first.
Despite the reported tension, though, Trump did not accept Sessions' offer to resign. As the New York Times noted, that may be because deputy attorney general Rod Rosenstein could offer far more pushback to the Trump administration.