Trump Is Officially Ending DACA & Leaving Hundreds Of Thousands Of Lives In Limbo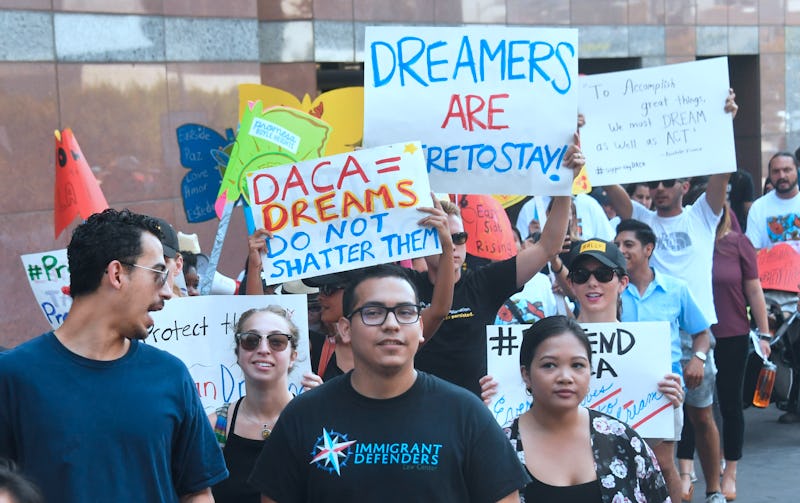 FREDERIC J. BROWN/AFP/Getty Images
After weeks of speculation, on Tuesday, Attorney General Jeff Sessions announced that the Trump administration is ending DACA, the Obama-era program that prevented nearly 800,000 young undocumented immigrants from deportation and granted them temporary work permits in the United States.
As was reported prior to the announcement, the program will not be ended immediately, but rather it will see an "orderly wind down," with an ultimate end date of March 5, 2018. That gives Congress six months to pass a bill to cover those affected by the end of Deferred Action for Childhood Arrivals, as the program is officially known.
Sessions argued that the administration was ending the program due to the way it was implemented, unilaterally by President Obama, rather than due to policy decisions regarding DREAMers, as the young immigrants are often called. Trump had Tweeted early Tuesday suggesting that the job was Congress's responsibility:
Congress, get ready to do your job - DACA!
And while that may have been the main argument put forward in Sessions' statement, he also hinted at — and at times outright mentioned — the Trump administration's anti-immigrant stances and xenophobic policies, including the Trump-supported RAISE Act, a bill that would end family ties- and lottery-based immigration policies.
Sessions also tied a control on immigration to Trump's varied promises of "protecting" American workers, raising wages, "defending" national security, and "ensuring" public safety — despite the fact that numerous studies show that immigrants commit crime at lower rates than native-born Americans and that cutting off immigration would hurt the economy.
The move amounts to another flip-flop for President Trump. From the campaign trail, he promised to "immediately terminate" DACA. Then after being elected, he told ABC News that DREAMers "shouldn't be very worried," because he was looking at the program "with great heart." He also promised to "take care of everybody."
Tuesday's announcement shows he has changed his mind, yet again, with reports pointing to Sessions being a key influencer on the topic. The first executive order draft to end the program was floated back in January, and in recent days Sessions and other anti-immigrant members of the administration seem to have made headway in finally convincing the president to take this step against DACA. According to a report, conservative advisers told the president that the program was likely to end due to a court order, but this way he gets to "take the credit."
A court case against an extended version of the program, set to include parents of DREAMers, was halted by the courts last year. In late June, some 11 attorneys general threatened to add DACA to the lawsuit if the administration did not terminate it on its own (however, Tennessee's attorney general has since changed his mind, leaving the number threatening court action at 10).
Now the president has relented to the push by conservative Republicans within and outside of his administration — or as Sessions put it:
That is what the President has promised to do and has delivered to the American people.
Both seem to be true.
If you oppose the end of DACA and support Dreamers being given legal residency in the United States, contact your senators and representative today.