The Trump Admin Moved The DACA Renewal Deadline Forward & Didn't Notify Dreamers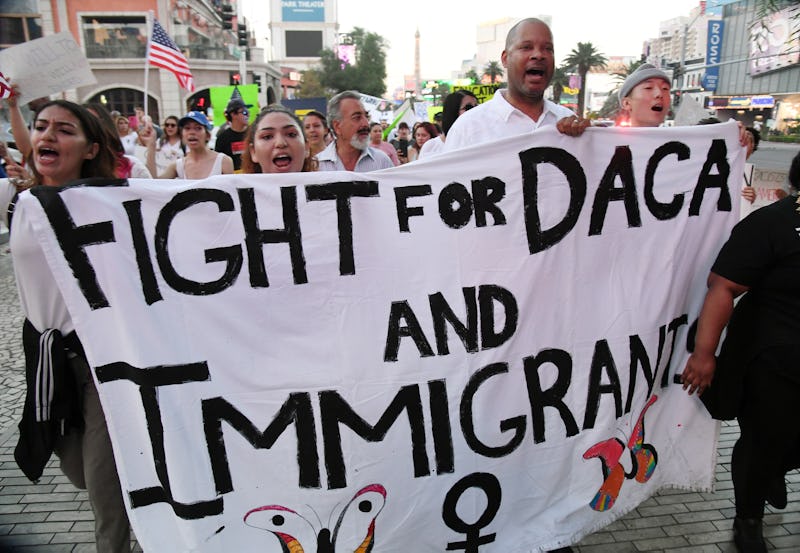 Ethan Miller/Getty Images News/Getty Images
The news that the Trump administration was ending the DACA program didn't come as big of a shock to advocates as did the rushed deadline to process renewals — they were given just one month from Attorney General Jeff Sessions' announcement that the program would be ending. And it turns out the Trump administration didn't even notify current DACA recipients about that updated deadline — one that came and went in just one month. Thursday was the last day to process a DACA renewal for anyone whose authorization expired on March 5 or sooner, and as many as 42,500 young people across the country may have missed it.
That comes as a big frustration to activists who worked around the clock the last month to process six months of renewal paperwork in just one month. That's 154,000 young residents who had to jump through complicated hoops of paperwork and find $495 at a moment's notice to ensure their stay in the only country many have ever known. But for those who didn't finish their renewal on time, they may not have even known about it.
The program's demise has been covered immensely in the mainstream and Spanish-language media, but that new deadline would have been a contradiction to paperwork that was given to the DACA recipients by the U.S. Customs and Immigrations Services who have run the program. According to Vox, many people would have received a letter before Sessions' announcement that told the recipients that they had 180 days to reapply, essentially six months. But the Trump administration ramped up the schedule and did not notify anyone individually.
The Deferred Action for Childhood Arrivals program began under an order from President Obama to offer residents who arrived as children without immigration papers a reprieve from deportation and working papers. Because it was an executive order, Trump could and did end it. He has called on Congress to pass a law, and at times there have even been reports of an agreement with Democrats to get something passed that would codify the program into law in some way.
The worry is that anyone whose DACA status expires before Congress acts could lose their job or even be deported. Because of that possibility and the hasty deadline announced by Sessions, three members of Congress are asking for more time from the administration. Reps. Lucille Roybal-Allard of California, Michelle Lujan Grisham of New Mexico, and Luis Gutierrez of Illinois wrote to Homeland Security Secretary Elaine Duke on behalf of the Congressional Hispanic Caucus:
We are very concerned that because DACA recipients were not individually notified of their eligibility for renewal, tens of thousands of DACA recipients could lose their work authorization and DACA status protections.
This is the latest of such requests, and the Los Angeles Times reported that the Department of Homeland Security has denied that there will be any extension. Applications from Puerto Rico and the Virgin Islands may get some leeway.
As for a longterm solution, Democrats are facing pushback from immigrant rights activists who are against any sort of compromise that would put their undocumented friends and family at risk. Most Republican plans are likely to include both border and internal security changes that would try to make it harder for older immigrants without papers to work. One Republican plan wouldn't let Dreamers sponsor family members to come to the country after they receive a permanent legal status.
Meanwhile, Thursday's deadline will come and pass, which adds as many as 42,500 to the total of DACA recipients whose statuses expire after March 5 — all will be left in limbo until the administration or Congress acts.