Trump's Admin Just Completely Reversed Guidelines On How College Admissions Consider Race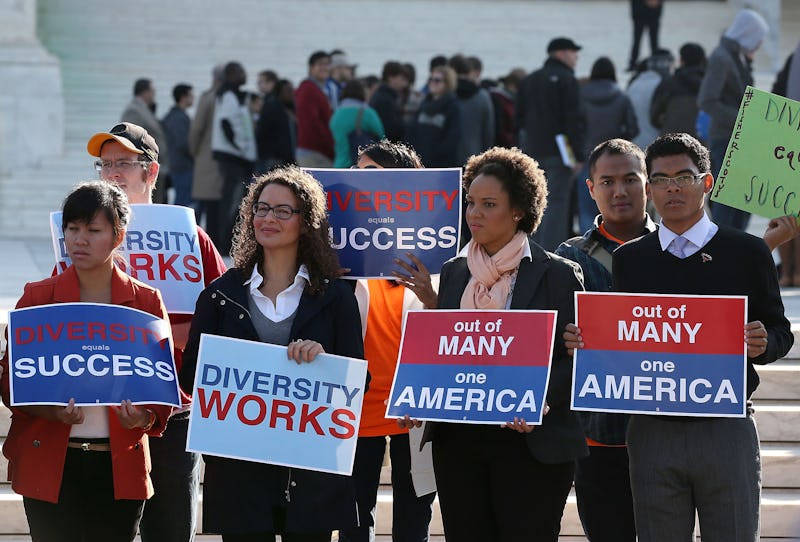 Mark Wilson/Getty Images News/Getty Images
On Tuesday afternoon, the Trump administration advised colleges to abandon affirmative action-style policies in their admissions process and adopt a "race-neutral" view toward applicants. It's a reversal of several Obama-era directives that, in an attempt to increase diversity in higher education, encouraged colleges to consider prospective students' race. Trump's directive is non-binding, as was the previous directive that it reverses.
"When issuing regulations, federal agencies must abide by constitutional principles and follow the rules set forth by Congress and the President," Attorney General Jeff Sessions said in a statement announcing the reversal. "In previous administrations, however, agencies often tried to impose new rules on the American people without any public notice or comment period, simply by sending a letter or posting a guidance document on a website. That's wrong, and it's not good government."
Justice Department spokesperson Devin O'Malley told the New York Times that in November, Sessions ordered a review of past policies that, in Sessions' eyes, encouraged the department to overstep its legal bounds with regard to affirmative action. As a result, President Trump is now withdrawing seven policy guidances from the Department of Education's Office for Civil Rights.
"The executive branch cannot circumvent Congress or the courts by creating guidance that goes beyond the law and — in some instances — stays on the books for decades," O'Malley told the Times.
The administration argues that the Obama directives, which were issued in 2011 and 2016, misrepresented how easy it is for schools to implement affirmative action policies that fall within the limits the Supreme Court has placed on the policy. In 1978, the court affirmed the constitutionality of affirmative action but ruled that racial quotas are illegal. It has upheld this ruling several times since.
Anurima Bargava, who led civil rights enforcement in schools in Obama's Justice Department, disputed the Trump administration's characterization. Bargava told the Times that Obama's directives simply explained how colleges could legally implement affirmative action policies if they so desired.
"The law on this hasn't changed, and the Supreme Court has twice ruled reaffirming the importance of diversity," Bargava said. "This is a purely political attack that benefits nobody."
Trump's decision may serve as a prelude to a larger, revived national debate about race-based affirmative action.
Prior to the issuance of Tuesday's directives, the Justice Department gave legal support to an organization that's suing Harvard University for its use of race in admissions policies. The Students for Fair Admissions has accused Harvard of implementing a "racial balancing" policy that caps the number of Asian students admitted every year. While the Justice Department hasn't formally joined the lawsuit, it filed a court briefing in support of the SFFA in April.
Some suspect that true goal of the SFFA's lawsuit is to convince the Supreme Court to take another look at — and ultimately eliminate — race-based affirmative action in college admissions. The court has often reviewed affirmative action policies in college admissions, but has not outright prohibited colleges from considering race in the admissions process. However, this may change once Justice Anthony Kennedy, who has voted to uphold affirmative action, retires from the court later in July.
The SFFA is led and bankrolled by Edward Blum, a conservative legal activist who's brought affirmative action cases to the high court before. In 2012, Reuters reported that he spent two and a half years trying to find a white college student in America who had been unfairly rejected in favor of a minority applicant. Blum eventually settled on Abigail Fisher, who had recently been rejected from the University of Texas. The two sued the school in an attempt to force it adopt a race-neutral policy regarding admissions, and the case made its way to the Supreme Court. However, the high court upheld UT's affirmative action policies, with Kennedy casting the deciding vote.
But Kennedy is retiring at the end of the month, and Trump will almost certainly replace him with a more conservative justice. Should SFFA's lawsuit advance to the Supreme Court after that Kennedy's replacement is confirmed, the policy could face a more hostile court than it has in years.