Here's How The Guy Who Vandalized Trump's Star Is Arguing That It Wasn't A Crime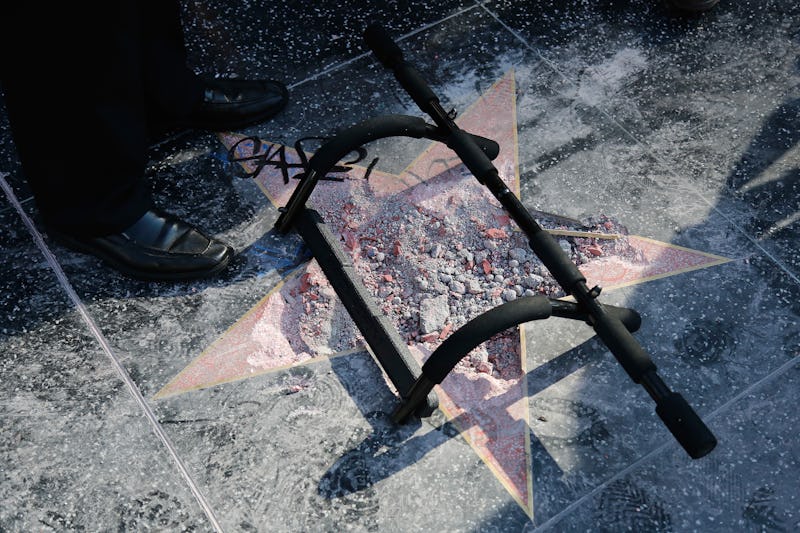 Katharine Lotze/Getty Images Entertainment/Getty Images
Vandalism, protest, or both? Last month, a man named Austin Clay claimed to have taken to the Hollywood Walk of Fame to smash Donald Trump's sidewalk star with a pickaxe. On Wednesday, the Trump Hollywood Star vandal pleaded not guilty to one felony count of vandalism, calling the destruction a "just act."
"I don't personally think that there should be any charges brought against me," 24-year-old Clay told reporters outside a Los Angeles courthouse. "Because what I did, I believe, was a rightful and just act.
At about 3:30 am on July 25, Clay supposedly walked up to Trump's star with a pickaxe in a guitar case, and proceeded to bash the spot to rubble, including breaking through the brass nameplate on the star. According to The Los Angeles Times, Clay turned himself in to the Beverly Hills Police Department an hour later and was booked on suspicion of felony vandalism, a charge for which he could face up to three years in prison.
To be clear, according to his lawyer David Pourshalimi, Clay isn't disputing that he destroyed the star. "We dispute whether or not his actions were criminal," Pourshalimi said outside the courthouse.
"I think that there was urgency behind my actions," Clay said. "I feel like I've been called to do what I did."
Clay justified his destruction of the star by calling it an act of political protest against the president's "unprecedented" rhetoric and actions — he named Trump's relationship with Russian president Vladimir Putin, and an intolerant attitude toward immigrants, women, people of color, and queer folk as examples.
"I think that the more resentment towards the president… the more activity against the president that happens, the better things will be, ultimately," Clay said on Wednesday.
The iconic Walk of Fame Stars are awarded by the Hollywood Chamber of Commerce every year, but it's never a surprise to the recipient. That's because after a notable celebrity is nominated, the nominee has to confirm that they actually would like a sidewalk star. Then someone — either the person nominating, or the celebrity themselves — has to fork over $40,000 for the star to be installed, and in the president's case, restored after vandalism.
Clay's pickaxe episode is just another in a string of vandalism incidents against the president's Walk of Fame star, beginning during his 2016 campaign. People have spat on it, graffitied a mute signal over it, and even let their dogs defecate on it. In October, 2016, a 52-year-old man named James Otis took a sledgehammer to the landmark. Otis was also charged with felony vandalism, but served no jail time. Instead, in 2017, he was sentenced to three years probation, 20 days of community service and $4,400 in fines. In fact, after Clay was arrested and held on $20,000 bail, it was Otis who reportedly stepped up to pay it.
The Hollywood Chamber of Commerce is apparently frustrated with the particular brand of protest that has befallen Trump's star. "The Hollywood Walk of Fame is an institution celebrating the positive contributions of the inductees," Leron Gubler, President-CEO of the Hollywood Chamber of Commerce told NBC Los Angeles. "When people are unhappy with one of our honorees, we would hope that they would project their anger in more positive ways than to vandalize a California State landmark. Our democracy is based on respect for the law. People can make a difference by voting and not destroying public property."