The Push To Take The Trump Hotel's Liquor License Away Could Serve A Larger Purpose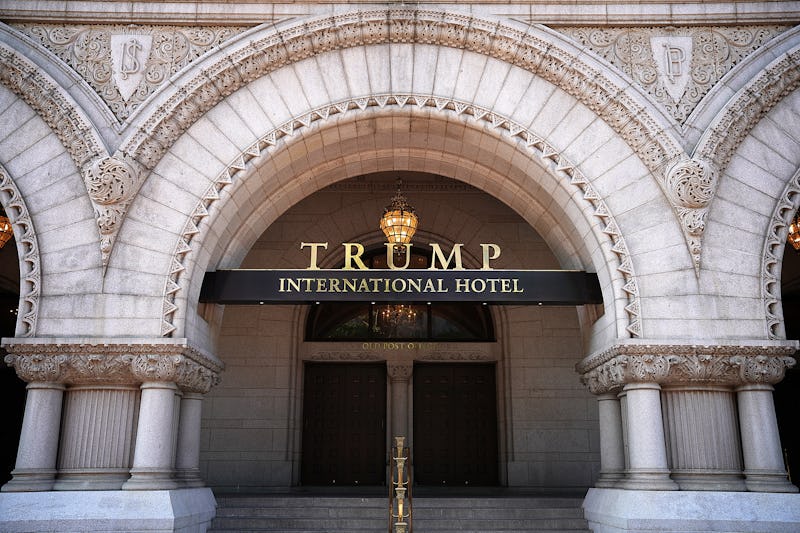 Win McNamee/Getty Images News/Getty Images
A group of activists is challenging the Trump International Hotel D.C.'s liquor license, arguing that it runs violates a local law requiring liquor license holders to be "of good character." It might seem like nothing more than a novel bit of trolling — but the activists have a bigger goal in mind than simply making the Trump Hotel booze-free.
The action is being taken by a group comprising five religious leaders and two former or inactive judges, according to the Daily Beast. Although their immediate goal is to convince the District of Columbia Alcohol Beverage Control Board to yank Trump's liquor license in Washington D.C., their long-term hope is that the move will result in Trump fully devolving himself from his business interests — something he pledged to do but has not done.
"Mr. Trump put his character at issue when he certified that he is the owner of the licensee," Joshua A. Levy, an attorney for the complainants, told the Daily Beast. "If he doesn't want to adjudicate his own character, he can transfer his ownership [of the liquor license] to someone who, as opposed to Mr. Trump, can meet the statutory requirements."
The challenge is being filed by retired magistrate judge Joan Goldfrank, inactive district court judge Henry H. Kennedy Jr., Metropolitan African Methodist Episcopal Church senior pastor Rev. William Lamar IV, former chair of the White House Council on Faith and Neighborhood Partnerships Rev. Jennifer Butler, Baptist preacher Rev. Dr. Timothy Tee Boddie, Conservative Jewish Rabbi Jack Moline and Orthodox Jewish Rabbi Aaron Potek, according to the Daily Beast.
"Through his behavior both before and during his presidency, Donald J. Trump has demonstrated that he lacks good character," the complaint reads. "Good character involves an evaluation of an individual's moral and ethical qualities, including such virtues as honesty, integrity, and how a person treats others, particularly those less fortunate and less powerful."
The complainants go on to cite several reasons why Trump is not of good character, including "lies he has told, his involvement in relevant fraudulent and other activity demonstrating his lack of integrity, and his refusal to abide by the law or to stop associating with known criminals." The complaint cites Trump's contradicting statements about Stormy Daniels, the hundreds of contractors who've accused Trump of refusing to pay them, the $40 million fraud lawsuit that the state of New York filed against him, the 16 women who've accused him of sexual assault (allegations he's denied), and his racism.
Although it's too soon to say whether the challenge will succeed, one former member of the liquor board is already on the record supporting it. In a statement, Mafara Hobson said that the board should launch "an immediate investigation and subsequent hearing to determine if the hotel is in compliance and worthy of the privilege to hold a liquor license in the nation's capital."
"Licensees in the District of Columbia are required to display and maintain good character and integrity at all times. Those that don't are mandated to show cause before the Board," Hobson said. "This man has repeatedly and unapologetically shown the world that he lacks civility and exhibits pervasive abuse of the law, women and people of color."
In addition, an Advisory Neighborhood Commission that represents neighborhoods north of the hotel voted unanimously earlier in July to support the challenge, the Washington Post reports.
The board is currently carrying out an investigation of the allegations made by the challengers. Once that investigation is complete, the board will either schedule a hearing in which Trump's hotel will have to prove that Trump is of good character, or determine that no further action is necessary, the Post reports.