You Can Live Right Below Donald's Bedroom In Trump Tower (For A Few Million Dollars)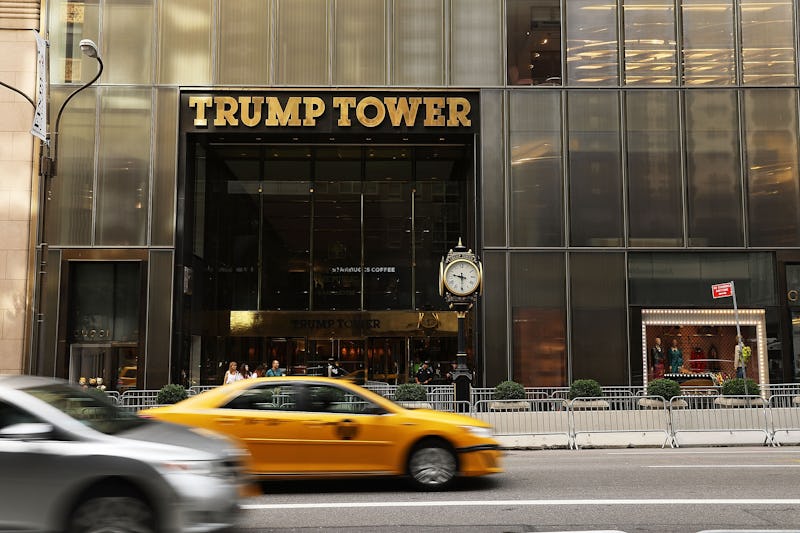 Spencer Platt/Getty Images News/Getty Images
If you're looking for a room in Manhattan, the Trump Tower apartment right below the president's bedroom is going on sale, Page Six reported Friday. It's being listed for $24.5 million — and according to Page Six, there isn't much President Trump can do to stop it from being sold to the highest bidder.
When Trump became president, he handed over management of Trump Tower to his sons, Don Jr. and Eric. But he still maintains his own triplex penthouse in the building, and the apartment right underneath that penthouse — unit 64/65AB — is now on the market.
"This majestic Fifth Avenue duplex Penthouse in one of New York's most renowned buildings features over 6,100sf of expansive living space replete with soaring ceilings ready for custom design," the listing at Dolly Lenz Real Estate reads. "Encompassing the entire southern face of the building on the 64th and 65th floors with panoramic skyline and cityscape views, this cavernous home features 5+ grand bedroom suites and entertainment rooms framed by floor-to-ceiling windows throughout." It goes on to call the unit "an irreplaceable gem [that] represents great value."
Trump's penthouse takes up floors 66 through 68 in the building, according to the Page Six, and its bathroom is believed to directly adjoin the unit that's now on sale.
Apartment 64/65AB is being vacated by Oklahoma billionaire Jeff Records, according to Page Six, and while it's too soon to say who will ultimately replace Records in the suite, sources expressed concern to the Post that selling the apartment directly below the president's on the open market could pose a national security risk.
"What is to stop the Chinese or the Russians from buying the apartment under a front, and then drilling spy holes in the ceiling to listen to the conversations and goings-on?" one source told Page Six.
It's unclear if Trump or anybody in his orbit is concerned about this possibility, or if the sale of the unit is even on their radar. If it is, though, the building's board of directors has a legal option for preventing its sale: It could issue a board waver, Page Six reports, which would involve the board itself buying the unit. Again, nobody has reported that this is under consideration, but the option is theoretically available.
The board could also attempt to dissuade a buyer from going through with the deal by hitting them with FBI background checks and other bureaucratic red tape, sources told Page Six, in an effort to wear them out. One source even suggested that the United States government could buy the apartment for reasons of national security.
Although Trump obviously raised his profile dramatically by running for and ultimately winning the presidency, the rooms in Trump Tower have fallen in value since he announced his campaign. Between 2015 and 2018, prices for rooms in the building have fallen by 30 percent per square foot, according to Reuters — a much steeper plunge than the 9 percent fall in value that comparable properties in Manhattan's Midtown East Side have experienced over the same period of time.
"Clearly, the Trump candidacy and presidency have had a negative impact on the real estate values," Wendy Maitland, a broker with Brown Harris Stevens, told Reuters. She added that the number of units on sale in Trump Tower has doubled between 2015 and 2018.