Apple TV+'s 'Truth Be Told' Trailer Gives Off Major 'Making A Murderer' Vibes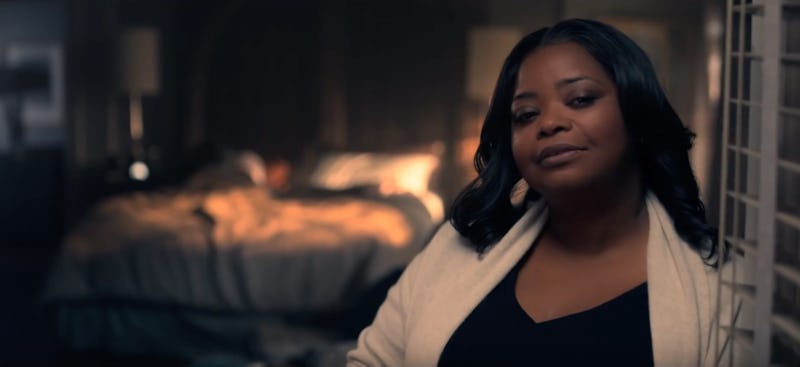 YouTube / Apple TV
It might not be based on a true story, but this new Apple TV+ show gives off major Making a Murderer vibes. Apple TV+'s Truth Be Told trailer lets the audience dive into the world of compelling true crime investigations — like the hit Netflix docuseries. Though, in this show, the case at the heart of this TV show isn't actually real, and it features performances by Octavia Spencer and Aaron Paul.
The new series, one of the first on Apple's upcoming streaming service, follows Poppy Parnell (Spencer), an investigative reporter who hosts a true crime podcast. But her world gets turned upside down as new evidence compels her to reopen the same murder case that made her famous and come face to face once again with Warren Cave (Paul), the man she may have mistakenly helped to put in jail.
Warren was convicted of murdering the father of identical twins Josie and Lanie Buhrman, both played by Lizzy Caplan in the show. "18 years, 10 months, 24 days, that's how long Warren Cave has sat in prison for the murder of Chuck Buhrman," Spencer's character stated in a voiceover. "I helped seal Warren's fate with a series of articles, but is there an innocent man in prison? And did I lead that charge?"
The new trailer stays cryptic, not allowing many hints of what's to come, but it does give a peek at the murder victim's mysterious family and Warren's life in jail. The potentially innocent man even goes head to head with Poppy herself as he accuses her of making him look like a "privileged psychopath" to the public. "The people will get their show," he sneered at the end of the trailer.
The 10-episode limited series is based off the novel Are You Sleeping by Kathleen Barber, which offers readers a glimpse into why people can't stop listening to true crime podcasts. The book "challenges its viewers to consider the consequences when the pursuit of justice is placed on a public stage," as reported by Variety. Barber was inspired to write the novel by Serial, a famous true crime podcast by Sarah Koenig, who also serves as a consultant on the series.
But if one of the show's stars is to believed, Truth Be Told will be quite different from its inspiration. In a new interview with Variety, published on October 10, Caplan talked about her new character and teased that the show's ending may not be that faithful to the novel.
"I play twins in Truth Be Told and one of them is also completely bonkers," she said, explaining that she never wants to stop playing insane women in her career. "But Truth Be Told is very different from the book, so if you've read the book, the resolution, you don't know what's going to happen in the show, as far as I can tell."
Although Apple TV+ officially launches on November 1, Truth Be Told will premiere on the service on December 6, meaning fans will have to wait just a little longer to get their true crime fix.