Photos Of The UAE's "Gender Balance" Awards Went Viral Because They Only Feature Men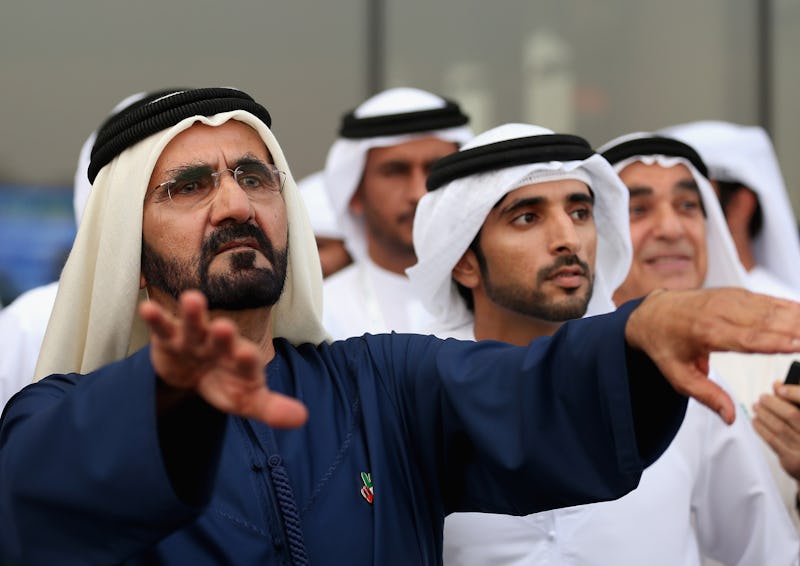 Warren Little/Getty Images Sport/Getty Images
Government officials in Dubai sought to celebrate those championing gender equality in the United Arab Emirates (UAE) with an awards ceremony that left a number of people wondering: where are all the women? Women weren't simply outnumbered at the ceremony, they were absent from the awards podium too. In fact, all of the UAE's "gender balance" awards went to men.
While Sheikh Mohammed bin Rashid Al Maktoum, who serves as vice president and prime minister of the UAE as well as ruler of Dubai, praised the achievements of Emirati women in a press release announcing the awards, women were conspicuously absent from the list of 2018 Gender Balance Index awardees. "The achievements of Emirati women today reaffirm the wise vision of the late Sheikh Zayed bin Sultan Al Nahyan, who believed in the importance of the role of women, and their right to work and become key partners in society," Sheikh Mohammed said.
But apparently no Emirati woman's achievements were enough to earn them an award. According to the Government of Dubai media office, awardees included Minister of Interior and Deputy Prime Minister Lt. Gen. Sheikh Saif bin Zayed Al Nahyan for Best Personality Supporting Gender Balance; the Ministry of Finance for Best Government Entity Supporting Gender Balance at a ministerial level; the Federal Competitiveness and Statistics Authority (FCSA) for Best Federal Entity Supporting Gender Balance at an institutional level; and the Ministry of Human Resources and Emiratisation's Remote Employment initiative for Best Gender Balance Initiative.
In a tweet from Dubai's media office, Sheikh Mohammed was quoted as praising UAE's federal agencies for their commitment to gender equality. "Gender balance has become a pillar in our governmental institutions," he said. And although no woman walked away with a Gender Balance Index award, Sheikh Mohammed claimed their "role" was "central to shaping the future of the country."
A separate tweeted roundup of pictures from the awards ceremony, which showed the Gender Balance Index awards being received by male recipients, was met with much sarcasm on Twitter. "One of these things is... wait, no. They're all like the others," one Twitter user wrote.
"You have achieved excellent balance of men with dark facial hair, and men with light facial hair. My congratulations," another user quipped.
But women didn't appear to have been completely forgotten at UAE's Gender Balance Index awards. According to a press release, Sheikh Mohammed "expressed his appreciation" for Supreme Council for Motherhood and Childhood President and Family Development Foundation Supreme Chairwoman Sheikha Fatima bint Mubarak for her "sincere efforts and continuous care." Although Sheikha Fatima did not receive an award, she was credited with encouraging Emirati women "to learn and develop," according to the press release. Sheikha Manal bint Mohammed bin Rashid Al Maktoum was also recognized at the event for heading the country's Gender Balance Council, which reportedly facilitates "exceptional projects that helped achieve the nation's goals of gender balance."
Internationally, however, the UAE doesn't have a reputation for gender equality. In fact, the country ranked 121st out of 149 countries overall in the World Economic Forum's 2018 Global Gender Gap Report. The country was, however, noted to be one of the Middle East and North Africa region's top three performing countries in regards to efforts to close the gender gap.