The UK Parliament Attack Is Being Treated As Terrorism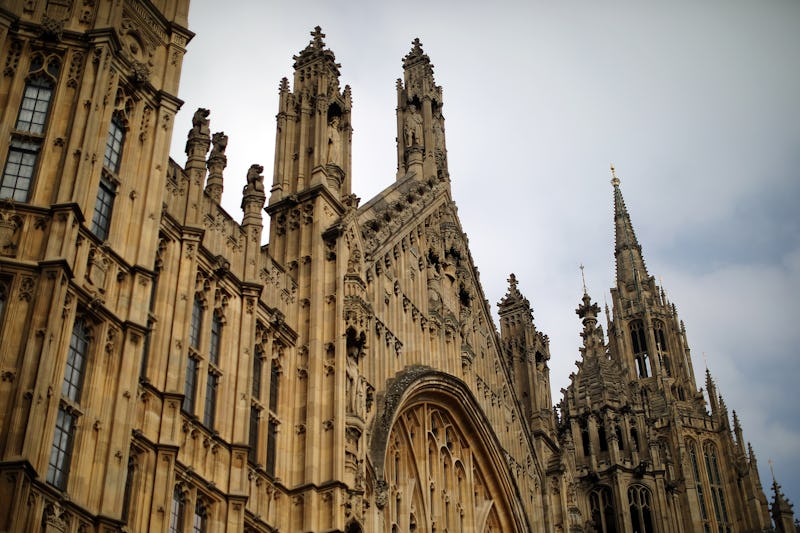 Dan Kitwood/Getty Images News/Getty Images
On Wednesday, police responded to reports of a shooting outside the Houses of Parliament, and it appears the UK Parliament attack is being treated as terrorism as officials investigate. According to early reports, a police officer was stabbed inside Parliament, and a car was driven into the crowds on Westminster Bridge. A suspected assailant has reportedly been shot by armed police. Meanwhile, Westminster is currently on lockdown as victims of the attack are treated and police investigate. The UK Metropolitan Police have tweeted that they "are treating this as a terrorist incident until [they] know otherwise."
Reports of the attack came in during Wednesday afternoon. Although it's important to note that initial reports tend to be unreliable, according to the BBC, as many as five people were hit by the car on Westminster Bridge, and footage from social media shows people lying in the road. The attacker appears to have then run inside the Palace of Westminster and stabbed a police officer. He reportedly approached a second officer before being shot by armed police. The House of Commons and Lords has been suspended following the attack.
House of Commons Leader David Lidington gave a statement to members of the Parliament, confirming that the suspected assailant was shot. "The alleged assailant was shot by armed police. An air ambulance is currently attending the scene to remove the casualties," he said, according to The Independent.
Lidington went on to refer to "reports of further violent incidents in the vicinity," but he declined to go into further detail until more information was available.
The UK's current threat level for international terrorism, decided by MI5's Joint Terrorism Analysis Center, is listed as severe by MI5. (However, London was already on alert for the funeral of former IRA leader Martin McGuinness.) Around 3 p.m. local time, the Metropolitan Police provided a statement asking people to avoid areas around Westminster to allow emergency services to deal with the incident.
"It is being treated as a firearms incident. Officers - including firearms officers - remain on the scene and we are treating this as a terrorist incident until we know otherwise," the statement reads. "We thank the public for their assistance."
Medics have confirmed that one woman has died and numerous others have been injured, The Telegraph reports. The motivation for the attack remains unknown.