The Ulta Beauty 21 Days Of Beauty Event Is Finally Here! See Everything Going On Sale This Week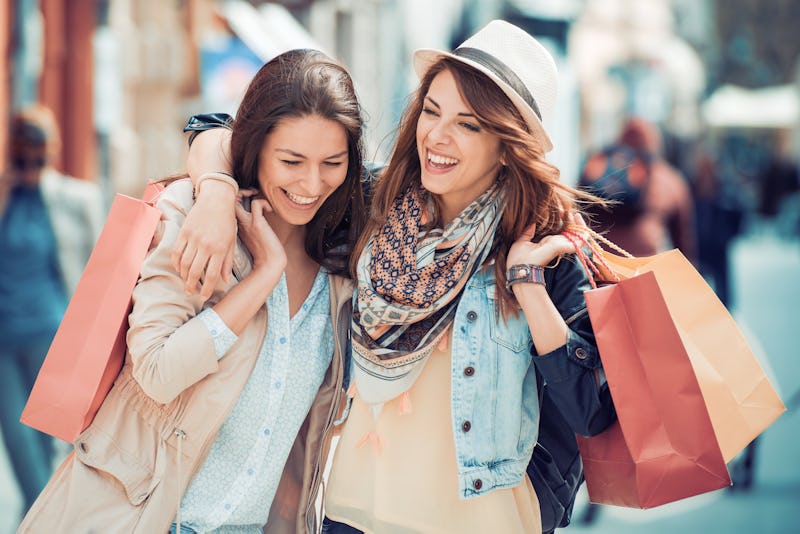 Ivanko80/Shutterstock
Get ready! Ulta Beauty's 21 Days of Beauty event has finally arrived, lasting from March 17 through April 6. That means for the next three weeks, you can embark on an epic treasure hunt, shopping your favorite products — from major brands like MAC, Becca Cosmetics, and Tarte — at 50 percent off. Different products go on sale each day, so keep an eye our for the constantly changing daily steals.
This is the perfect time to discover something new and try a product for the first time, like the Peter Thomas Roth Hungarian Thermal Mask (normally $58 but on sale for $29). Consider IT Cosmetics Bye Bye Pores Pressed and Silk Micro Powder for a blurred finish, or try Urban Decay Eyeshadow Primer Potion to lock your look in place. (Pro tip: It's not just for eyeshadow. It also keeps your impeccable winged liner from smearing.)
Whichever steals you discover, there's no going wrong here. In partnership with Ulta Beauty, we've put together a treasure map of everything going on sale this week. So scroll, swipe, and plan your pick-me-ups by the day.
Dose of Colors Desi x Katy Eyeshadow Palette Friendication
With a mix of long-wear, blendable mattes and highly pigmented, multi-dimensional metallic shades, this palette will keep your lids pretty day and night.
Teami Green Tea Blend Detox Mask
This face mask nourishes skin, fights blemishes, and leaves you with healthy glow, thanks to a combo of matcha, lemongrass, and clay. It's the perfect detox blend for all skin types — and that vibrant green color is just begging to be Instagrammed.
With finely ground Ecuadorian ivory palm seeds and a batch of botanicals like ginger, gingko, green tea, aloe, and coconut, this exfoliator banishes dullness to reveal a smoother, more radiant complexion.
bareMinerals Veil & Perfecting Veil
The bareMinerals Veil and Perfect Veil are airy finishing powders that lock makeup in place and give skin an airbrushed effect.
These creamy long-wear eyeshadows dry to a rich finish. They're beautiful on their own or can be used as primer for other shades.
Proactiv Adapalene Gel and Skin Smoothing Exfoliator
Proactive is truly a pro when it comes to fighting acne: The FDA-approved Adapalene Gel is a topical retinoid that used to be available only by prescription, and the Skin Smoothing Exfoliator fights existing blemishes while helping to prevent new ones.
Becca Cosmetics Backlight, First Light, and Ever Matte Primer
We have no interest in primers that flatten or dull our skin. Fortunately, Becca Cosmetics' line contains luminescent pearls that make sure your skin glows as it's prepped. Backlight creates a healthy sheen; First Light uses lavender pearls, prickly pear, and ginger to brighten and hydrate; and Ever Matte is like oil-blotting sheets in a bottle.
Clarisonic Applicator Brush Heads
We're all familiar with Clarisonic's popular facial cleansing brush heads, but did you know some of their attachments can also be used to apply foundation? Game changing.
Too Faced Chocolate Gold Eyeshadow Palette
These decadent shadows are infused with real gold and cocoa powder. You'll look like royalty — and smell divine.
Urban Decay Eyeshadow Primer Potion
This can't-live-without primer gives you crease-free shadow for 24 hours, makes your colors more vibrant, and helps them glide on more smoothly.
Peter Thomas Roth Hungarian Thermal Mask & Moisturizer
When you experience the mask's water-activated heat, you'll have to pinch yourself to remember you're not at a spa. And the moisturizer will leave you with that post-facial glow.
Philosophy Time in a Bottle Serum & Eye Serum
Philosophy's aptly named serums firm up skin and use gingko extract and caffeine to help you look more well rested.
Anastasia Beverly Hills Brow Wiz
This product is a classic: The fine-point pencil allows you to fill in sparse areas with hair-like strokes, and the spoolie allows for seamless blending.
Clinique Hi Impact Favorites Kit
Stock up on the timeless brand's boldest products with this kit, including their makeup remover and mascara.
IT Cosmetics Bye Bye Pores Pressed & Silk Micro Powder
These powders finish off any look with an filtered effect.
Murad Clarifying Cleanser & Oil-Control Mattifier SPF 15
Talk about a cure for the Sunday Scaries: This cleanser and mattifier combat breakouts and minimize shininess.
IT Cosmetics brushes for Ulta Beauty
The rounded shape on these brushes is designed to pick up the ideal amount of product, so you can blend evenly onto your skin.
If you're worried about missing any daily beauty steals (and other awesome promos) during 21 Days of Beauty, just head to the link to keep track of them all through April 6!
This post is presented by Ulta Beauty.
Design: Emma Muro/BDG