The UN Was Asked About Trump's "Sh*thole Countries" Comment — And Its Answer Isn't Subtle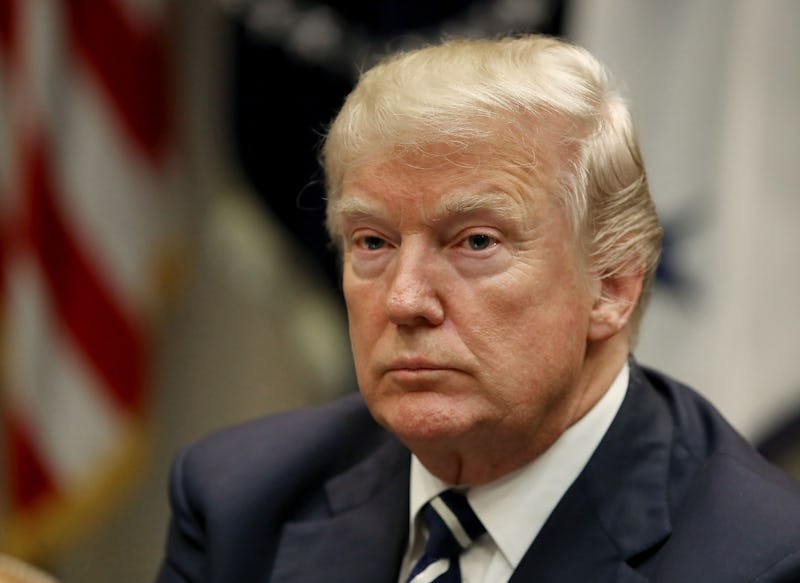 Mark Wilson/Getty Images News/Getty Images
On Thursday night, Trump once again became the target of criticism when the Washington Post reported that the President referred to Haiti and a number of unspecified African countries as "sh*tholes" during a briefing on immigration. A number of world leaders and politicians have since weighed in on the President's remarks — and, when asked, the United Nations even called Trump "racist" in a harsh rebuke of his claims.
"There is no other word one can use but racist," the UN human rights spokesman, Rupert Colville, said in a Geneva news briefing. "You cannot dismiss entire countries and continents as 'sh*tholes', whose entire populations, who are not white, are therefore not welcome."
Colville went on to call the President's statement "shocking" and "shameful," adding:
It legitimizes the targeting of people based on who they are... [and] go against the universal values the world has been striving so hard to establish since World War II and the Holocaust ... This isn't just a story about vulgar language, it's about opening the door to humanity's worst side.
The President also drew the ire of the African Union, which represents all 55 African countries. In a statement, an AU spokesperson said that it was "frankly alarmed" by the President's remarks — especially given America's own dark history on the continent.
Given the historical reality of how many Africans arrived in the United States as slaves, this statement flies in the face of all accepted behavior and practice. This is particularly surprising as the United States of America remains a global example of how migration gave birth to a nation built on strong values of diversity and opportunity.
A White House spokesperson has defended Trump's comments, stating that the President "is fighting for permanent solutions that make our country stronger by welcoming those who can contribute to our society, grow our economy and assimilate into our great nation."
According to TheWashington Post, President Trump became "frustrated" during an Oval Office meeting last Thursday when lawmakers began discussing legal protecting for immigrants from Haiti, El Salvador and African countries as part of a bipartisan immigration deal.
"Why are we having all these people from s***hole countries come here?" Trump said in statements that have since been leaked by the lawmakers present at the meeting. "Why do we need more Haitians? Take them out."
Trump went on to say that the United States needs more immigrants from places like Norway and Asian countries, who fe felt could contribute more significantly to the U.S. economy.
Just last month, President Trump reportedly said that the thousands of Haitian immigrants living in the United States "all have AIDS," and that Nigerian immigrants "would never go back to their huts" after experiencing life in America. The White House has denied those claims.
In October, Trump also derided the "poor leadership" of Puerto Rico after the island commonwealth was ravaged by a Category 5 hurricane, and said that its citizens, many of whom are still living without electricity three months later, "want everything to be done for them."
Trump's most recent comments come as his administration is gearing up to force at least 260,000 El Salvadorian immigrants back to their home country by terminating their decades-old Temporary Protected Status. The TPS program allowed these immigrants to stay in the United States and work legally after El Salvador was stuck by a devastating earthquake in 2001. According to Vox, this means that as many as 192,700 US-born Salvadorian children have at least one parent who could lose lose legal status and be deported.
From the moment Trump called all Mexicans "rapists" in an infamous speech that announced his candidacy for president, he has promoted a strong sense of nationalism by calling for closed borders and an increase in immigration raids. This week's "s***hole" remark is just the latest example of how Trump is using his rhetoric to push forward that agenda and make policy proposals that could have drastic effects on the lives of hundreds of thousands of immigrants.