The Right To Free Assembly Is Under Attack, The UN Says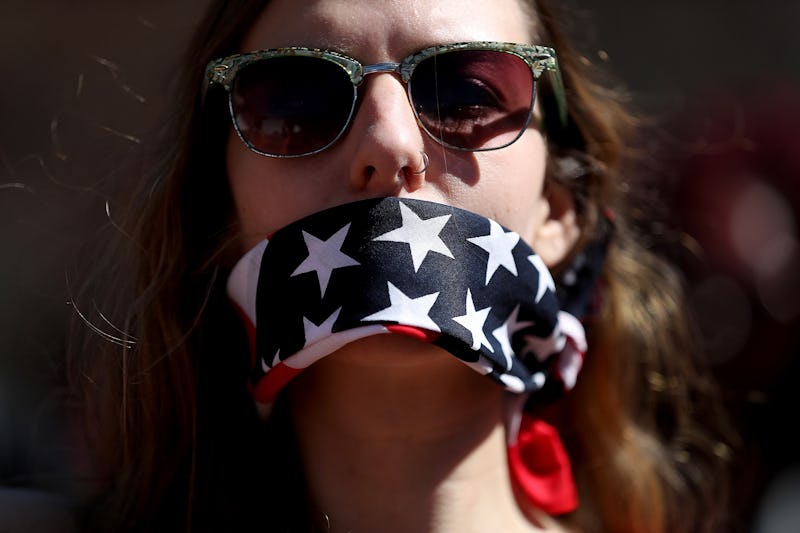 Justin Sullivan/Getty Images News/Getty Images
On Thursday, the United Nations issued a warning that should be concerning to Americans of all stripes. Citing an "alarming" trend of "undemocratic" legislation at the state level, representatives from the UN said the right to free assembly, traditionally one of America's most deeply-held values, is now under threat. This assault on the First Amendment started just around the time Donald Trump assumed the presidency, the authors of the report said.
"Since January 2017, a number of undemocratic bills have been proposed in state legislatures with the purpose or effect of criminalizing peaceful protests," wrote Maina Kiai and David Kaye of the UN Special Rapporteur, in a joint statement.
The bills, if enacted into law, would severely infringe upon the exercise of the rights to freedom of expression and freedom of peaceful assembly in ways that are incompatible with US obligations under international human rights law and with First Amendment protections. The trend also threatens to jeopardize one of the United States' constitutional pillars: free speech.
Kiai and Kaye cited no fewer than 19 states that have introduced legislation to limit the right to protest and free assembly; in all but one of those states (Michigan), the bills in question were introduced after Trump won the presidential election.
Arkansas, for instance, has already passed a law that would designate certain protests as "unlawful mass picketing," and thus ban them. Any demonstration that obstructs "free use" (not defined) of public land, blocks access to a private residence or public facility, or contains a threat of violence would be illegal.
In Florida, meanwhile, a bill has been introduced that would criminalize protests that "obstruct or interfere with the regular flow of vehicular traffic on a public road, street, or highway." More importantly, the legislation would make it legal, under certain circumstances, for Florida drivers to hit and kill protesters with their cars. That's not an exaggeration — it's plainly stated in the last paragraph of the bill, which you can read here.
Minnesota has introduced three separate bills to crack down on the right to freely assemble and protest. The most egregious of them would make it illegal not just to block traffic, but to do anything that "tends to interfere with or obstruct" the use of a vehicle, with a maximum penalty of three years in prison.
Although these are all state laws, they're relevant on a national level. Trump has criticized the First Amendment for offering "too much protection" for free speech. Moreover, public demonstrations have played a crucial role in the anti-Trump movement, perhaps most notably when protesters spontaneously filled airports in January to oppose the president's travel ban.
Still, as the authors of the UN report wrote, the biggest reason these laws are concerning has nothing to do with Trump, and everything to do with something bigger him, or any one person: The U.S. Constitution.
"Peaceful assembly is a fundamental right, not a privilege, and the government has no business imposing a general requirement that people get permission before exercising that right," Kiai and Kaye wrote. "We call on the US authorities, at the federal and state level, to refrain from enacting legislation that would impinge on the exercise of the rights to freedom of peaceful assembly, expression and opinion."