A Sorority Student Whose Racist Video Went Viral Has Been Expelled From Her University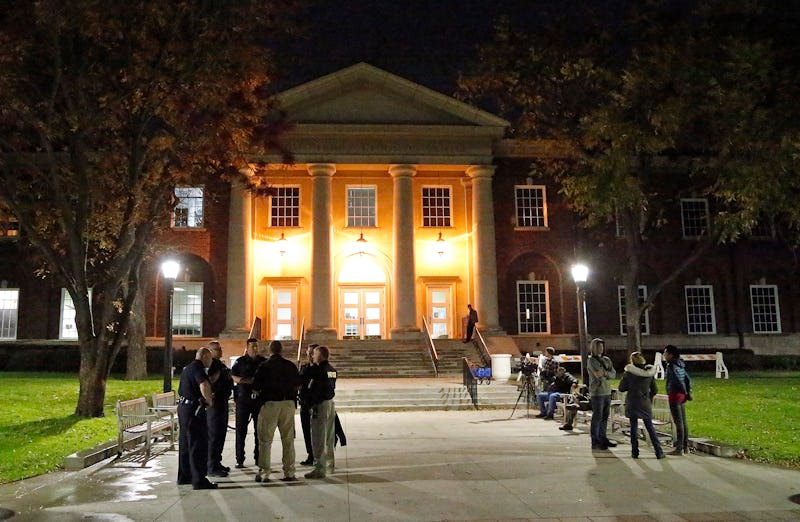 Stewart F. House/Getty Images News/Getty Images
A 19-year-old student has been expelled from the University of Alabama for using a racial slur repeatedly in videos posted on social media, the Washington Post reports. The student, Harley Barber, reportedly posted two videos to a secret Instagram account on Martin Luther King Jr. Day where she repeatedly says a racial slur. AL.com published a transcript of what the sorority student said in the videos. Twitter user @TabIsBack recorded both videos and reposted them to Twitter with the caption, "Peep her finsta lmaoooo im dead ..she bold. Gottta love Alabama women." (Finsta is slang for a fake Instagram account.) Two days later, the videos have nearly two million views combined. Barber shared an apology with the New York Post, telling the newspaper she did "something really, really bad." She told the Post, "I don't know what to do and I feel horrible. I'm wrong and there's just no excuse for what I did." Barber also said she's received threats in the days since the video went viral.
University of Alabama President Stuart R. Bell released a statement Wednesday, calling Barber's behavior "unacceptable and unwelcome."
In light of the racist and disturbing videos posted by one of our students on social media, I want to express my personal disgust and disappointment.
Like many of you, I find the videos highly offensive and deeply hurtful, not only to our students and our entire University community, but to everyone who viewed them. The actions of this student do not represent the larger student body or the values of our University, and she is no longer enrolled here.
We hold our students to much higher standards, and we apologize to everyone who has seen the videos and been hurt by this hateful, ignorant and offensive behavior. This is not who we are; it is unacceptable and unwelcome here at UA.
According to AL.com, Barber uploaded a second video after people threatened to report her first video to her sorority, Alpha Phi. In the second video, you can hear people laughing in the background as she says "I'm in the south now" and can use the racial slur "as much as I want." Barber was kicked out of Alpha Phi sorority on Jan. 16, the Root reports. The sorority's executive director Linda Kahangi told the Associated Press that the organization "condemns the language and opinions in these videos."
People are also calling on the university to expel Barber's friends, who can be heard laughing at her comments in the second video. It's not clear if they are also students at the University of Alabama. The university sent a strong message by expelling Barber, who has reportedly moved back to her hometown in New Jersey. Bell says in his statement that "everyone has a right to feel safe and welcome" on the university's campus and asked students to take a stand against "all reprehensible behavior." Some alumni of the university have said they're proud of the school for moving swiftly, but others have accused the university of allegedly tolerating racist behavior in the past. Even with Barber's expulsion, the pain that current and prospective students of color feel can't be undone. Students marched on campus Wednesday in protest of Barber's video before the university's announcement that she was no longer a student.
The message from this story seems to be two-fold — few things on the internet are actually private, and jokingly using racist language isn't ever going to end well. The university moved quickly to remove Barber from the school after the videos went viral, which sends a message to any other students who may be tempted to use racial slurs in public or in private.