US Olympics Wants To Shut Down USA Gymnastics After Years Of Assault Complaints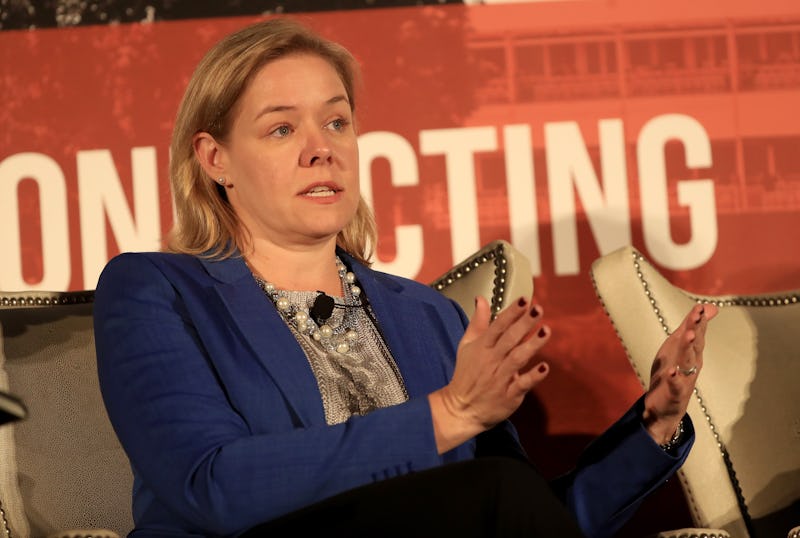 Sam Greenwood/Getty Images Sport/Getty Images
On Monday, the national Olympic committee in the United States announced that it was taking steps to revoke USA Gymnastic's position as the national governing body (NGB) for the sport. U.S. Olympic Committee's complaint about USA Gymnastics will effectively remove the group's authority and revert control of the sport to the committee until further notice, according to The New York Times.
"This is a situation in which there are no perfect solutions," USOC CEO Sarah Hirshland said in a statement. "Seeking to revoke recognition is not a conclusion that we have come to easily."
Included in the announcement was an open letter addressed to gymnasts in the United States, credited to Hirshland. "You deserve better," she wrote. She continued:
You might be asking why now? The short answer is that we believe the challenges facing the organization are simply more than it is capable of overcoming in its current form. We have worked closely with the new USAG board over recent months to support them, but despite diligent effort, the NGB continues to struggle. And that's not fair to gymnasts around the country. Even weeks ago, I hoped there was a different way forward. But we now believe that is no longer possible.
There is a process in place regarding how one NGB is discredited and another selected, Hirshland wrote in her statement. However, she underscored that no particular outcome is guaranteed.
"The clearest answer I can provide is that gymnastics as a sport will remain a bedrock for the Olympic community in the United States," Hirshland wrote. "Young people will continue to participate, refine their techniques and have fun. Our Team USA athletes will continue to inspire us through their incredible accomplishments. We will ensure support for the Olympic hopefuls who may represent us in Tokyo in 2020."
USOC's decision is not taking place in a vacuum. USAG has been the subject of several high profile scandals in the last year, and has faced intense criticism for how it handles reports of sexual assault. As the organization has continued to be plagued with problems, some sports writers had already started calling for USAG's decertification.
"While the USA gymnasts are taking the world by storm, their sport's governing body, USA Gymnastics, is a complete and utter dumpster fire," HuffPo columnist Jessica Luther wrote last month. Later, she added, "The only people truly holding anyone accountable at this point are the gymnasts themselves and survivors."
In a statement, the USAG Board of Directors said that since it was "seated" over the summer, the "board has done everything it could to move this organization towards a better future." They continued:
We immediately took steps to change the leadership and are currently conducting a search to find a CEO who can rebuild the organization and, most importantly, regain the trust of the gymnastics community. Substantial work remains — in particular, working with the plaintiffs and USA Gymnastics' insurers to resolve the ongoing litigation as quickly as possible. We will continue to prioritize our athletes' health and safety and focus on acting in the best interests of the greater gymnastics community
How USOC's decision will affect gymnasts in the coming months is not immediately clear. The next summer Olympics are scheduled for summer of 2020.