These Numbers Drive Home Just How Ridiculous The US Soccer Gender Pay Gap Is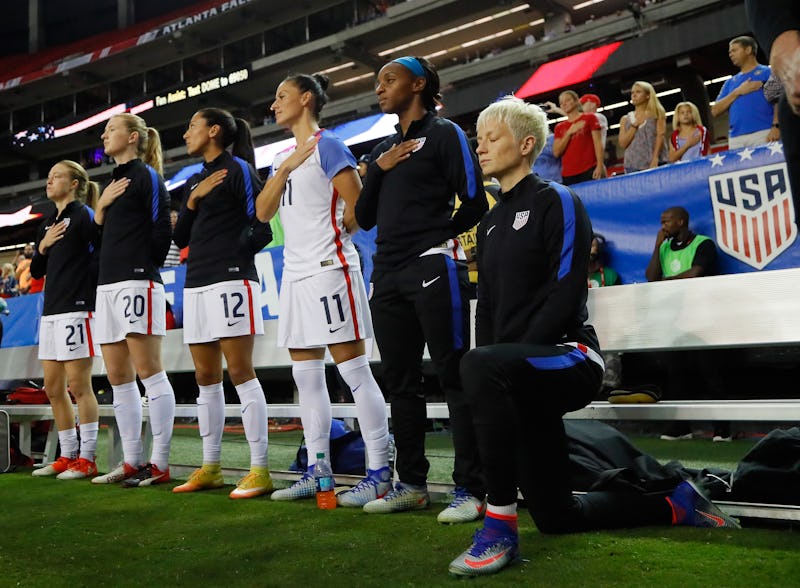 Kevin C. Cox/Getty Images Sport/Getty Images
The U.S. Women's National Team (USWNT) has been kicking butt in the 2019 World Cup so far — but its other battle is off the field. All 28 members of the women's team filed a lawsuit against the U.S. Soccer Federation in March, alleging gender discrimination regarding wages, working conditions, and general investment in the teams. And for anyone wondering just how extreme the U.S. soccer gender pay gap really is, you might be in for a surprise.
In May, the U.S. Soccer Federation denied the gender discrimination allegations outlined in the lawsuit. According to the The Wall Street Journal, it wrote that any pay discrepancies were "based on differences in the aggregate revenue generated by the different teams and/or any other factor other than sex." However, The Wall Street Journal later published an article revealing the women's team has actually been generating more revenue than the men's team. The federation also claimed the men's and women's team have "different obligations, are compensated in fundamentally different ways, and enjoy different benefits; thus, USWNT players have no male 'counterparts' who play for the USMNT," the outlet reported.
The USWNT is pushing for their fourth World Cup victory in the coming weeks. They won the international tournament (which takes place every four years) in 1991, 1999, and 2015, as The Washington Post notes. In contrast, the men's team hasn't reached a World Cup Final, yet they out-earn women players by a substantial margin.
If you're not already convinced of how flat-out confusing the current financial situation is for men's and women's U.S. soccer players, consider these nine statistics that really lay out the wage gap between the two teams: