These Two Olympic Ice Hockey USA Players Are Twins & You're Going To Love Them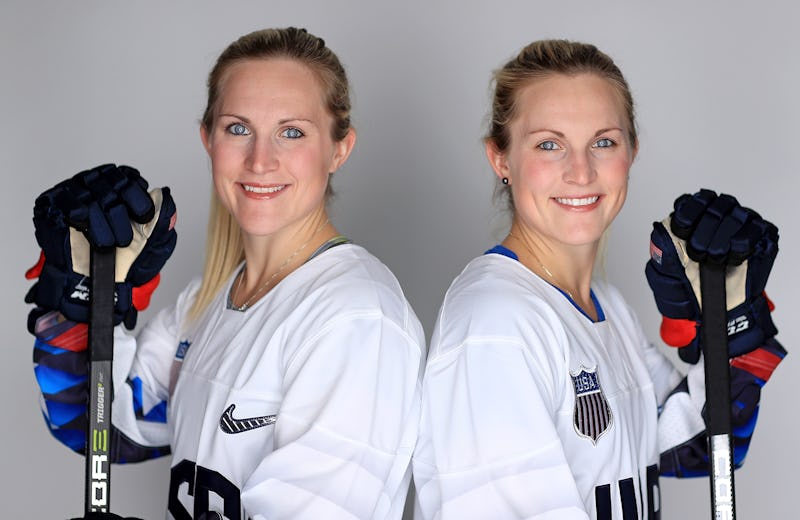 Mike Ehrmann/Getty Images Sport/Getty Images
If you find yourself seeing double during the women's ice hockey events of the 2018 Olympics, don't adjust your set. What you're actually seeing is USA Ice Hockey Twins in action. Jocelyne Lamoureux-Davidson and Monique Lamoureux-Morando are identical twin sisters from Fargo, North Dakota, who are both representing the U.S. ice hockey team at this year's Winter Olympics. Both sisters play forward, though Lamoureux-Morando also plays defense, and they're widely admired for their outstanding work ethic and the immense power they bring to the ice.
Obviously, having a pair of sisters, never mind a set of twins, play together on the same team at such a prestigious sporting event is incredibly novel. But, as it turns out, they aren't the only sisters who'll be competing in ice hockey at the 2018 Olympics. U.S. ice hockey teammate Hannah Brandt has a sister, Marissa, who will be competing against her for the unified Korean team (Marissa was adopted from South Korea as a 4-year-old). Meanwhile Switzerland has two sets of sisters on the roster with Nina, Isabel, and Monika Waidacher and twins Laura and Sara Benz.
In an interview with NBC, Lamoureux-Davidson commented that it was "just cool to see" other sisters playing ice hockey together but also explained how working with your sister can give you a sporting-edge on the ice. She mused:
"When we get the opportunity to be on the ice together, there's a chemistry that just never goes away. It's always there. So whenever we have an opportunity to have a couple shifts together or if we're ever put on a unit or line together, it's always there. And we've pushed each other every day whether it's workouts, during on-ice training, it's just that accountability that we've always had growing up."
Their chemistry and connection is clearly something that has helped them both reach the pinnacle of their talents. It could also be argued that seeing each other excel at something they're both so passionate about likely encouraged them to keep pushing their capabilities.
In April 2017, the Lamoureux twins sent an impassioned letter to University of North Dakota president Mark Kennedy and athletic director Brian Faison following a decision to cut women's hockey due to funding issues. On top of highlighting the impact of the decision on local women's hockey, they also outlined that it would "send ripples across women's hockey globally." The Lamoureux twins declared:
"This decision to cut the only NCAA women's hockey team in the state is detrimental to girls hockey, not only in North Dakota, but for the entire region (U.S. and Canada). Young girls cannot become what they cannot see. To take away the most visible platform for young players to dream of reaching in the state and region will have a generational effect on this sport."
Women's ice hockey has always been one of the most exciting events of the Winter Olympics and this year looks to be particularly thrilling partly thanks to the twins and sisters who will be taking to the ice to compete in it. But it's also because, as Lamoureux-Davidson suggested, there's a certain chemistry between sisters that is obvious to see when it's translated to a team sport.
While we're cheering on the U.S. team this year, let's hope there's a whole new generation of female hockey players watching at home, who will see the power, drive, and connection of the Lamoureux twins and their formidable teammates and be inspired to take on the sport themselves. And here's hoping there are a few sisters watching together who may grow up encouraging each other to take to the ice and become the champions they believe they're destined to become. Just like the Lamoureux twins did.