Two Kids In A Trench Coat Tried To See 'Black Panther' & The Video Will Make You Laugh So Hard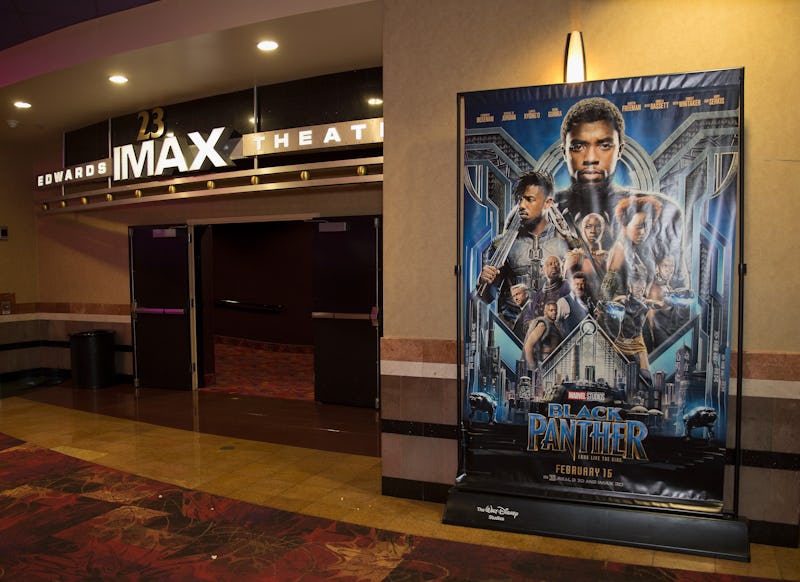 Bob Levey/Getty Images Entertainment/Getty Images
You know the old cartoon joke about kids standing on each other's shoulders inside of a trench coat to pose as an adult? Well, it happened in real life last weekend. Two kids in a trench coat tried to see Black Panther for a 2-for-1 special and it was, of course, documented on social media. On Feb. 16, Twitter user @stevelikescups (AKA Pilsbury) first posted a video of two kids of unknown age (perhaps his friends?) standing stacked in a trench coat in line to get tickets to Black Panther at a movie theater.
The video shows the crowd around them laughing and reaching for their phones to document this amazing attempt. @stevelikescups wrote in the tweet:
"We tried getting the two for one special at black panther. The manager was not having it."
Another user asked if they were able to get the special, but @stevelikescups replied:
Nah, I don't know how but he knew something was up.
@stevelikescups also posted another photo of the disguised duo dressed in their very long trench coat and hat. The video went viral on Twitter, amassing 176,000 retweets and 9.42 million views.
The image of two kids posing as an adult underneath a trench coat is something that often occurs in cartoons, like Boss Baby, Snow White & The Seven Dwarfs, and BoJack Horseman. But it's even more hilarious to see it happen in real life. Behold:
So even if the two kids didn't get the two-for-one ticket special to see Black Panther, at least they made a group of people (as well as the internet) laugh super hard at their hilarious antics. After all, how often do you see a popular cartoon joke acted out so perfectly in real life? (Not that often at all.)
The "two kids in a trench coat" gag was actually featured pretty prominently on the first two seasons of Netflix's BoJack Horseman in the form of the character Vincent Adultman. The character was quite obviously two children in a trench coat (with a broom for an arm) and other characters pointed it out a lot, but that didn't stop Hollywood agent Princess Carolyn from dating him.
BoJack Horseman fans immediately noticed this and took to Twitter to express their joy at seeing a real-life Vincent Adultman.
The comparisons didn't stop there, though. Twitter users also noticed the "two kids in a trench coat"'s resemblance to several other TV shows, like Inspector Gadget and a sketch from The Eric Andre Show.
One Twitter user even noticed the resemblance to a recent photo of New England Patriots football player Tom Brady.
This hilarious occurrence capped off a banner weekend for Black Panther. According to CNN, Black Panther broke several box office records during its first three days of release, including being the biggest-ever opening for a film directed by an African-American director (Ryan Coogler) and the biggest-ever opening for a movie in February. CNN reported that the film made an estimated $201.8 million for its three-day debut in North America, making it the fifth biggest movie opening of all time.
Black Panther is currently the most popular movie in the country and many social media users have been posting photos of the film's many sold-out screenings in theaters. IndieWire reported in January that Black Panther sold more advance tickets than any other Marvel movie. Can you blame these kids for just getting a little creative with their attempt to get the hottest ticket(s) available at movie theaters right now? Nope.
Even though they didn't get two-for-one tickets to Black Panther, these two kids in a trench coat won many hearts (and laughs) on the internet.