Time To Get Pumped About The Epic 'Vikings' Season Finale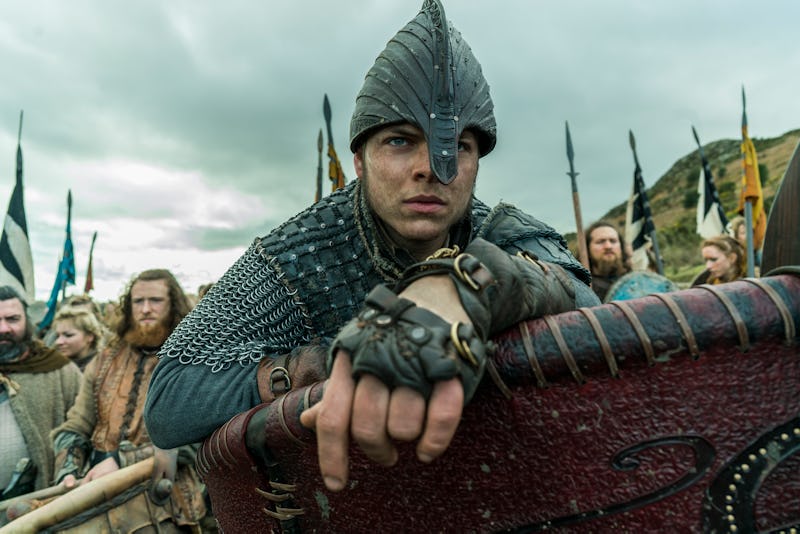 Jonathan Hession/History
Ever since Vikings lost Ragnar, skeptics have been… well, skeptical about the show's ability to maintain intrigue. However, the Vikings Season 5 finale is going to be the biggest episode yet, according to Alex Andersen, who plays Ivar the Boneless. So as this season amps up to that climax, there are plenty of reasons to stay hyped about Vikings.
One of those reasons is that nobody is safe. The draw of culturally relevant shows like Game of Thrones or The Walking Dead is sometimes the risk of those characters involved. Nobody is safe from an assassination or an accident on Vikings. That was proven at the end of last season when Ivar killed his brother Sigurd. Asked if his character would commit fratricide again, the actor laughs.
"Everybody should kind of fear for their safety when they're around Ivar, especially when he's doing so well leading the Great Heathen Army," he says.
Another reason to keep tuning in is the show's varied cast of characters. Andersen says that, while he definitely has a more prominent role with Ragnar gone, the show has shifted to a more ensemble feel. Out of dozens of interesting characters, there are some new to this season, like Jonathan Rhys Meyers' Headmund. And others may have been around since the beginning, but have been seen in awhile. So who might Ivar be going to for aid in his future battle against Lagertha and the battle of the brothers? Andersen can't share much, but reveals that fans will find out within the next episode or two.
"It is a very interesting and cool moment and it's a smart move for Michael Hirst," he says of the creator and writer of Vikings. Andersen adds that the reveal will contribute to the show "a very interesting dynamic from that ex-person who's joining, whoever it is."
He can't supply a name, but Andersen seems to be hinting that someone fans haven't seen in some time may be returning. While Ragnar is dead, his brother, Rollo, is not. And he fits the bill. He's an ex-Viking, now living in France. It would seem, then, that despite not seeing Rollo in advertising or promotional trailers that he could make his reappearance soon.
But it's not all war for Ivar. As fans are well aware, sometimes alliances through marriage can have incredible consequences, shaping entire seasons like Ragnar's second marriage to Aslaug. Although it's a bit early to tell, King Harald's wedding to Astrid seems like it could have a ripple effect as well. But, what about Ivar? Despite the fact that he can't have children, is a marriage in his future? According to Andersen, a commitment may not be too far off.
"I will spoil a little bit," he says. "There's so many love relationships on this show and I remember calling out Michael Hirst, and I said that if there's anyone that deserves to have a real true love story it's Ivar." Andersen says that the showrunner agreed, so that development could be on its way. "It won't be in this season, but maybe in the future," the actor explains.
But there's still plenty of story to be told before the next season of Vikings, and Andersen is looking forward to fans seeing the conclusion of this set of episodes in particular.
"People should just watch [Vikings], because it's going to get even bigger, and bigger and bigger," he says. "I was so fortunate to see the last episode of this season, Episode 10, and that is the best one I've seen so far on Vikings. It's absolutely tremendous."
The end of Ragnar isn't the end of the series. So though the show may look much different than it did when it began, this Vikings star wants you to know that the best is yet to come.