'The Voice's Jack Cassidy Has A Famous Family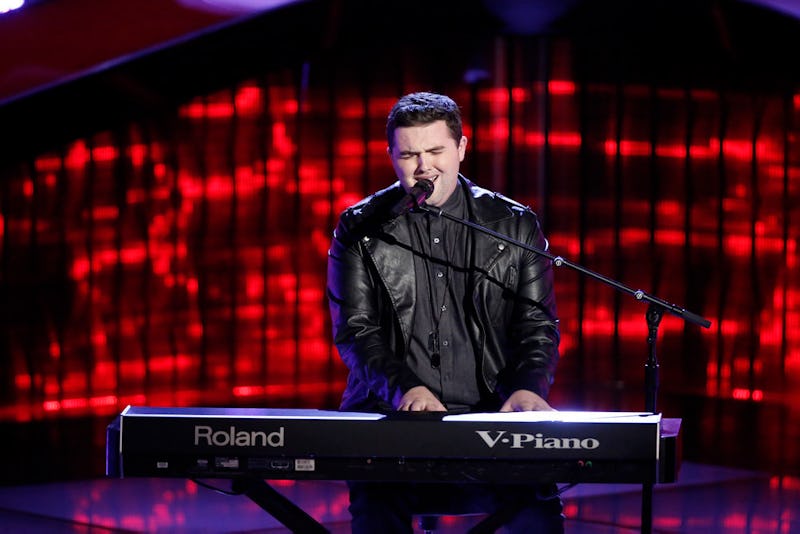 Tyler Golden/NBC
There was a famous face auditioning on the fourth night of the blind auditions of Season 12 of The Voice. Jack Cassidy wowed during his blind Voice audition and it's not just because he happens to come from a very famous musical family. In case the surname "Cassidy" is ringing a bell, but you can't quite place it, I'll help you out: Cassidy's uncle is David Cassidy and his grandmother is Shirley Jones. Both Jones and David Cassidy were part of The Patridge Family, the famous '70s musical act that had their own television show, numerous albums, and help jettison David Cassidy to the top of the pop charts. So, no pressure for the youngest Cassidy at all, right?
Cassidy seems absolutely calm, cool, and collected when he took to the stage. As a young man who was called to the church from a young age, Cassidy straddled the line between pop and Christian rock by choosing to sing "One Of Us" by Joan Osborne. He nixed the house band from The Voice, instead choosing to accompany himself on the keyboard. It was another smart decision, along with the song choice, and Cassidy absolutely lived up to his family's musical legacy by blowing the judges out of the water.
Even when he finished his audition, Cassidy did not readily disclose his famous family ties. Instead, he chose to discuss his passion for music with the judges and why he was inspired to choose "One Of Us" as his audition song. He soon found himself choosing between judges Adam Levine and Alicia Keys, both who were eager to bring him on board and nurture his budding musical greatness.
In the end, Cassidy went with Team Keys. How could he not though? It seems that Cassidy has a bright future on The Voice ahead of him and yeah, it definitely doesn't hurt that he had a little boost in his musical talents thanks to his musical family roots.