'The Walking Dead' Could Be Incorporating A Huge Time Jump, According To This Theory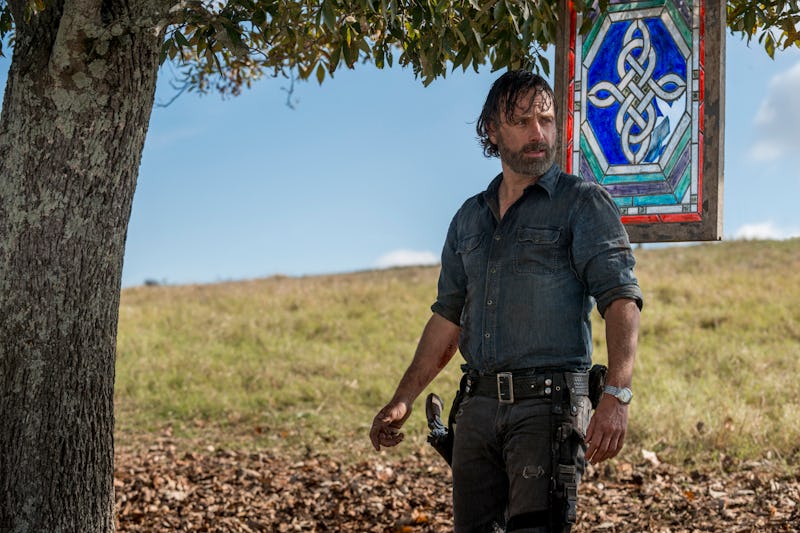 Gene Page/AMC
Fear The Walking Dead skipped ahead a few months, or maybe even years, in order to welcome Morgan Jones to their ranks this season, and the original series might be following suit soon. Alexandria may even be rebuilt by the time the AMC series returns. According to a new fan theory, The Walking Dead Season 9 might jump forward in time — for real, not in an Old Man Rick idealized and Weird Al-infused fantasy kind of way.
What does this theory come down to? Location, location, location... Literally. Location management reportedly requested a windmill for The Walking Dead Season 9, according to Vanity Fair's breakdown of this new theory. No, this isn't an elaborate Don Quixote homage, as much as this show does love a literary allusion. The windmill is actually in the comics, as well. It's part of the new world that Rick and the others build in the aftermath of the all out war against Negan.
Presumably, the plans for the windmill came out of the book of knowledge Maggie and Michonne received from Georgie this past season. If it has already been built by the time the new season premieres, a significant amount of time has certainly passed since the finale. Unless the season shows the windmill's progress as the months pass, a time jump is just the logistical answer.
"I can say just, generally, that the show will evolve," said executive producer Scott Gimple in an interview with Variety. "The stories are evolving. The things that they're facing are evolving. The stakes are even higher because of what they're all trying to do, and how they come into conflict with big things. Yes, there's some unfinished business from this season, but that isn't the big, big drive. I'm just very excited to break some new ground, to see them tackle very, very different issues, problems, and conflicts than we've seen in the last eight years. It is just going to be a very, very different show."
Maybe a time jump is the simplest way to achieve that kind of mid-series reboot. That said, a time jump also happens in the TWD comics. (Spoilers!) A New Beginning starts two years after the end of All Out War and not only is Negan still locked up, but a thriving community has sprung up in the absence of his leadership. So it totally stands to reason that the AMC series would do the same.
As for Georgie's book, Gimple said in the same Variety interview that "there is definitely something going on there, obviously. Something big to the story, and that's something we're gonna have to get into as well."
There are a few other reasons that a time jump makes sense on the show, artistic decision-wise. For one thing, it will allow for those growing child actors to remain realistically their age. On a more plot-related hand, Team Maggie is planning on biding their time before moving against Rick. Surely nobody wants to watch a whole season of Maggie "biding," right? How boring would that be? Show us the Big Bad Widow Rhee, or whatever new horror awaits the survivors, ASAP! According to Deadline, Lauren Cohan will be returning to the show for Season 9. There had been some question about that in the months leading up to the finale, so that's a relief.
Further casting, news from the set, and conventions clues should give fans a better picture of Season 9 in the months to come. Fingers crossed, all things considered, that if The Walking Dead does jump forward two years, Rick Grimes does not that have that ridiculous white beard and spiky hair that he had in Carl's fantasy future. Fans have suffered enough. This windmill is a pretty good sign that major changes are ahead, at the very least, and in this case change is a very good thing.