The New 'Washington Post' Slogan Is So Timely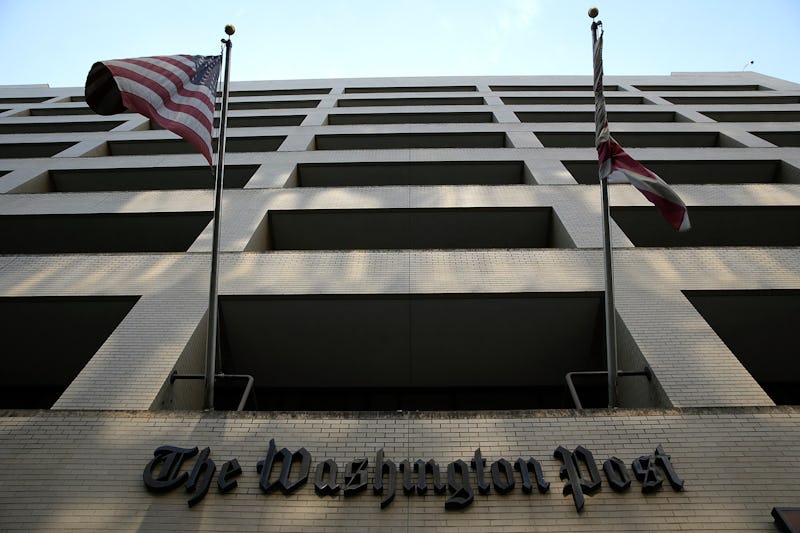 Win McNamee/Getty Images News/Getty Images
On a list of President Trump's friends, the mainstream media is not likely to be found — and that may be putting it lightly. From the days of his campaign to what are now his days in office, the president has criticized long-respected news outlets and their journalists for putting out what he calls "fake news." However, the battle isn't totally one-sided, as The Washington Post's new slogan about democracy seems to take a clear stand on the matter.
"Democracy dies in darkness." That's the refrain atop the Post's online homepage, Snapchat stories, and elsewhere. The slogan reportedly popped up last week, beginning with Snapchat. A spokeswoman for the paper, Kris Coratti, said readers should expect to see more of it moving forward.
This is actually something we've said internally for a long time in speaking about our mission. We thought it would be a good, concise value statement that conveys who we are to the many millions of readers who have come to us for the first time over the last year.
The statement says several things: For one, it confirms that the Post's new slogan is legit. For another, it subtly hints that the paper may be seeing new readership in the wake of last year's presidential election and this year's presidency. Finally, it conveys an important point about the paper's values in this tense political climate.
Ironically, on the same day that the Post rolled out its new slogan, the president called the media "the enemy of the American people." His tweet targeted outlets such as CNN and The New York Times. A day later, he told his Twitter followers not to believe the "main stream (fake news) media." Not to mention, he and other members of his administration have subtly threatened to restrict the media's access to the White House if things don't go their way.
The White House's treatment of the media has gotten so out of hand that even members of Trump's own Republican Party are condemning his relationship with the press. Former GOP presidential nominee and current Sen. John McCain defended the media after Trump's tweets. Similarly, Republican Sen. Lindsey Graham called the press part of "the backbone of democracy."
After more than 200 years with the First Amendment on the books, you'd think the United States would have this whole "freedom of the press" thing down. Yet President Trump seems determined to undermine the work of the major media outlets that report on his administration. In the wake of Trump's "fake news" attacks, it's enlightening to see the Post's subtle-yet-important new slogan. Without the media to shed light on the activities of the administration, the American democracy is sure to dim.