Emma Stone & Ryan Gosling Are Too Cute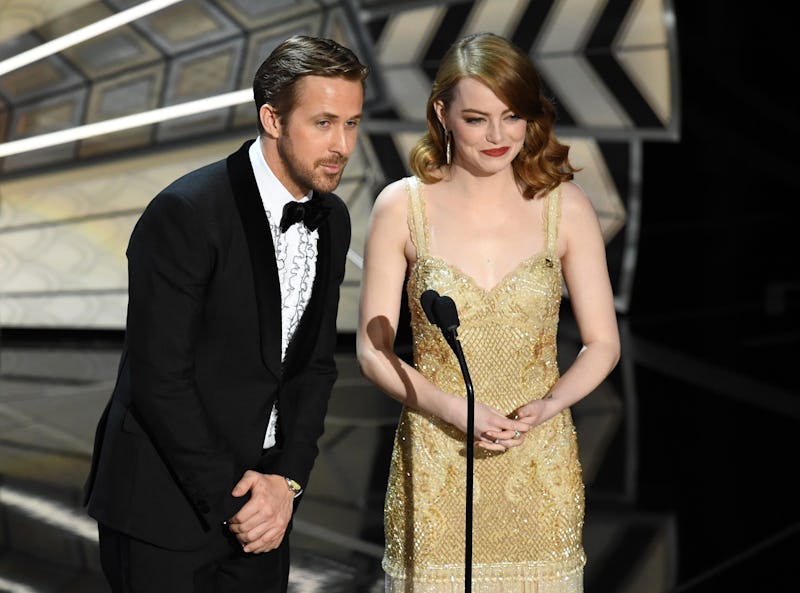 Kevin Winter/Getty Images Entertainment/Getty Images
During the 2017 Oscars, Emma Stone won for her performance as Mia in La La Land, where she played a young wannabe Emma Stone, basically. And the film wouldn't have been the same without her performance alongside Ryan Gosling. So, it's fitting that Emma Stone thanked Ryan Gosling in her Oscars acceptance speech. And the way that Ryan reacted to the acknowledgement was to look at his costar with pure adoration. Yes, their relationship is strictly platonic, but they have onscreen chemistry like no other. And seriously, the way that Ryan Gosling looks at Emma Stone is the way all of the fans of The Notebook have been dreaming about for the last 13 years.
"Ryan Gosling, thank you for making me laugh, and for always raising the bar, and for being the greatest partner on this crazy adventure." Most of the rest of Stone's speech was more thanks for her family, friends, other coworkers, and director Damien Chizelle for reaching out to her and giving her the chance to star in the film. While Stone spoke, clearly overwhelmed with emotion, Gosling sat supportively in the audience sending her a look of such tender love and friendship that it nearly set the theater on fire.
Gosling and Stone haven't made any announcements or plans for future collaborations, but after their officially Oscar-winning work together in La La Land, it seems inevitable that they'll eventually pair up and work together in another film where they can showcase their electric chemistry once again.