The Weeknd & Daft Punk Chill Out The Grammys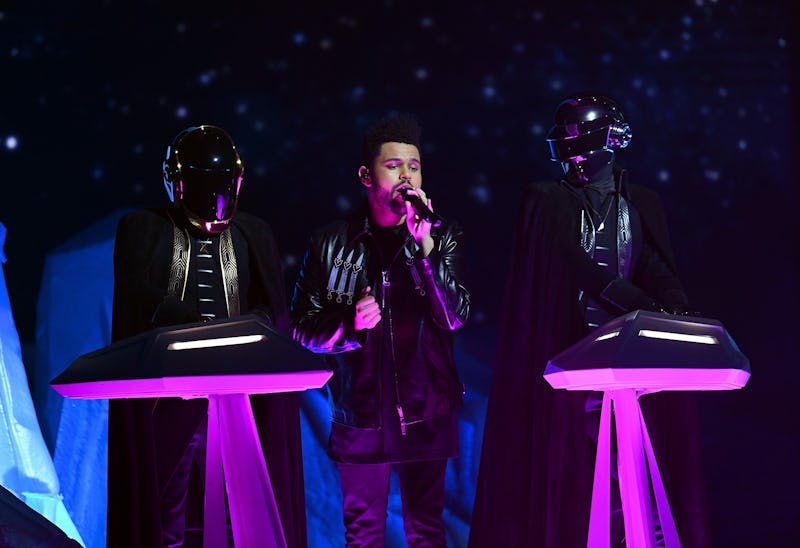 Kevin Winter/Getty Images Entertainment/Getty Images
The Weeknd and Daft Punk scored a huge hit with their collaboration "Starboy," but when it came to the 2017 Grammys, The Weeknd and Daft Punk also performed their other collaboration, "I Feel It Coming", atop glaciers surrounded by what looked like the Northern Lights. It proved fitting stage for these out-of-this-world performers.
The performance opened with the robotic producing duo walking out to the intro of "Starboy," looking reminiscent of Darth Vader. The Weeknd then took the mic to lead a performance of both "Starboy" and "I Feel It Coming", which put the Canadian singer's talents on full display. The spacey atmosphere perfectly suited the sensual "I Feel It Coming" and provided a strong image that is going to stay in the minds of Grammy viewers for years to come.
While neither The Weeknd and Daft Punk are nominated for any Grammys this time around — due to their songs being released about after the deadline — the performance was a good reminder that these stars are going to be a major force to be reckoned with in either the pop or R&B categories during the 2018 Grammy ceremony with either of their cooler-than-cool collaborations.
Check out the performance for yourself, above.
Editors Note: A previous version of this article incorrectly stated that "Starboy" was nominated at the Grammys.