White House Blocks Some News Outlets From Briefing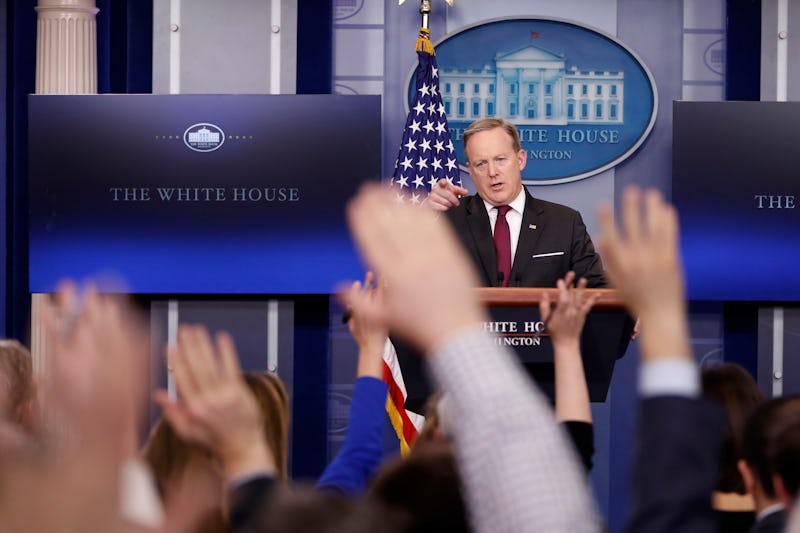 Aaron P. Bernstein/Getty Images News/Getty Images
Less than a week after the president called the media "the enemy of the American people," the White House has blocked four news outlets from attending a White House press briefing. CNN, the New York Times, the Los Angeles Times, and Politico were all denied access Friday to what is known as a press gaggle, an informal and non-televised briefing by the White House press secretary. No immediate explanation for the block was provided by the White House.
According to CNN, the White House's decision to block some media outlets from Friday's press gaggle spurred the Associated Press and Time magazine to boycott the briefing. Breitbart News, the Washington Times, and One America News Network – media organizations viewed as employing a more conservative tone – were all allowed in to the press gaggle without issue.
"This is an unacceptable development by the Trump White House," CNN said in a statement released Friday. "Apparently this is how they retaliate when you report facts they don't like. We'll keep reporting regardless."
The New York Times also rebuked the White House's decision to bar selected members of the press from Friday's gaggle, calling the move unprecedented. "Nothing like this has ever happened at the White House in our long history of covering multiple administrations of different parties," the Times executive editor Dean Baquet said in a statement. "We strongly protest the exclusion of The New York Times and the other news organizations. Free media access to a transparent government is obviously of crucial national interest."
However, the White House has claimed that outrage over how Friday's briefing - which was reportedly downgraded from an on-camera briefing room event to an "expanded pool" gaggle at the last minute - was handled is much ado about nothing. White House Deputy Press Secretary Stephanie Grisham denied claims the White House had "hand-picked" media outlets to attend Friday's briefing, political blog the Hill reported. "Claims that outlets were excluded are not factual," Grisham said. "The pool was there, so various media mediums were represented."
The White House Correspondents' Association (WHCA) has vowed to discuss Friday's incident with White House staff. "The WHCA board is protesting strongly against how today's gaggle is being handled by the White House," WHCA president Jeff Mason said in a statement released shortly after the incident Friday. "We encourage the organizations that were allowed in to share the material with others in the press corps who were not."
President Donald Trump continued his efforts to attack and delegitimize the news media earlier in the day Friday while speaking at the Conservative Political Action Conference. "They are the enemy of the people because they have no sources," Trump said. "They just make them up when there are none." Last week Trump went beyond simply complaining about the press when he tweeted the New York Times, NBC News, ABC News, CBS News, and CNN were "the enemy of the American people."