The White House Is Getting A Bunch Of Randos To Say Trump's Accusers Lied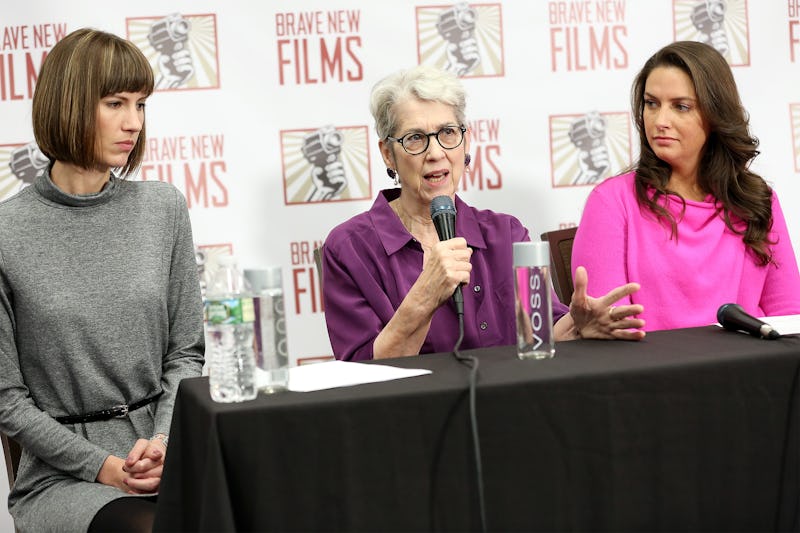 Monica Schipper/Getty Images News/Getty Images
Despite the president's continuous denials, Trump's accusers refuse to back down. Jessica Leeds, Samantha Holvey, and Rachel Crooks appeared on TODAY and held a press conference Monday to reiterate their claims of sexual harassment and assault, and to call for a congressional investigation. In response, the White House attempted to discredit Trump's accusers with eyewitness accounts, but the names offered don't make much sense.
Leeds, Holvey, and Crooks first spoke out about their alleged encounters with Trump a month before the 2016 election; they noted that they draw inspiration from the current #MeToo movement as they continue asking for Trump to be held accountable.
Telling her story again on Monday, Leeds alleged Trump groped her and put his hand up her skirt during a flight in the late '70s. Holvey claimed Trump "personally inspected each woman" participating in the 2006 Miss USA pageant, where she competed as Miss North Carolina. Crooks said Trump forcibly kissed her outside a Trump Tower elevator in 2005.
All three women have stuck by their allegations for the past year, and Trump has repeatedly denied their claims and called his accusers liars.
The White House responded in a statement Monday calling the three women's accusations "false claims" that have been "totally disputed in most cases by eyewitness accounts." However, the list of "eyewitnesses" the White House gave to ThinkProgress don't prove the president's innocence. In fact, two don't even qualify as eyewitnesses.
Two of the names provided to ThinkProgress by the White House — Katie Blair and Melissa Young — relate to Holvey's claims about the 2006 Miss USA pageant. After five other women claimed Trump walked into the dressing room while 1997 Miss Teen USA contestants were changing, Blair went on the record saying she didn't witness similar behavior when she competed in the 2006 Miss Teen USA pageant. She also claimed it wasn't logistically possible that Trump could have been in the pageant dressing room because of how quickly the event moved.
"He's not putzing around back there while girls are just stark naked," she said in a TMZ video. "There's just literally no time, no space."
Blair was not a contestant in the 2006 Miss USA pageant with Holvey, and she has not publicly spoken about Holvey's specific allegations. No one has claimed Trump walked into every Miss USA and Miss Teen USA dressing room while he owned the pageants, and Blair saying it didn't happen to her doesn't prove that it didn't happen to Holvey.
Then, there's Young, who competed in the 2005 Miss USA pageant. Like Blair, Young was not in the same pageant as Holvey and thus couldn't qualify as an eyewitness. Young has never addressed allegations that Trump acted inappropriately toward pageant contestants, but she did speak kindly of Trump at one of his 2016 campaign rallies, describing a note he sent her when she was in the hospital with a blood clot.
Despite claiming Blair and Young are "eyewitnesses" whose stories dispute Holvey's claim, Trump talked about walking into pageant dressing rooms in a 2005 interview with Howard Stern. "I'll go backstage and everyone's getting dressed," Trump said, "No men are anywhere, and I'm allowed to go in because I'm the owner of the pageant and therefore I'm inspecting it."
Holvey brought up this remark in an interview with CNN Monday night, saying, "I saw him walk into the dressing room, just like he has bragged about on Howard Stern."
The White House's list of "eyewitnesses" also described a British man who gave a different account of Leeds' alleged encounter with Trump to the New York Post last year. Anthony Gilberthorpe told the Post he was on the flight during which Leeds alleged Trump stuck his hand up her skirt. "Not only did he not do so (and I was present at all times) but it was she that was the one being flirtatious," Gilberthorpe alleged.
It was widely reported at the time that Gilberthorpe had made unproven claims in the past, most notably alleging in 2014 that he helped gather underage boys for British politicians' sex parties. He was also proven to be a liar in court — he won a libel lawsuit in 1988 against a British newspaper that printed a story saying he had AIDS, but the suit was later overturned after it was revealed he told the newspaper he had AIDS. He was also proven to have made up a fake engagement to a made-up American designer.
While Blair, Young, and Gilberthorpe have publicly stood by Trump amid allegations of inappropriate sexual behavior, their public comments don't disprove Holvey's or Leed's claims. The White House has not named any eyewitnesses related to Crooks' or more than a dozen other women's accusations against the president.