The White House Might Have Plagiarized The Holocaust Museum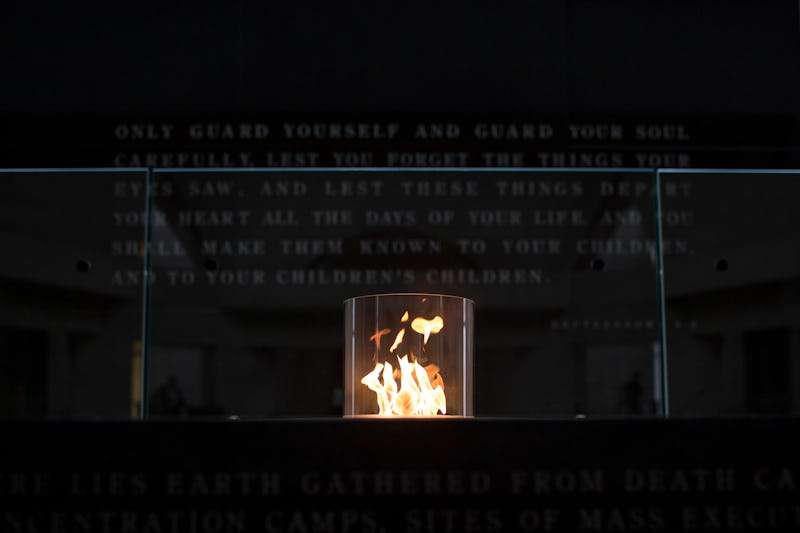 Drew Angerer/Getty Images News/Getty Images
President Donald Trump signed on a much-needed Holocaust Remembrance Proclamation on April 24, but CNN analyst Rebecca Berg pointed out on Twitter the eerie similarities between the White House's remembrance statement and the Holocaust Museum's introduction page on its website. Bustle has reached out to the White House for comment regarding these allegations.
Rather than being a complete plagiarism, the White House statement appears to adopt specific parts of the museum's introduction to the Holocaust, and leaves out other aspects. The White House proclamation's intro, highlighted by Berg in her tweet, reads:
The Holocaust was the state-sponsored, systematic persecution and attempted annihilation of European Jewry by the Nazi regime and its collaborators.
The Holocaust Museum's introduction is a bit different, but it's easy to see where Berg got the idea that the White House "borrowed" the statement:
The Holocaust was the systematic, bureaucratic, state-sponsored persecution and murder of six million Jews by the Nazi regime and its collaborators.
The White House proclamation was sent out on Yom HaShoah, the day of Holocaust remembrance in Israel, and appears to coincide with a Yom HaShoah statement Trump made the day before in a recorded video address to the World Jewish Congress in New York. Trump is scheduled to speak at the Holocaust Museum on April 25 in honor of Israel's Holocaust Remembrance Day.
At first glance, the White House's Holocaust remembrance proclamation seems to be a positive departure from their statement on International Holocaust Remembrance Day in the first week of Trump's presidency. That statement infamously failed to mention the six million Jews who died in the Holocaust, and instead opted to offer an "inclusive" statement intended to recognize the people of other groups that were also killed, including Romani people, priests, and intellectuals.
A Politico report published less than a week after the White House's Holocaust gaffe claimed that the State Department did offer a draft that kept with the traditional mention of the Jews killed in the Holocaust, but the White House chose to nix the mention and released their own statement.
While the White House's latest Holocaust remembrance statement is a step in the right direction, these allegations of plagiarism are troubling to say the least. The White House should issue statements condemning the Holocaust and the murder of Jewish people based on anti-Semitism because it's the right thing to do, and not to avoid another political gaffe. If their statement is plagiarized, that does not inspire confidence that they're doing the former.