The White House Is Using Twitter To Single Out Lawmakers & It's Totally Unheard Of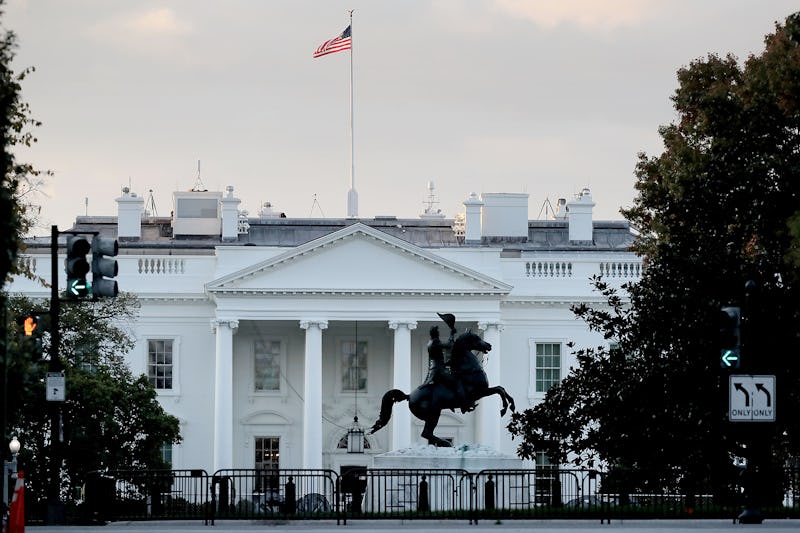 Chip Somodevilla/Getty Images News/Getty Images
On Monday, an official U.S. government social media account started criticizing sitting U.S. Senators, much to the surprise of those on Twitter. Indeed, in an unprecedented move, the White House's Twitter account called out lawmakers by name, condemning Democratic senators for their stances on immigration and the Immigration and Customs Enforcement Agency (ICE). The tweets mark a somewhat shocking step for the White House's account, which is typically apolitical.
The White House's account tweeted at both Senators Kamala Harris and Elizabeth Warren on Monday. The tweet in which Harris was tagged read, "@SenKamalaHarris, why are you supporting the animals of MS-13? You must not know what ICE really does. Here is a link to help you out ..." It also included a link to a government website describing how ICE had removed a Salvadoran MS-13 affiliate from the United States.
The White House tweet directed at Warren also focused on ICE, stating, "@SenWarren, why are you supporting criminals moving weapons, drugs, and victims across our nation's borders? You must not know what ICE really does. Here is a link to help you out ..." The Warren-directed tweet featured a link to a description of ICE's Border Enforcement Security Task Force (BEST).
As Bloomberg reported, the characterizations of the Senators in the tweets are not accurate. While both Senators have criticized the Trump administration's zero tolerance immigration policy, neither one has indicated they support drug trafficking or the Salvadoran criminal gang, MS-13.
Harris responded to the White House's tweet on Monday, condemning the account for suggesting she supports MS-13. As the Senator wrote, "As a career prosecutor, I actually went after gangs and transnational criminal organizations. That's being a leader on public safety. What is not, is ripping babies from their mothers."
CNN noted that tweets directly addressing Senators — and questioning their stance on an issue — are somewhat unheard of for a government account. While the White House has not officially commented on the issue, a source familiar with the team that handles the White House's account told the outlet that, typically, the team managing the account very pointedly works to ensure that it is not partisan in nature. The CNN source also said that around five people have access to the account.
Many were critical of the White House's tweets, including Harris' communications director, Lily Adams. Adams expressed frustration that a taxpayer-funded account was being used in a partisan and misleading way, writing "Taxpayer resources are being used to completely and 100% lie about a sitting senator."
Others on Twitter also expressed similar sentiments. Some suggested that the tweets may have violated the Hatch Act, which bars certain federal government employees from engaging in most types of political activities. Others characterized the tweets as unprecedented and unacceptable, with one Twitter user writing, "It is not normal- or okay- for the official account of @WhiteHouse to spread blatant lies against citizens." Another Twitter user shared similar thoughts, writing, "Whoever wrote this tweet should be fired immediately. This is beyond inappropriate for a federal government Twitter account, let alone the White House. I am appalled."
A variety of users indicated that they had reported the tweet to Twitter. Indeed, one user expressed shock that they were doing so, writing, "Never thought i would be reporting the official WH account! More twilight zone." Another user indicated she had reported the tweet for "targeted harassment," saying, "I've reported this tweet for targeted harassment. This is an official government account, not a Russian troll farm. Except of course it just might be. #Shameful."
Overall, it seems that the White House's tweets inaccurately calling out Senators for their stances on immigration were quite unprecedented — and not exactly well-received.