The White House Won't Commemorate Ramadan This Year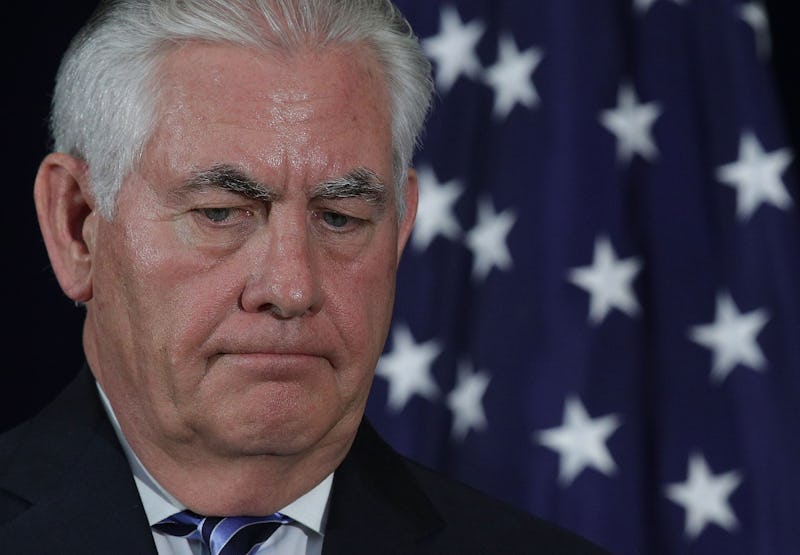 Alex Wong/Getty Images News/Getty Images
On Monday evening, several news agencies reported that the White House will not commemorate Ramadan with its traditional reception. Typically, the Secretary of State hosts a reception for Eid al-Fitr, the end of the holy month of Ramadan. However, Reuters first reported that Secretary of State Rex Tillerson rejected a request from the State Department's Office of Religion and Global Affairs to host the event. By not hosting the reception, Tillerson is deviating from nearly 20 years of State Department tradition.
The White House tradition of commemorating Ramadan, an Islamic holy month of fasting, prayer, and reflection, began almost two decades ago. In 1999, Bill Clinton's former Secretary of State Madeleine Albright hosted an iftar dinner to break fast during Ramadan as a way of acknowledging the United States' diplomatic efforts with Islamic countries. Since then, Secretaries of State from both Democratic and Republican administrations have annually hosted either an iftar dinner or a reception for Eid al-Fitr, which marks the end of Ramadan. According to CNN, the White House's Ramadan event is typically attended by U.S. administration officials, members of Congress, leaders in the Muslim community, and diplomats from Islamic countries.
Reuters reported that, in April, the State Department's Office of Religion and Global Affairs, which is typically responsible for coordinating the Department's Ramadan event, sent a memo to Tillerson recommending that he host an Eid al-Fitr reception. Tillerson reportedly declined this request.
However, it is possible that Tillerson is still considering other options to commemorate Ramadan. According to Reuters, when a State Department spokesperson was asked to comment on Tillerson's decision to decline to host the reception, they stated:
We are still exploring possible options for observance of Eid al-Fitr, which marks the end of the month of Ramadan. U.S. ambassadors are encouraged to celebrate Ramadan through a variety of activities, which are held annually at missions around the world.
While it is possible that Tillerson and that State Department may come up with other ways to commemorate Ramadan, there is concern that the Secretary of State's refusal to host a traditional dinner or reception could send a negative message to the Muslim community, both in the U.S. and abroad.
Farah Pandith, a former U.S. diplomat who helped plan Ramadan events at the White House and State Department, has indicated that Tillerson's decision not to host an event for Ramadan could send a message "that it is not as important to this administration to engage with Muslims."
Trump's administration has already been heavily criticized for its relationship with the Muslim community: According to CNN, "Muslim groups and advocates have criticized Trump as being anti-Islam, citing his rhetoric on the campaign trail and his call for additional surveillance of mosques." Furthermore, shortly after his inauguration, Trump signed two executive orders temporarily banning travelers and immigrants from several predominately-Muslim countries. Federal courts subsequently blocked these executive orders from being implemented, citing religious discrimination.
However, on his recent visit to Saudi Arabia, Donald Trump made a point to indicate that the U.S. does not stand against Islam, but against violent extremism. Trump also gave a speech to mark the beginning of Ramadan and acknowledge its significance. However, his speech was readily criticized by several Muslim Americans via The Washington Post for focusing extensively on terrorism and not on the meaning of the holiday.
Time will tell how Tillerson's refusal to host a Ramadan event is perceived by the public, particularly by Muslim Americans and by Islamic countries. For his part, Tillerson issued a statement last week acknowledging the importance of Ramadan. It remains to be seen whether or not the Secretary will choose to honor Ramadan in other ways as well or if his statement comprises the entirety of his commemoration of the holy month.