The Woman Behind #MeToo On Why "We Didn't Need Another Quiet Day"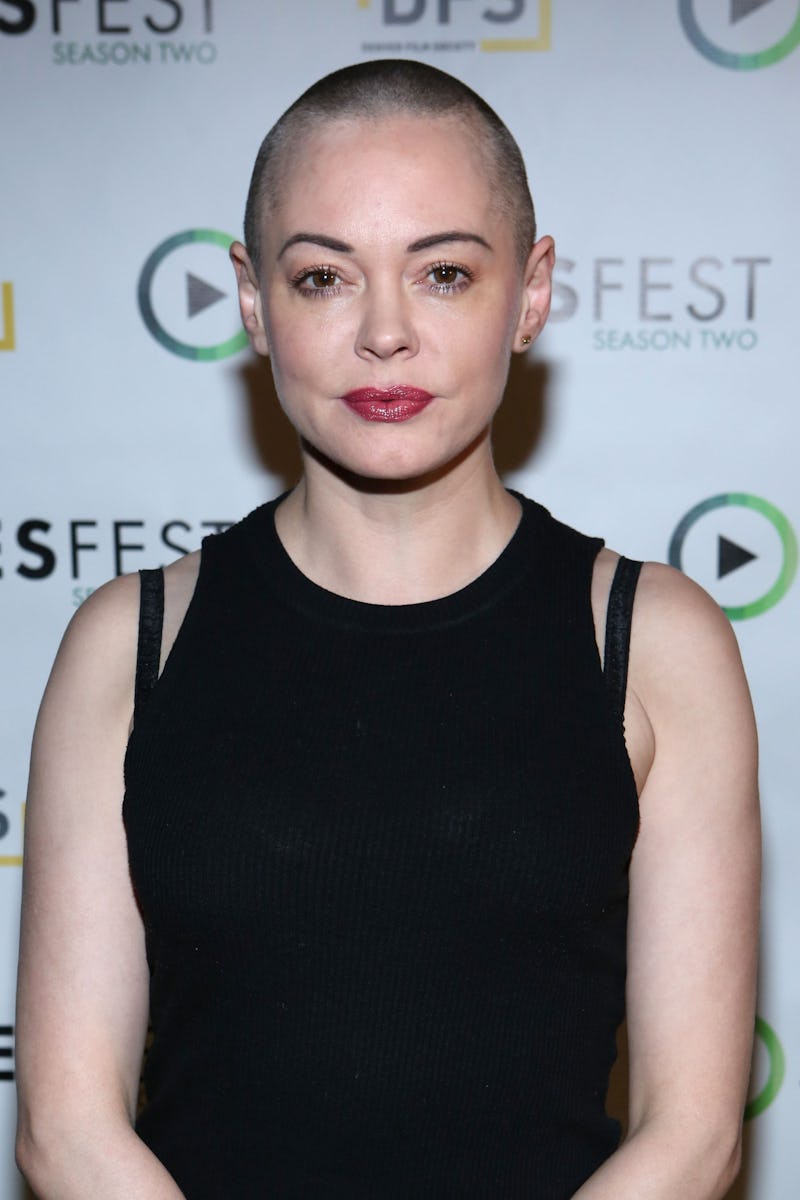 Jason Bahr/Getty Images Entertainment/Getty Images
This weekend, survivors of both sexual assault and harassment rallied around #MeToo, a hashtag intended to spread awareness about how alarmingly common it is to be a victim of sexual misconduct or violence. The trend stemmed from protests related to a temporary lockdown of actress Rose McGowan's account last week, which many felt was reflective of a society that doesn't take women's accounts of sexual abuse seriously.
For background: McGowan has been fiercely critical of producer Harvey Weinstein since The New York Times published an Oct. 5 report detailing a litany of accusations regarding producer Harvey Weinstein's alleged sexual misconduct, particularly toward young female employees. (Weinstein publicly apologized for "the way I've behaved with colleagues in the past," but "unequivocally" denied many of the specific assault and harassment allegations.) Last week, McGowan's account was temporarily locked for reportedly tweeting someone's personal phone number amid a series of tweets related to her own alleged assault.
#MeToo began as an offshoot of another hashtag, #WomenWhoRoar, which was, in a sense, a protest of a protest. After McGowan's account was temporarily locked, some users planned a one-day boycott of Twitter, set for last Friday, Oct. 13. However, others pointed out that using silence as a way to protest someone being silenced may not be the most productive way to get a point across.
"I.... don't think silence is gonna be the route I go," author Roxane Gay tweeted in a thread about the boycott.
Amy Siskind, president of The New Agenda, a women's advocacy nonprofit, tells Bustle in an interview that the #MeToo hashtag took off after she and The New Agenda made a big push for #WomenWhoRoar, a tangential counter-protest to the Twitter boycott.
"I felt like we didn't need another quiet day," Siskind said. "So, on Saturday I shifted and [said that] instead of being quiet, we're going to speak out about online abuse and tweet at Twitter and Twitter Safety."
Later that day, she tells Bustle, people in her mentions began adding #MeToo to their tweets to indicate that they had personally been sexually harassed or assaulted.
"Me too. If all who have been sexually harassed or assaulted posted #MeToo people might understand the magnitude of the issue," tweeted user Careen Shannon.
According to Siskind, the addendum to #WomenWhoRoar started popping up mid-afternoon.
"It organically shifted on its own and we just went with it," Siskind said. "All of a sudden #WomenWhoRoar and #MeToo started to be used at the same time."
She describes the effect as "incredible."
"It was this beautiful mix of strength and compassion," she says.
Some users describe specific instances of harassment or assault, while others simply say "me too" as a sign of solidarity.
"I've been in rooms with women & where every single one revealed they were sexually assaulted. It is THIS common. #metoo," tweeted user Sarah Chambers.
Siskind says that she originally planned to promote a second Twitter boycott on Saturday. She couldn't personally participate on Friday due to work, but after considering arguments that the boycott was particularly tone-deaf as it related to women of color, she re-thought her approach.
"People didn't want to be quiet for another day," she said. "People wanted to be loud."
The hashtag took off across not just Twitter, but Facebook, too. A popular meme circulating said, "If women who have been sexually harassed/assaulted wrote #metoo as a status, we might give people a sense of the magnitude of the problem." It has since been picked up by an endless stream of both men and women, joining together to share harrowing stories of abuse.
"It was so brave," Siskind said on Sunday evening. "It was just a sign that things are really changing that this many women feel [comfortable sharing]."