Woman Arrested For Wearing A Miniskirt In Saudi Arabia Is Released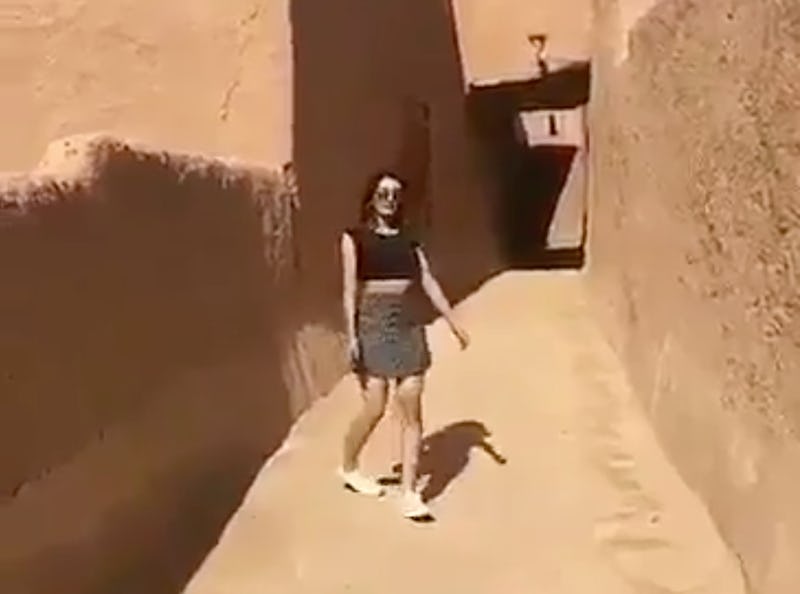 Khulood/Snapchat
The controls on women's clothing in Saudi Arabia led to the Tuesday arrest of a Saudi woman who wore a miniskirt in a Snapchat video. But soon after she was taken into police custody for wearing "suggestive clothing," she was released. The Saudi Center for International Communication said police questioned the woman and then released her without charging her.
The woman, identified in Saudi media only as Khulood, was taped walking through the town of Ushayqir in the region of Najd, one of the country's most conservative areas. In the clip she's alone, save for the person taping the video. According to the Washington Post, the Saudi Center said the video was posted without her knowledge. The video went viral over the weekend, even leading to the creation of a hashtag that meant "We demand a trial for the model Khulood" in Arabic, the New York Times reported.
The incident caused harsh reactions from both sides of the debate over Saudi cultural norms, codified into law, which require women to wear a loose-fitting cloak called an "abaya" when in public. As a result, most women in public are completely covered. Saudi law also requires women be accompanied in public by a male legal guardian, usually a father, husband, or brother.
"Just like we call on people to respect the laws of countries they travel to, people must also respect the laws of this country," Ibrahim al-Munayif, a Saudi writer, tweeted, according to a translation by CBS News.
Other comments were even stricter. The Times translated one user's comment, which ends in a threatening manner. "She shouldn't be out in a conservative country looking like this; she should respect the laws, or her destiny will be known," the Twitter user wrote while sharing the video.
Others, though, pointed out the hypocrisy of a law that only applies to Saudis and not foreigners who visit the country. "If she were a foreigner, they would sing about the beauty of her waist and the enchantment of her eyes. But because she is Saudi they are calling for her arrest," wrote one user, @50BM_.
As reported by the Washington Post, another tweet showed images of Melania and Ivanka Trump in the kingdom wearing Western-style dresses. One user even photoshopped Ivanka's head onto the woman, writing, "We have solved the problem."
Sarah Leah Whitson, the executive director of Human Rights Watch's Middle East and North Africa Division, condemned the arrest, telling the Washington Post:
Saudi Arabia's continuing obsession with policing women's clothing choices shows authorities haven't moved on from the paternalistic and discriminatory mind-set that hampers women's lives. Saudi Arabia's purported plans to reshape society and advance women's rights will never succeed as long as authorities go after women for what they wear.
Whitson is referencing moves by Crown Prince Mohammed bin Salman to progress Saudi Arabia. One of those moves includes allowing girls to participate in physical education classes and play sports at public schools. Saudi women are also increasingly entering the workforce, though they cannot legally drive themselves to their workplaces.
The majority of Saudis reportedly support requiring such clothing for women, but there are signs that society is open to change. Another Saudi writer Waheed al-Ghamdi tweeted, "I am simply questioning the lack of priorities regarding anger and alarm expressed over human rights violations and oppression versus the harmless personal choices of others." Far more will have to take his position before women like Khulood are free to dress as they wish.