The Women Who Went From 9 to 5 to 9 to Fight
by Marie Targonski-O'Brien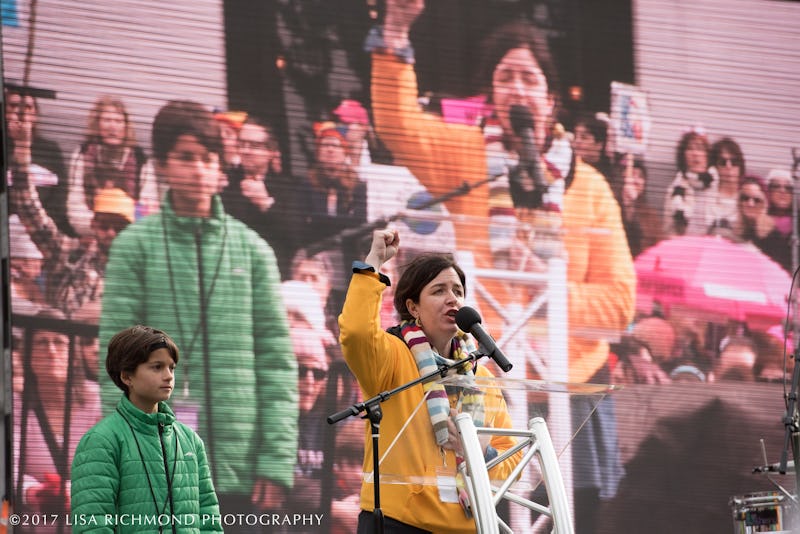 Lisa Richmond
Emiliana Guereca never had an interest in politics, but that all changed when Donald Trump was elected president. So she shifted gears from her life in business and took a stand. Guereca is now the co-director of the Women's March Los Angeles Foundation, leading a chapter of one of the largest grassroots women's political movements in U.S. history.
"Most of us were not really political before," says Guereca. "Some of us were already activists, but me personally, I wasn't. I was an entrepreneur and I was just trying to run my businesses."
For Guereca, that focus completely changed, though, when her seven-year-old son came home from school after the election and asked if she was going to be deported. "He didn't know anything about illegal aliens or deportation," Guereca says. "So I had to sit there and explain to him that that's not quite how the system works."
A first-generation Mexican-American, entrepreneur, and mother of two boys, Guereca now sees a steady flow of activists and members of the community passing in and out of her front door while the phone rings off the hook. In fact, she has turned her home into a center for political action.
However, even though she has made dramatic changes, Guereca knows she is hardly unusual. After the election, she connected with other women through social media who could relate to her despondency. She had weekly calls with women across the country who she had never met in person. Those calls turned into a national movement, the Women's March. "Women are leading because we have so much to lose," Guereca says. "You know, as women, as mothers, as entrepreneurs."
Like Guereca, 27-year-old Mrinalini Chakraborty's life has changed drastically since the election. When Chakraborty saw a Facebook event back in November for the Women's March, she immediately reached out to the organizers on social media.
"Just give me a job. I want to help in any way I can," Chakraborty says.
Chakraborty quickly found herself immersed in her work as an activist, and decided to take a leave of absence from her doctoral studies at the University of Illinois. Now she works full-time for Women's March as head of field operations and strategy, a job which requires her to be available 24/7.
It's an awakening and a re-birth of our country in a lot of ways... And damned if we are going to backtrack.
"We have to make ourselves extremely available," Chakraborty says. "There are no boundaries. Especially at this stage, when we are building the movement. I get phone calls sometimes at 10 p.m. I've gotten phone calls in the middle of the night. That's usually when someone from Italy or Switzerland will be calling."
Chakraborty says that women all over the country, despite their different and intersecting identities, have found a common threat in Trump. "Women should champion this movement," Chakraborty says. "Our issues are so varied. We are not a monotheist. We don't have one cause that are all fighting for. All of us have multiple issues. That's why the women's rights movement isn't just about one right. It's about all of them."
"We had to come together to reclaim our country, as patriots," says Annie Adams, an organizer of Women's March Sacramento. "We are going to stand in solidarity and hold this country accountable."
Adams, a former social worker and mother believes that the rhetoric of the election cycle was a big part of what inspired a new passion for activism in many women and reignited it in others.
"It just came like a tidal wave," Adams says. "Collectively, people had the largest political hangover in history together on Nov. 9. After the election, they spent a few months being depressed, wondering if they would have healthcare, wondering if they would be able to stay in their homes, wondering if women would have access to reproductive healthcare."
For Adams, the Trump era has become a defining moment for women who are no longer willing to sit on the sidelines but, rather, want to emerge as leaders of social and political justice.
"It's an awakening and a rebirth of our country in a lot of ways," Adams says "And damned if we are going to backtrack."